Management consulting firm McKinsey recently released its eighth study on the advancement of women in the corporate world (Women in the Workplace 2022). Although it focuses on large U.S. companies, many of its findings point to a future where women's representation in senior management positions will become increasingly rare, and where women will need more stamina, perseverance and fighting spirit to hold on to these positions.
Who will lose in this future? Women, men and society as a whole.
Some of the findings of the study are of particular concern:
1) Over the past year, women leaders have left their jobs at a higher rate than their male colleagues and this gap is the largest seen in the past five years.
2) A lower representation of women in engineering and technology positions compared to 2018 means that men are now 2.5 times more represented than in 2018. This is of great concern since this is the fastest growing sector with the highest-paying jobs.
As Dean of the John Molson School of Business and as an expert on women's place in the upper echelons of the business world for several decades, respectively, we are concerned about this regression.
The malaise goes beyond work-family balance
What are the reasons that lead women to either withdraw from the labour market or to seek new employment that is more in line with their priorities and values after reaching leadership positions?
Difficulties in reconciling work, family and personal life are certainly part of the explanation, but other reasons need to be mentioned, in particular those that have more to do with the quality of the work environment compared to men:
1) Lack of recognition: 37 per cent of women leaders see other colleagues taking credit for their good ideas while this phenomenon happens to only 27 per cent of men 
2) Frequent questioning of their decisions by male colleagues on the grounds that they do not have the appropriate skills to make them
3) More difficult access to promotions because of their gender or family responsibilities
4) Microaggressions
5) Lack of corporate commitment to diversity, equity and inclusion (DEI)
Getting to the top, but not at any price
It is important to note the changing needs of women in the last two years in relation to their workplaces.
Both women leaders and women under 30 say that opportunities for advancement is the most important issue for them. Younger women also place a higher priority on flexibility and the companies' commitment to workplace wellness and DEI programs.
In addition, young women say they would be more interested in becoming leaders if they had more role models of female leaders who achieve the kind of work-life balance they desire.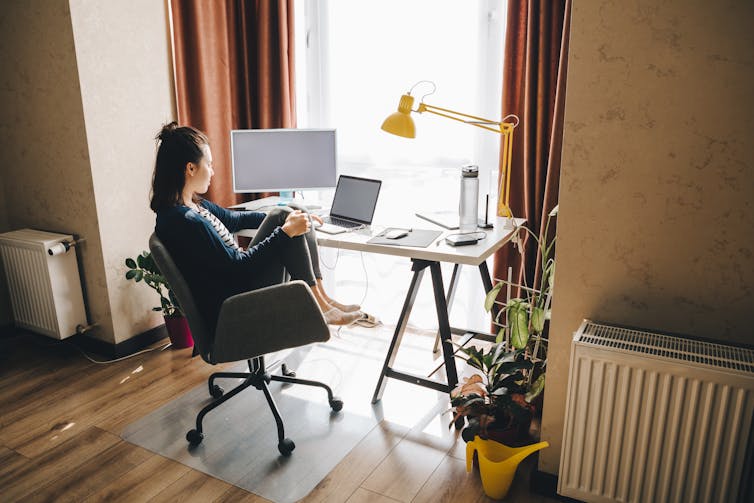 Such findings are of concern, as the retention of women in management positions and the maintenance of a rich pool of female potential will surely be hampered in the future by issues related to quality of work life and employee well-being.
The recent study by ESSEC professor Viviane de Beaufort on the professional aspirations of 295 French women managers allows us to take these observations further: women want to reach the highest positions but not at any price. This study adds some very interesting explanatory elements to the reigning sense of female disillusionment, from a disconnect between discourse and reality, to unethical governance, persistence of boys' club mentalities, non-exemplary behaviour of leaders and lack of trust in employees.
Labour market becoming more masculine again?
If this trend continues in what de Beaufort so aptly describes as a "sideways movement," it will result in places of power becoming more masculine again in the coming years.
This trend could even be accentuated by another phenomenon: working from home, which women favour in their search for better work/life balance. However, as the saying goes: out of sight, out of mind. Lack of contact and visibility in the workplace could mean that fewer women will be promoted to management positions or considered for the list of candidates for management positions.
A trend towards fewer female leadership appointments will, once again, create a male-dominated labour market that is not conducive to the inclusion and development of female leadership. Furthermore, this scarcity will reduce the opportunity for young women aspiring to leadership roles to meet other experienced women who could serve as role models. The female support network within companies will diminish and, consequently, limit the number of sponsors and mentors that young aspiring decision-makers need.
Another phenomenon emerging as a result of the pandemic is the increase in learning difficulties among some children. It is often women who are tasked with helping children. So this additional responsibility raises another barrier to career advancement for young women.
New skills
As discussed in a previous article, the typical career path in medium and large organizations is rather linear. It is based on knowledge, experience and relationships developed over time, and power gradually acquired as one moves up the ladder.
This typical progression does not take into account the peripheral vision that is now needed in order to create both financial and non-financial value for the organization. Indeed, the expectations for organizations to contribute to environmental protection, societal needs and better governance (ESG) require new, often less traditional skills such as in-depth knowledge of sustainable development, public policy or environmental science. These disciplines are more popular with women than with men, so this opens up a new form of promotion for women.
A world of work to be reinvented
We have also become aware of the importance of reimagining work from the perspective of well-being and balance. According to the findings of a recent Deloitte study, this has become a priority for senior leaders. Organizations need to offer more than one promising career path to their employees and promote inclusive excellence where performance measures are rethought in light of DEI and ESG principles.
Talent acquisition and retention represent the biggest HR risk management challenges of the future. A new way of thinking about work and human resource development within organizations will have to emerge, and this will have to foster a better alignment of the demands of family, work and personal life.
Women are ambitious and want to progress within their organization and society. It is therefore our collective responsibility to readjust our ways of doing things and to remain on the lookout for our unconscious biases, while remaining rigorous and clear on the corporate objectives we are trying to achieve. This objective is certainly ambitious, but it will be the pillar of greater equity in the world of work for both women and men.