As comic book movies, high fantasy television series and online arguments about esoteric fandom become increasingly mainstream, so too does the art of cosplay – the fan activity of dressing up as a favourite fictional or pop culture character. This activity also provides a chance to experiment with gender through an act known as crossplay. How so? Read on.
We often see elaborately attired devotees on nightly news bulletins when conventions such as Sydney SMASH!, Oz Comic-Con or Supanova hit town. These events are not small; this weekend's Sydney SMASH! event anticipates more than 15,000 attendees.
Globally, cosplay practitioners are largely women, but while this gender balance is gradually shifting, many popular characters (re)created by cosplayers are either bishounen (beautiful boys/youths) or well-rendered adult men. As such, many women cosplayers spend a large part of their time cross-dressing in the pursuit of their hobby – the aforementioned crossplay, or cross costume play.
The term builds on the spread of "cosplay" into the English language, while emphasising that the act is only a temporary swap – a moment of "play."
But is there a difference between women and men engaging in crossplay?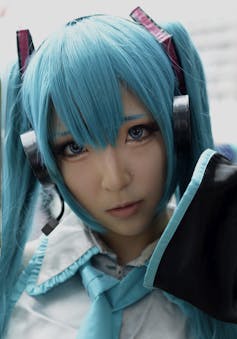 A survey conducted by DeviantArt group Cosplay Aus in 2009 showed that, among women cosplay practitioners, there was no clear preference in cosplaying male or female characters.
When asked their feelings on cross dressing, members indicated crossplay was simply another skillset to add to their arsenal, akin to pattern drafting, draping, stage make-up, wig styling or prop construction.
Of the respondents who presented as men, crossplay (male to female) was described as something done only for "teh lulz".
Many respondents felt male characters often had better costume designs and more interesting story lines, which made them more appealing to dress as.
Six years later, what has changed?
In their 2009 article, Selling Otaku?, Craig Norris and Jason Bainbridge discuss cosplay in terms of drag. The two remain closely linked, particularly when crossplayers take on the role of drag queens or drag kings.
We can see this most notably in the figure of Sailor Moon, whom "every girl" dreams to cosplay, and whom every beardy frat guy will end up parodying; the bearded, paddle-wielding figure of Sailor Bubba still haunts the internet 16 years after his first convention appearance in America.
More recently, Australian cosplayers such as Zeke (aka Pokemon trainer Misty), Sunday Cosplay (aka Princess Batman) and Augustus Winchester (aka Miley Cyrus in white underwear) attracted media attention ) with their hirsute, muscular renditions of petite popular cultural figures.
Following in the footsteps of Lady Beard (an Australian entertainer and pro-wrestler based in Japan), these cosplayers skirt the boundary between crossplay and gender bending; their portrayals are not only well executed, but clever with their respective "I know that you know that I know" wink to the gender-play at work.
It's also helpful to consider cosplay and crossplay in terms of Pantomime theatre. As Shirley Ardener notes in her 2005 book Changing Sex and Bending Gender:
the man dressed as a woman is […] known as a Dame, while the young woman who dresses like a young man is The Principal Boy.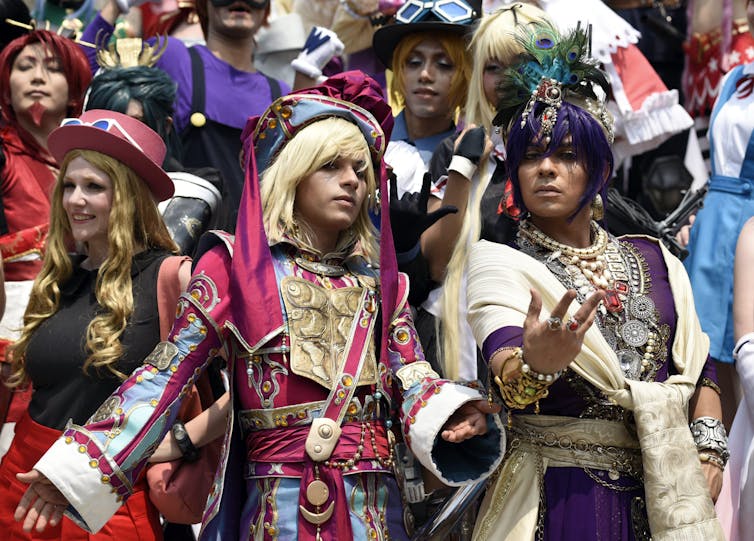 Like the beautiful heroes of the Japanese Takarazuka Review, in which both the Otoko (male) and Musume (heroine or young lady) roles are played by women, the Principal boy, and the crossplayed character, are a fantasy construct.
There are crossplayers whose aim is to "pass" completely as the gender of the character they are portraying. Japanese cosplayer Reika is known for her bishounen (beautiful young men) characters.
While the male cosplayers mentioned above may opt for the Pantomime Dame approach, others such as J Hart execute sincere renditions of the characters they portray (fangirling author's note – best Princess Serenity ever!!). In this way, a crossplayer's studied portrayal of femininity or bishounen masculinity may be more e/affective than that of a straight cosplayer.
Some cosplayers are so talented at impersonating both male and female characters that their own gender is never clear. Australian cosplayer Dalfe Nai's tumblr (currently on hiatus) is filled with "asks" such as: "I love your cosplay – but are you a boy or a girl?" But for Dalfe, and many other cos/crossplayers, their own gender is not for discussion.
Somewhat paradoxically, many discussions of cosplay and gender seem to elide discussions of queer, trans or non-binary cosplayers.
The appeal of cosplay and crossplay for many is the safe environment it provides for people to play with their gender identity. After discussion in groups such as Older Cosplayers New Zealand and Melbourne Cosplay Community, it seems that for some trans or non-binary cosplayers, assuming the guise of another character offers an escape from their own gender issues.
Cosplay and popular cultural conventions aim to offer an inclusive and safe environment for all fans. While this is not always possible to achieve, for many cosplay practitioners the best part of cosplaying and/ or crossplaying is that shared moment of joy when your costume is recognised, and appreciated, by another fan.
Of course, cosplay and crossplay is not necessarily about the gender or sexual orientation of the cosplayer or character – sometimes it's just about the fun of dressing up.