Music transcends race, nationality and creed. Even country & western music, with its image of being the genre of choice for predominantly (although not exclusively) white, redneck American fans, has transcended national and even continental barriers.
This was illustrated by country & western star, Don Williams, who died earlier in September. He played a style of "plain-spoken", traditional country that epitomised the image of the genre's hardcore white American fans. Yet Williams had a serious following in Africa. He was one of a few international country stars to tour the continent – in 1997 he released a DVD, "Into Africa", which was recorded live in Zimbabwe.
A quote from a Kenyan satirist and journalist Ted Malanda, in an affectionate obituary in The Standard, illustrates the crooner's influence on Kenyans from different backgrounds:
A moment of silence for the thousands of Kenyan kids who were conceived with Don Williams crooning in the background.
Despite its popularity, the genre continues to be dominated by white musicians. This is true both in the US as well as in Africa. Yes, there have been black country & western musicians such Charley Pride, Darius Rucker and Mickey Guyton. But the fact remains that country continues to be the domain of white musicians.
This hasn't, however, diminished its appeal in a number of African countries.
Africa loves country
Country is played religiously on a number of radio stations in Africa. In Malawi, for instance, where I grew up, country music is very popular. Malawi Broadcasting Corporation's (MBC) Radio Two) devotes an hour to the music on Saturday mornings. But it is found that the music featured is nearly all from the US – the programme hardly plays music from Malawi, or from elsewhere on the continent.
The programme continues to be dominated by white musicians such as Don Williams, Kenny Rogers, Dolly Parton, Dan Seals, Mel McDaniel, Shania Twain, Leann Rimes and Taylor Swift.
In Kenya local country star, Elvis Otieno, or Sir Elvis as he's known there, told American CBS News that there's a huge audience in Kenya for country music.
Way back then from 50's and 60's there has always been a country music programme on the airwaves on Kenyan soil.
When NPR's Gwen Thompkins visited Kenya, she was blown away by country & western's popularity. Thompkins explains that "the allure of country music in Africa is its iconic characters - the gamblers and the highway men, the handwringing mothers and the cock-sure sons, the Rubys, the Lucilles, the Joleens, the grievous angels and the folks who just ain't no good".
The programming head at Kenya Broadcasting Corporation, Henry Makhoka told her:
Most of the country music we play talks about country life, talks about the farm life and so on. That kind of environment was abundantly available where I was born.
Up and coming Kenyan country singer, Esther Konkara, said she could identify with the stories told by artists like Dolly Parton:
I really love singing her songs. Most people say I sing like her, or she sings like me. Country has such rich themes, like love, God and country roads.
Kenya's biggest radio station, Radio Citizen, which targets "the man on the street", is planning to launch a new country music show soon. Programme director Fred Ofune told Thompkins the genre resonates with his listeners because, like working class country fans in other parts of the world, they're,
struggling to put food on the table, take their kids to school. They are people who are frustrated by the politicians and the government, who feel let down…
Music writer Dan Juma once stated that it is not strange to find black Africans relating to this kind of music. After all, the banjo, which is a mainstay instrument in the country & western genre, has its roots in Africa.
The contribution of black musicians
Black people have contributed significantly to this genre. One of the genre's first black stars was an influential harmonica player named DeFord Bailey. Dubbed "The Harmonica Wizard", his famous train mimicking song "Pan American Blues", became an instant hit on release in 1927. He was one of the top stars on the WSM Barn Dance Show, which became the hugely popular weekly Grand Ole Opry – still the longest-running radio broadcast in US history.
Although Bailey was the first African-American country musician to perform on the Grand Ole Opry, he did not receive the recognition that he deserved until his death in 1982. Bailey would only be inducted in the famous Country Music Hall of Fame 23 years after his death. Thus far, Bailey and Charley Pride remain the only black country musicians to be inducted in this Hall of Fame.
Despite this accomplishment, country & western music still has some way to go in terms of accepting black country musicians in their fold. A great deal has been said about the contributions of African Americans to country music. But not much credit has been given to Africans from the continent who have contributed to this genre.
It's true that white South African musicians such as Lance James, Tommy Dell, Barbara Ray, Sally Vaughn, Clive Bruce and Bernie Williams have made a significant contribution to the genre. But the contribution of black Africans hasn't been given as much attention.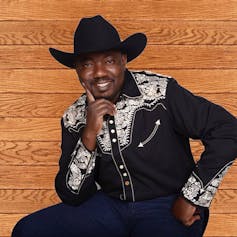 Kenya's Sir Elvis Otieno is one of them, as are Nigerian stars like Ogak Jay Oke, Emma Ogosi and Poor Charley Akaa. Although not technically a country & western musician, Malawian gospel artist, Allan Ngumuya has infused gospel with country.
It's surprising that the genre has not grown to its full potential in Africa like genres such as R&B and reggae. What can be done to change this?
The continent's broadcasters have the largest role to play here by giving a regular platform to Africa's country and western musicians.