Earlier this month, thousands of eager lovers streamed through the doors of the Bell Harbor International Conference Center in Seattle, on the stunning waterfront of Puget Sound. Their love had one all-consuming object: chocolate.
The Northwest Chocolate Festival, the country's leading consumer event for all things chocolate, is now in its seventh year. Since its Seattle debut in 2010, when around 2,000 visited, attendance has swelled fivefold. And the number of vendors has surged as well, as the chocolate industry goes through a seismic shift that some are describing as its renaissance thanks to the strong growth of craft products.
Not only are craft chocolate-makers developing loyal followings, but, like in the craft beer industry, consumers themselves are becoming closely involved in how the products are made, which often determines whether they buy a bar or not.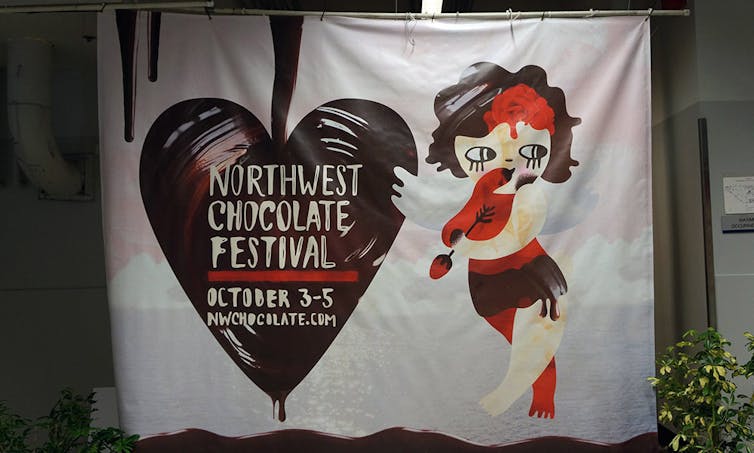 Chocolate season begins
In Seattle during the first week of October, nearly 10,000 happy tasters roamed exhibition halls, education centers and a culinary kitchen theater over two chocolate-filled days.
And the feeling of chocolate abundance is likely to last.
The Northwest Chocolate Festival kicks off what has become a national "season of chocolate" in the US. It is a welcome – if frantically busy – relief for small chocolate businesses, many of which operate in the red from about May or June through the end of September: the summer chocolate dead zone.
During these months, hot weather poses a challenge for storing and shipping chocolate, which complicates retail sales. Compounding this is the "bikini season scare": long-held assumptions (however thin the evidence) that even a bite of chocolate will unalterably expand the waistline.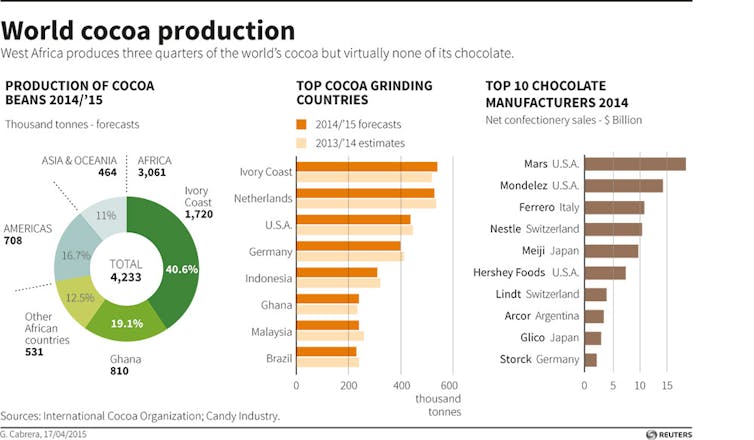 The seismic shift in chocolate
Then comes the surge. Retail sales across the board spike during the holidays – with nearly a fifth of annual sales happening in November and December – but chocolate enjoys a much longer season. It begins when the weather turns crisp and our bodies start to crave the fat-sugar combination, and then rides a recurring wave through virtually every major US holiday: Halloween, Thanksgiving, Hanukkah, Christmas, New Year, Valentine's Day, Passover and Easter.
But the season of chocolate is not just about quantity of sales; the market is also undergoing a major shift in type, quality and variety of chocolate bars and confections on offer. Interest in chocolate – both making and eating it – has grown exponentially in the past 15 years. For almost the whole of the 20th century, a few major brands dominated the US market for chocolate, many of them enduring and beloved (Hershey's Kisses, Mars m&m's). But in 1997, a new chocolate company opened its doors in the San Francisco Bay Area. Scharffen Berger was the first bean-to-bar maker – starting from cocoa beans and manufacturing finished bars – to enter the market in decades.
Scharffen Berger was the first of many to come. A handful of new makers followed, including Shawn Askinosie of Askinosie Chocolate, Steve DeVries of DeVries Chocolate, Alex Whitmore of Taza Chocolate, Art Pollard of Amano Artisan Chocolate, Alan McClure of Patric Chocolate and Colin Gasko of Rogue Chocolatier – the vanguard of today's chocolate renaissance.
When I became director of education for the Northwest Chocolate Festival in 2010 (a position I held for four years, through the 2013 event), these men were among my first invitees to share their expertise as event speakers, along with about half a dozen other new makers who had sprung up by that time. In 2013, I surveyed the market again, for a research article for Gastronomica, and verified 37 bean-to-bar makers operating commercially in the US. This past August, as part of a comprehensive market assessment, I documented 137 such companies.
In just two years, the number of "craft" or "artisan" chocolate-makers, as they have come to be known, has skyrocketed. And with this market shift has come an equally impressive rise in US consumer knowledge of where chocolate comes from and how it is made.
Chocolate with a story
What is striking is how influential education has become to the sales of these chocolate bars. From my analysis of the new craft market, savvy consumers now want more than just a piece of chocolate. They expect that makers will also share its story: which farmers grew the cocoa, how the maker crafted the bar, what flavor profile to expect. Buying craft chocolate now involves buying this knowledge as well as the bar itself.
This storytelling happens in a few different places, the foremost being packaging: bar wrappers increasingly provide information about the cocoa source, or even the trade terms between maker and farmer.
Another is awards. As festivals and expert groups develop connoisseur methods for sorting out the technically excellent chocolate from the simply good or sub-par, chocolate lovers are paying attention. When a bar wins an award at the Northwest Chocolate Festival, as Fruition Chocolate did this year for its Bourbon Aged Dark Milk 61% and Dick Taylor Craft Chocolate for its Limited Release 70% Bolivia Alto Beni, makers can only hope they brought enough inventory to Seattle.
"Anything that wins an award sells out on the first day of the festival," said Brian Cisneros, Northwest Chocolate Festival Founder and executive director.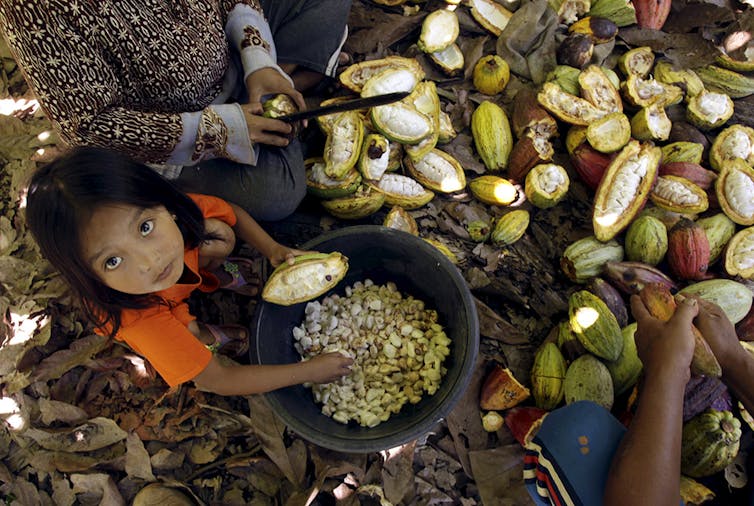 From trees to tastebuds
A third cross between sales and education happens in face-to-face encounters between customers and chocolate-makers.
Many craft chocolate-makers operate, at least at first, on a shoestring budget, and can lack a dedicated retail space. Often the maker sells chocolate personally, at festivals, farmers markets or pop-up venues. Such interactions are an opportunity for consumers to pose questions and ask for detailed information. When they are satisfied with the answers, they buy chocolate.
Upon giving a successful talk at one of the 80-plus educational events at this year's Northwest Chocolate Festival, chocolate-makers had to rush back to their booths to sell bars to the flock of eager customers trailing in their wake. The ability to impart knowledge of cocoa origins, trade ethics or even the mechanics of making chocolate has become an unmistakable driver of sales.
The fascinating part of all this is not that people buy what they understand, but that customer knowledge is already feeding back into the industry and inspiring further innovation.
Charm School Chocolate founder Joshua Rosen acknowledges that a high level of consumer knowledge continually drives his company to surpass its own standards for both flavor and trade ethics.
"We built our company on the idea of ethics of a very high standard," Rosen said. "But our customers have been phenomenally well-educated [and know] how incredibly important it is for companies like us to take those extra steps. It not only gives us a little bit of validation that we're doing the right thing, but it even pushes us to go one step farther, to meet and exceed expectations. Customer knowledge is driving that in a big way."
What this means is that the season for chocolate is extending far beyond the annual hot-weather dip and holiday rush. The hunger not only for chocolate, but for educated discussion around this food, is pushing the market toward new horizons of excellence.
In the seasons to come, I believe chocolate lovers will understand this food even more profoundly than they already do and continue to bridge the distance that lies between farmers and trees, factories and finished bars, and our tastebuds.