The Ashes are now upon us, and both sets of players are in the midst of the first Test at Nottingham's Trent Bridge ground.
As we sit down to watch the Test on television, it is worth reflecting on the role played by the broadcast media in general - and commentators in particular - in shaping public perceptions of cricket in Australia. Cricket commentary has been a crucially important conduit for linking fans with games, and inculcating them into its romance and mythology.
Cricket broadcasting began in Australia in 1928 with the introduction of an independent commercial broadcasting system. By 1932, a national government-owned radio network - which we now know as the ABC – delivered live nationwide broadcasts of Test matches for the massively popular, but controversial Bodyline series against England in the summer of 1932-33.
Pre-World War Two commentaries of play from England, on the other hand, were handled by specially arranged cable services. While commercial radio stations used cables to provide progressive scores and reviews of play, the ABC provided simulated live commentaries. Using a feed of cables from England, commentators in the Sydney studio - aided by special sound-effects - described the play as if they were present at the ground.
These broadcasts came to be known as "synthetic cricket". Hundreds of thousands of Australian families huddled around radios late into the night, pretending it was all happening in real time.
Cricket broadcasts generated large radio audiences. During the 1946-47 home Ashes series against England, nearly 30% of households with radios tuned into Test match broadcasts: a figure which exceeded the audiences for peak time programmes like Dad and Dave, a popular commercial radio serial.
During the 1948 tour of England by the Australian cricket team, Test matches were for the first time transmitted by shortwave radio back home to Australia. According to newspaper reports, the quality of commentary on some occasions was so clear that it was indistinguishable from local broadcasts. On other occasions the transmission was distorted by outdoor microphones that not only picked up the crowd noise, but also the sound of aeroplane flights overhead.
Nonetheless, the broadcasts were massively popular. One Saturday evening in Sydney more than 40% of all "radioed" households listened to the Test match from Leeds' Headingley ground.
The 1940s was not only a golden age for cricket's international development, but also a high point for commentary. Australia's leading post war commentator was Alan McGilvray, who called every Test in Australia until his retirement in 1985.
England's equivalent to McGilvray was John Arlott, who completed his first cricket broadcast for the BBC in 1946 and went on to become its chief cricket commentator. He was the commentary mainstay of every summer Test series until his retirement in 1980, when he described the Centenary Test between Australia and England. Both McGilvray and Arlott became icons of the game: McGilvray because of his attention to detail and authoritative tone, and Arlott because of his deep knowledge of the game's history, and erudite, if snobbish, embellishments.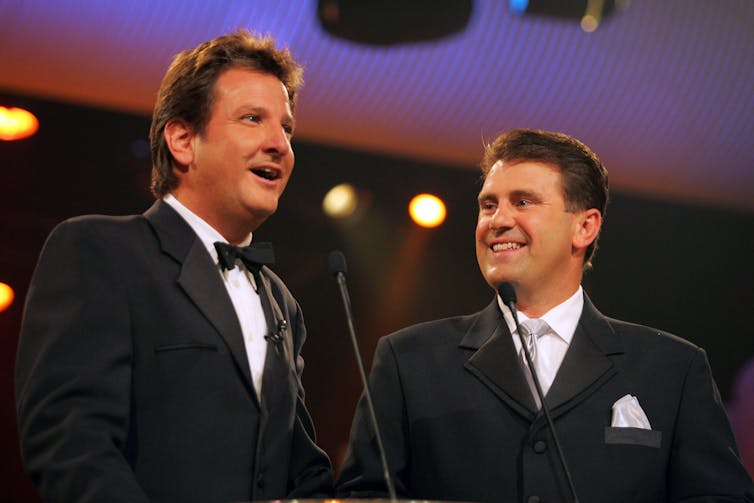 The introduction of television to Australia in 1956 changed everything, but not necessarily for the better. The ABC continued to be the home of cricket broadcasting, and by the 1960s controlled both radio and television broadcasts. However, the commercial stations also sought the right to broadcast when English teams were touring. While this was viewed as good thing in principle, the ABC was concerned that they did not understand the games etiquette, and cited the hyper-critical sniping of commentators Tony Charlton and Sid Barnes, claiming they had said things that would not be tolerated in normal ABC presentations.
As it turned out, not only did television come to dominate cricket broadcasting after the 1970s, but the ABC's influence over the game fell away with the takeover of the game by Kerry Packer's Nine Network. While the ABC lost the TV rights, its radio broadcasts continue to attract sizable audiences. The current crop of commentators, which include Kerry O'Keeffe and Jim Maxwell, has maintained the ABC's status as an authoritative and entertaining source of cricket news and views.
It has also continued the long tradition of radio commentary that blends science with the art: the technical know-how, and the humour and satire. The BBC has done the same in the post-Arlott period, with Brian Johnston, Christopher Martin-Jenkins, and more recently Jonathan Agnew leading the charge.
However commercial television commentators now get most of the kudos. While a lot of their commentating is illuminating, much of it is also banal and weighed down by ponderous clichés. Richie Benaud, Bill Lawry, Ian Chappell, and more recently Mark Taylor, Ian Healy and Michael Slater - and finally Englishman Mark Nicholas – have delivered moments of glorious insight, but they have also manufactured lengthy periods of tedious asides masquerading as quick wit.
The English commentators have been more idiosyncratic. The heavy northern English accents of Fred Trueman, Geoff Boycott and David Lloyd has been balanced by the metropolitan refinement of Ted Dexter, David Gower and Michael Atherton, with Ian Botham bridging the gap.
Overall, though, cricket would not be the same without its commentators. Despite their frequent biases, opinionated claims and fractured syntax, they bring fresh and colourful insights into the lives of cricket fans. We are far better off with them than without them.