Beating and overriding a horse is deemed cruel under Victoria's Prevention of Cruelty to Animals Act 1986. You would never guess that from a day at the races, including Melbourne's Spring Racing Carnival and its showpiece, the Melbourne Cup. Racing, it seems, relies on beating and overriding horses to achieve victory.
The fact this year's Caulfield Cup winner and Melbourne Cup favourite, Admire Rakti, collapsed and died in his stall just minutes after pulling up last in the "race that stops the nation" has focused public attention on the risks of racing and how much is too much. Another runner, Araldo, was put down after breaking his leg while returning to the mounting yard. Vets are saying Admire Rakti died of acute heart failure, but speculation is mounting about the welfare of racehorses in general.
Despite public concern at the horses' deaths, there has been little media coverage of the fact Admire Rakti's jockey, Zac Purton, was fined for having whipped the horse excessively during the recent Caulfield Cup. But was he charged under Victoria's animal protection laws? Don't bet on it.
Rules of Racing restrict whip use, or not
For racehorses, a lower set of legal standards called the Rules of Racing applies. These are developed and enforced by the racing industry for the racing industry. The rules offer scant protection against cruelty, allowing jockeys to whip and push tired horses beyond their safe physical limits.
Do this outside racing and you could face fines under the Prevention of Cruelty to Animals Act of up to $36,312 (significantly more for a body corporate), or 12 months' imprisonment. If you are in racing, however, especially in the Melbourne or Caulfield Cups, you stand to win millions and receive public adulation.
While the Rules of Racing attempt to regulate whip use, they are complex and difficult to enforce, and penalties are low. For example, the number of backhand strikes is not regulated at all. The number of forehand strikes is limited until the last 100 metres, after which "a rider may use his whip at his discretion", as long as this is not deemed "excessive, unnecessary or improper".
The rider must also not whip a horse with "an action that raises his arm above shoulder height", "when his horse is clearly winning", "when his horse is out of contention", when it is "showing no response", or "has no reasonable prospect of improving or losing its position". The whip has to be padded and the rider must ensure that the seam of the flap is not the point of contact, "unless the rider satisfies the Stewards that this was neither deliberate nor reckless".
You'd think from all these rules the whip would hardly be used at all in Australian racing. Nothing could be further from the truth, as watching most races will show you. Empirical data indicate that 98% of horses are whipped during racing, which amounts to more than a million whip strikes per year.
Penalties are little deterrent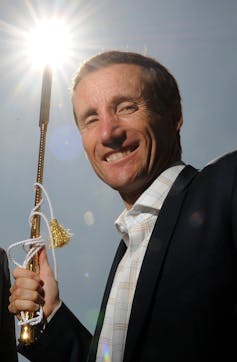 It is telling that in the past six Melbourne Cups, which had total prizes exceeding $36 million (excluding trophies), only four jockeys were penalised a total of $3,900 for whip strike breaches, with two being repeat offenders. Last year, Red Cadeaux's jockey, Gerald Mosse, was fined $1,000 for his whip use. For running second in the Cup, Red Cadeaux won $900,000, of which 5% - $45,000 - went to the jockey.
In this year's Melbourne Cup, Michael Rodd was fined $400 for his whip use on Precedence. The sixth-placed Precedence won $125,000, of which $6,250 went to the jockey. Rodd was also fined $1,000 for his ride on Red Cadeaux in the 2011 Melbourne Cup.
And what was Purton fined for whipping Admire Rakti excessively in this year's Caulfield Cup? His $3,000 fine was dwarfed by his $87,500 share of the winnings, and certainly by the owners' prize money of $1.75 million plus the $150,000 trophy. The deterrent factor, therefore, for breaches of the whip rules is low, which is clear from this media report:
Purton was thrilled with the win and said he rode the horse how he liked to be ridden, and how he was trained to be ridden back home.
If the owners or the jockey regretted the "excessive" whip use, this didn't receive media coverage.
The soft-touch approach to policing the use of the whip, and other issues such as over-riding, can be attributed to the self-regulatory nature of the racing industry. Independent animal welfare agencies like the RSPCA, which supports a ban on whipping, do not oversee the treatment of racehorses; the racing industry does. But what the racing industry thinks is acceptable does not always align with broader community expectations or animal welfare science.
No whips needed: Norway proves it
Racing Victoria continues to deny the fact that horses feel pain when being whipped despite having no evidence to support this. All of the racing industry's justifications for the continued use of the whip – mostly to do with safety, control and performance – have now been discredited by scientific research or have no scientific basis.
Perhaps the best example of the futility of whipping can be found in Norway. In 1982, the Norwegian government recognised the absurdity and cruelty of allowing whipping in one context but not in another and made whipping racehorses illegal. So, for the past 30 years, jockeys have raced thoroughbreds in Norway without whipping them.
In every race in Norway, the fastest horse that crosses the line first wins. Prize money is collected and bets paid out. Plainly, this is compelling evidence that the horse that is best trained and best ridden without the use of a whip will still win.
It's time to do away with the double standards that deny racehorses the full protection of Australian animal welfare laws. Horses should not be beaten with whips and pushed beyond their physical limits, no matter what the financial incentives might be. The law does not have to be an ass, no matter how glamorous the circumstances.