London Fashion Week (LFW) has been described by the Mayor of London, Boris Johnson, as "one of the most influential showcases of British creativity that our city stages".
If you are among the fashionista royalty invited this year, you can see British fashion on display from Margaret Howell to Vivienne Westwood and Jasper Conran to Paul Smith.
The established high-end brands such as Burberry, Daks and Hunter will be rubbing shoulders with the wearable sculptures and experimental forms of designers like Gareth Pugh.
If you don't have a ticket you can watch the shows live via the LFW website, follow numerous social media streams and wait for the trends to filter down to the high street. There is one trend in particular that has been frequenting the catwalk in recent years that could be signalling the end of a timeless classic.
Peak denim?
High street fashion is not just about vanguard design. Most people need clothes that are going to last and one staple of many wardrobes has been denim.
Back in 1978 Calvin Klein brought us designer jeans and, while over the years denim has gone in and out of fashion, jeans had a huge resurgence at the start of the noughties. Names such as Earl jeans, J Brand, nudie, Citizens of Humanity and Paige Denim, as well as high end designers such as Balmain and Armani provided customers with their denim fix.
In 2007 Suzanne Pendlebury, the womenswear buyer for Harvey Nichols, explained the growth potential of the designer jean market: "A woman now needs a different pair for every occasion, just like shoes; some days you want a sexy pair, other days you want to be more relaxed and slouchy."
In this new designer marketplace, Levi's – whose founder invented the blue jean and whose brand has gone on to become synonymous with them – has struggled to keep up. Squeezed between designer brands and cheaper high street offerings, Levi's has suffered mixed fortunes since the late 1990s.
Stuck in the middle
The company has never taken the designer challenge head on, always preferring to present its historical position and its workwear credentials, over fashion status. And now it finds itself fighting another battle – this time against the growing trend in "athleisure".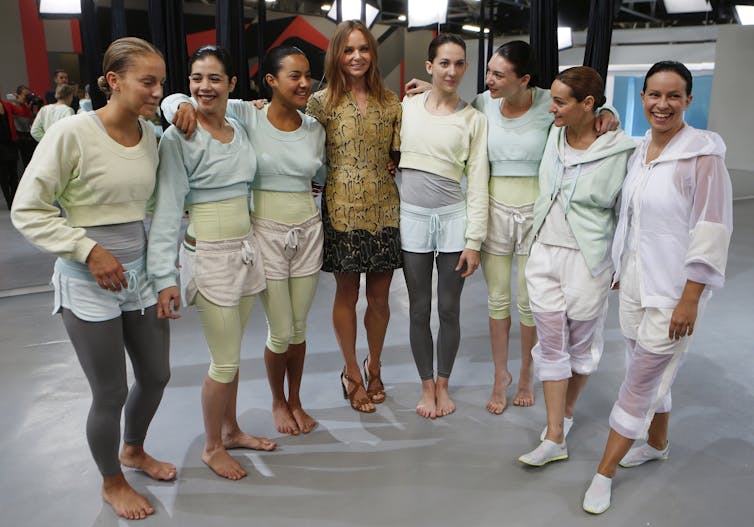 This awkward portmanteau refers to clothes that are generally designed for either athletic or leisure pursuits but are often worn as everyday clothes. Typically they might be described as "gym to office wear", worn by people who wear their leggings or yoga pants at work, as well as in the gym.
The new style seems to be having a hit on Levi's, which has avoided both denim fashion and sports leisure markets. Just recently the company said that sales of its belts and other accessories were growing much faster than its clothing, and cited stiff competition from "fashionable sports clothing, such as yoga pants" as a contributing factor.
It has found itself in the classic marketing situation of being "stuck in the middle". And fashion no man's land is never a great place to be.
Athleisure's appeal
From a marketing perspective, what is really interesting about the athleisure trend is that it has quickly become a product which spans the high-end market. Brands such as Sweaty Betty and Lululemon sell leggings for between £70 and £110. There are also successful designer collaborations for example between Adidas and Stella McCartney and online high-end fashion retailer Net-a-porter recently introduced Net-a-Sporter, a site dedicated to "sportswear that is as chic as everything else in your closet". Here you can by a Laain jersey hooded top for £255 or Theory track pants for £235.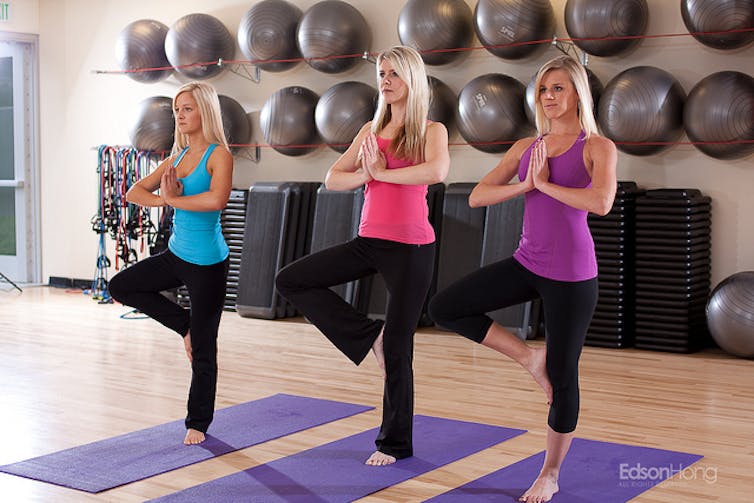 At the same time, sports clothing retailers are also thriving. JD Sports, for example, recently announced an 80% rise in profits which it largely credits to capitalising on sporting fashion wear. They do this by appealing to multiple price ranges – from the more expensive cashmere tracksuits to the more affordable non-designer athleisurewear. These mid- or low-end equivalents don't cost the earth to buy and many of us might think don't look that different to the high end brands. Of course they are also extremely comfortable.
Fashions come and fashions go, and there is no doubt London Fashion Week 2015 will include both denim and athleisure. But for traditional brands such as Levi's this new trend signals that the market has finally moved on. Clinging to its history and brand strength just isn't going to cut it in the new world of athleisure wear.