People watching the World Cup match between Spain and the Netherlands earlier in the tournament may have been wondering why Spanish striker Diego Costa was vociferously booed every time he touched the ball.
The booing began before Costa won a somewhat controversial penalty in the first half, which allowed Xabi Alonso to score and put Spain ahead. Things went pear-shaped for Spain after that, however, and the Netherlands won 5-1 over the defending world champions. Costa was substituted after 62 minutes and replaced by Fernando Torres, Spain's regular striker when it actually plays with one.
But why the enmity? And what does the back story of Costa, whose Spanish side will play Australia in both sides' final game of the 2014 World Cup, tell us about footballers and identity in the modern world?
Diego da Silva Costa was born in Lagarto in Brazil in 1988. Like many youngsters, he played street football in Brazil, and after a brief spell with Barcelona Esportivo Capela in Sao Paulo, he was picked up by SC Braga in Portugal in 2006 at the age of 17.
The following year, Atletico Madrid in Spain spotted the tough and precocious youngster and signed him. Atletico sold him to Real Valladolid in 2009, but with an option to buy him back. This was exercised in 2010, but it was 2012 before Costa really broke through at Atletico to become one of the leading strikers in Spain's La Liga. In the season just completed, Costa helped Atletico win La Liga for the first time since 1996, breaking the Barcelona-Real Madrid duopoly.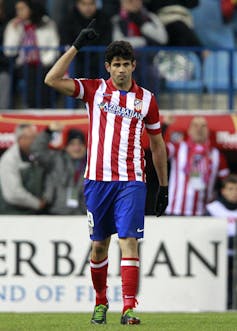 In March 2013, Costa received his first cap for the Brazilian national team, the Selecao. However, that northern summer he also became a Spanish citizen and promptly switched his allegiance to Spain.
There was an outcry in Brazil when FIFA approved the change on the ground that Costa had not played in a competitive match for the Selecao, only friendly internationals. Brazilian coach Luiz Felipe Scolari said Costa was turning his back on the dream of millions to represent the national team. The Brazilian Football Federation (CBF) wanted him stripped of his Brazilian citizenship.
In the lead-up to the first game, Brazilian fans attending Spain's open training sessions shouted "Traitor!" at Costa. Back in Spain, some Real Madrid fans had been equally condemnatory, chanting "Diego Costa is not Spanish" at a game in September. So, the booing at the World Cup may not all have come from the Brazilians in the stadium.
And now, the media are writing about:
Does Costa deserve this obloquy? He is by no means the first player to switch allegiances during a football career. Some have done so for money, others for political reasons and some because their country cut its ties with them or even disappeared.
Australians, of all people, should be familiar with changes of allegiance. In the early 1960s, Australia's membership of FIFA was suspended for poaching players from Europe who then went on to represent Australia such as Leo Baumgartner and Lolly Vella, and sometimes played against their previous country and even club teams.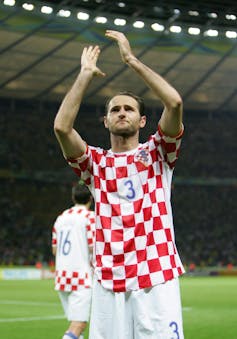 The boot has been on the other foot in recent times, when young Croatian-Australians including Josip Simunic and Joey Didulica chose to represent Croatia, the country of their heritage, rather than the country of their birth. Simunic played against Australia at the World Cup in Germany in 2006, and was infamously sent off after referee Graham Poll brandished not just two, but three yellow cards at him.
Didulica did not take the field in Germany and nor did Josip Skoko, who was in the Australian squad. But the two Geelong boys who had grown up together could easily have been in direct opposition. Talking to each of them it is clear that they would both have been seriously up for the confrontation. They would have had to prove something to their team-mates, the fans and themselves.
The great Ferenc Puskas was outside Hungary playing with Honved when the Russian tanks rolled into Budapest in 1956. He stayed away and, despite a two-year ban by FIFA, he then played for Real Madrid and as a Spanish citizen for Spain in the World Cup in 1962. Later, he said:
It wasn't easy to play for another national team and I don't think many players managed it very well … Spain had given me that second chance that I needed so badly; I had succeeded since arriving and was very grateful for everything. I felt I owed the Spanish people my best, and that's what they got.
Ladislav Kubala played for Czechoslovakia, Hungary and Spain in a career stretching from 1946 to the 1960s. Dejan Stankovic represented three countries but only because Yugoslavia fragmented as did Serbia and Montenegro, so his final national team was just Serbia.
In the case of Costa there is a strong suspicion that money talked, though he turned down a chance in mid-2013 to play at English club Liverpool at three times the salary he was receiving at Atletico Madrid. Players today also often have their contracts held by third or even fourth parties, and have to go where their "owners" determine.
Costa has not been expansive or explicit about his change of allegiance. He claimed it came as a surprise to him when the change of nationality was mooted and it was only when he then faced the issue that he thought: "why not?"
But Costa is certainly very much the modern footballer of supreme skills whose talent determines his astronomical market price. That tends to make considerations of national identity less persuasive than in previous ages, but it is an option that is open to very few.
---
Roy Hay and Bill Murray's new book, A History of Football in Australia, is published by Hardie Grant.