Social media platforms have become integral to how we commemorate, grieve and make sense of terrorism. They are a vehicle for increasingly familiar digital rituals, such as hashtags, memes and emojis. They can also generate novel, creative types of commemoration that give rise to new forms of togetherness and remembrance.
A permanent memorial to the victims of the Manchester bombing – which happened one year ago – is being planned in the city. In the meantime, our research suggests that responses to terrorist attacks such as that in Manchester include new forms of commemoration. These mix offline and online settings, taking place simultaneously in city spaces and on social media.
Soon after the bombing, Manchester's residents commemorated the event and its victims by collectively laying tributes in St Ann's square, congregating for vigils in Albert Square and creating street art especially in the city's Northern Quarter.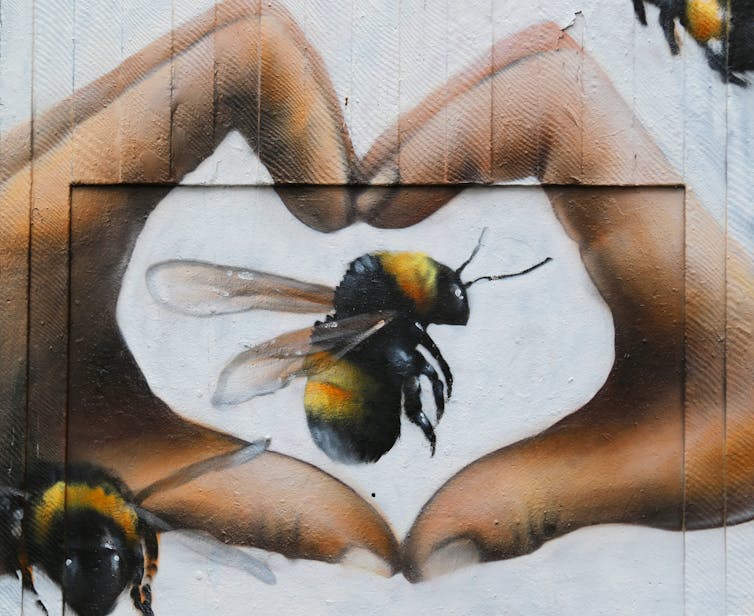 Photos, videos and accounts of these events were shared on social media platforms, with prominent hashtags like #prayformanchester. These social media messages reached global audiences, creating a sense of community beyond those who could attend these events in person. This form of commemoration combines participation in both social media and public space – linking the two together in new ways.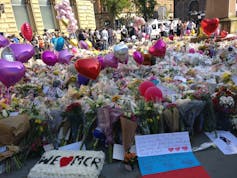 Social media was also used to organise and curate different practices of commemoration. For example, thousands shared photos of the bee tattoos people had done to honour and raise money for the attack's victims. In doing so these people gave new life to a symbol of the city's civic identity dating to the industrial revolution.
Pink balloons also became an important part of commemorations. Released at the end of Ariana Grande's concert just before the attack, they came to symbolise the young music fans who were targeted. They were prominent in both social media posts and tributes at St Ann's Square. Pink balloons were also released during various local vigils. Some peoples filmed themselves releasing balloons, connecting them with broader digital communities.
Manchester's cultural and musical heritage also became intertwined in these commemorations. This included reciting Ryan William's poem And the Bees Still Buzz and the spontaneous singing, after a minute's silence, of Oasis's Don't Look Back in Anger at St Ann's Square. The latter moment was echoed by Coldplay, joined on stage by Grande, at the One Love Manchester benefit concert a month after the bombing.
All these public events were captured and circulated by social media users. This combination of offline and online settings and audiences has become central to how we experience, understand and respond to terrorist attacks. It has created new ideas of community and commemoration that happen simultaneously in streets and squares and on digital platforms – not only exemplified by those who stood together at public events but also those who sought to connect to them via their social media posts.
Echoes of these earlier grassroots commemorative responses can be found in Manchester City Council's official plans for the one year anniversary. With One Voice, a mass sing-along in the city centre will be led by local choirs including one composed of survivors. There is a Light will see song lyrics temporarily projected on to buildings at St Ann's Square. A memorial service at Manchester Cathedral will also be held for those directly affected and streamed digitally to other locations across the UK.
The public has been invited to leave tributes and messages along a Trees of Hope trail. These messages, along with all of those left in St Ann's Square in 2017 will be archived via both official schemes and social media.
Social media platforms, through the digital traces they create, will lend these passing events greater permanence. The social media archive of images, videos and hashtags is, of course, ephemeral in its own way (posts have limited circulation, a narrow window in which they are viewed and are vulnerable to deletion and loss). But it is important to understand that social media plays more than a documentary role. They enable unique and spontaneous commemorative practices such as people sharing photographs of themselves with tattoos, balloons and other memorials that need to be studied further. They create a shared sense of commemoration between those present at public memorials and those participating online.
At the one year anniversary of the Manchester bombing, new types of commemoration will arise. This leaves open the possibility of unforeseen, creative forms of commemoration that might rival tattooing and balloon releases in their innovative nature to emerge through and with social media, shaping the way we remember and respond to terrorist attacks.