My phone rang around midnight: A major hurricane was predicted to hit a nearby coastal town, which was under a mandatory evacuation order. Many of the staff at a large hospital there had already evacuated, and an unknown number of patients from nursing homes and assisted living centers were being transported to the hospital. The remaining staff were desperate for help from experienced nurses. Was I available to assist immediately?
An hour later I was in a highway patrol car, driving with full lights and sirens for the four-hour ride to the hospital, along with other nurse volunteers. We arrived in a ghost town, but the hospital was bustling. Patients with special medical needs were lying on makeshift pallets. There were no charts, no medications, no orders. Bright fluorescent lights prevented weary and disoriented patients from any hope of resting.
We worked around the clock for three exhausting days to provide basic nursing care – feeding people, giving medications, turning them every two hours and cleaning them up. One older man had severe cerebral palsy but was fully alert. He had been lying in a dirty diaper for hours, on a pallet on the floor in a crowded, loud, bright room. I knelt down to tell him I'd be right back to clean him up, but he told me that others needed help more than he did.
My work focuses on answering pressing questions about the health of older adults after disasters, such as the one I responded to above. Age alone does not make people more vulnerable to disasters, but many health issues that are common with aging do, including frailness, memory impairment, limited mobility and chronic illness. Sixty percent of Hurricane Katrina deaths were age 65 and older, and more older adults died after Hurricane Katrina and in the year after than any other age group.
In a newly published study, we show that older adults are affected by disasters well after storms or other threats have passed. Disaster response planning for communities and health care systems focuses on the immediate surge after the event, which varies with every disaster but typically lasts hours to days. Planners need to be aware that for older adults, effects are longer-lasting.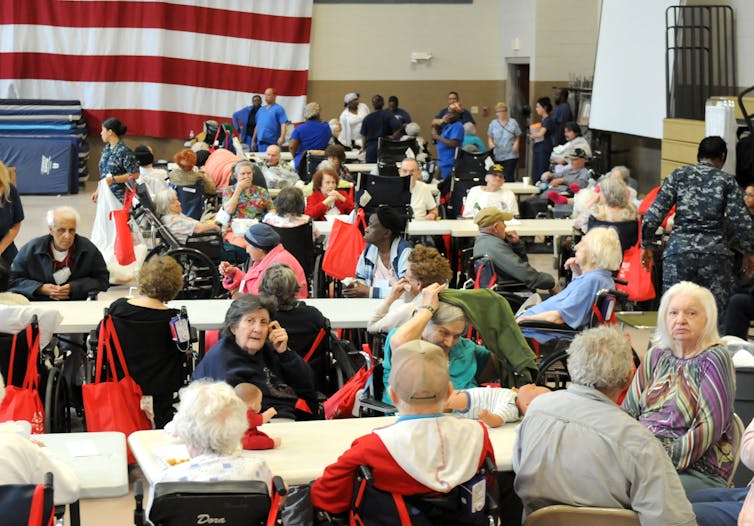 Learning from past disasters
Understanding how disasters are associated with hospital admissions among older adults, and developing strategies to minimize hospitalizations, are issues of growing importance. Climate change is increasing the number and scale of natural disasters such as floods, hurricanes and wildfires. There were three times more natural disasters globally between 2000 and 2009 than from 1980 through 1989. And with the U.S. population over age 65 expected to double by 2060, helping older people stay safe through disasters will become increasingly important.
Recent events have shown that older adults are particularly vulnerable, especially if they need ongoing health care. During Hurricane Sandy in 2012, over 31 nursing homes closed, leaving more than 4,500 residents in need of emergency assistance. After-action reports from Hurricane Matthew in 2016 documented multiple instances of critical communication breakdowns for special medical-needs patients. For example, patients who needed specialized care were placed in shelters with inadequate staffing.
Currently there is no centralized system for collecting, reporting and sharing data on these kinds of gaps after a disaster. This means we are unlikely to make systematic changes in how we address care for these individuals before the next event occurs. For now, we are using information and data gathered from indirect sources to try to draw conclusions about the impacts of disasters.
Long-lasting effects
I recently conducted a study that examined hospitalizations among older adults after a 2011 tornado outbreak that spawned hundreds of tornadoes throughout Georgia, Alabama, Mississippi and Tennessee, resulting in over 300 deaths and billions of dollars in damage. Using claims data from Medicare and connecting it with geospatial data from the storm area, we compared hospital admissions among older adults in the month after the disaster to admissions during the other 11 months of the year.
Our findings showed that hospital admissions increased over the 30 days after the disaster by 4 percent among older adults who lived in a ZIP code with a tornado touchdown. This translates to hundreds of additional hospital admissions. We then removed the first three days after the disaster from our data analysis, to see if the increase in admissions might be related to related to immediate injuries from the storm. But we found that hospitalizations over the rest of the month still remained higher than normal.
Finally, we conducted a similar analysis examining ZIP codes in an area in the same region which was not affected by the storm, in order to rule out the possibility that increased admissions were related to seasonal factors such as extreme temperatures or high pollen counts. Hospital admissions did not increase in the unaffected area, which told us that the higher numbers that we found appear to be related to the tornadoes.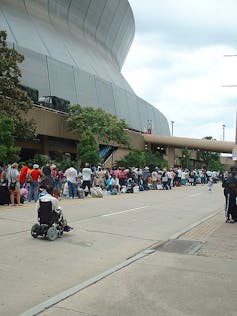 Increased hospital admissions after disasters are only part of the story. The aging U.S. population has a rising incidence of chronic diseases requiring consistent health care, such as diabetes, hypertension and obesity. If these health needs were being met in the tornado zone after the disaster, these patients may not have had to be hospitalized, and our study would not have shown the increase in hospital admissions that we detected.
Although we did not have data on individual cases that would have shown why each person was hospitalized, it is likely that personal stress, difficulty accessing health care and an ineffective community response to the disaster all were contributing factors. Our team will continue to study the drivers of post-disaster hospitalizations.
Preparing for the next event
We can take steps to pivot from our current reactive approach to disaster response to a proactive strategy that helps communities become more resilient. One critical need is for better data that clearly demonstrate how disasters affect the health of vulnerable populations. Continuing to rely on case studies and after-action reviews will hinder future disaster responses.
Federal funding for state and local health departments for disaster preparedness has steadily declined since Hurricane Katrina in 2005. These programs fund activities that focus on making communities, including their older residents, more resilient to disasters. Without funds to support these activities, older adults will continue to suffer disproportionately.