As you load up the car boot with shopping bags from your weekly trip to the supermarket, have you ever thought about how the particular supermarket you shop at might affect your health? Two studies published this year suggest a link between how often people go shopping and the healthiness of the food they buy.
Large supermarkets are undoubtedly very convenient. They're a one-stop shop with a huge variety of products on offer. But evidence suggests their size prompts us to shop less often and buy more on each trip. Could the enormity of our shops be making us fat?
Loving large
In Australia, we love our shops big. In fact, big shopping centres (Chadstone in Victoria is the biggest in the southern hemisphere), big supermarkets and warehouse-style shopping are ubiquitous in many Western countries. While strip shops might be where we go for good cafés and boutique fashion, if we want hardware, a fridge or food, we want all the options, all in one place.
A recent study of eight similarly wealthy countries found only New Zealand and the United States had bigger supermarkets than Australia. Perhaps it's no coincidence that those two countries also have a higher prevalence of obesity than Australia.
In fact, the research found an almost perfect correlation between how big a country's supermarkets were and the number of obese people in that country. While there may well be other explanations for this association, the link between shopping less often and buying less healthy foods strongly suggests that store size is indeed a big part of the problem.
There are many potential ways in which big supermarkets might be bad for our health. Here are a few:
• When we shop less often, we may be less likely to buy fresh food because it spoils quicker.
• We tend to buy more in bulk, bringing home more food than we need.
• Our cupboards and pantries become full of food, encouraging us to eat when we are not hungry.
• We use cars to get to large shops and to transport the food back, meaning less physical activity than if we had walked, cycled or used public transport.
• We're overwhelmed by choice in large stores, potentially making us more susceptible to marketing tactics and displays that encourage impulse purchasing decisions. Large Australian supermarkets have more soft drinks, confectionery and chocolate at checkouts and end-of-aisle displays than seven other comparable countries.
The wrong style
Australian shops are increasingly set up to encourage a style of shopping that prioritises convenience and car use. The shopping mall has decisively won the battle over the shopping strip.
Many suburbs now revolve around mega-malls that take us further from away frequent shopping trips, fresh food and walking or cycling to the shops. We know that our ever-expanding urban footprint encourages car travel over active forms of transport, but it now appears it may be impacting our diet too.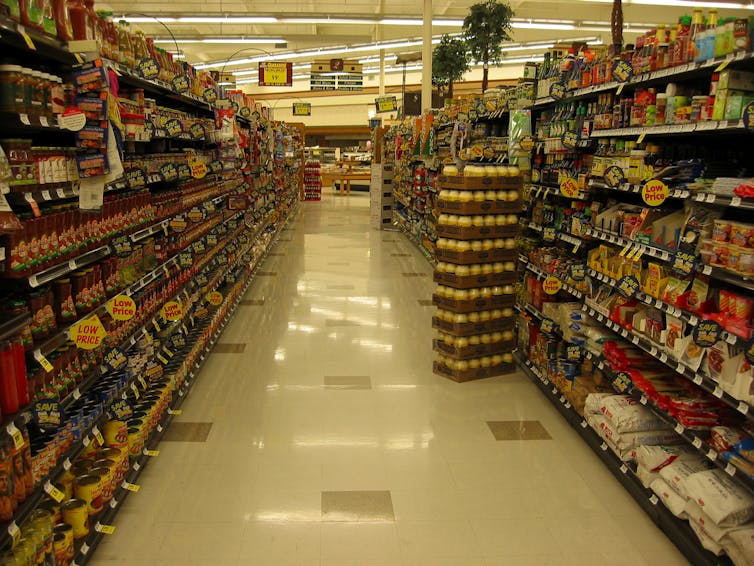 With big supermarkets facilitating greater convenience and lower prices for customers, it's unlikely there will a push for smaller stores and more strip shopping in this country any time soon.
But there are a few changes that could make a difference. First, continued improvement to public transport, such as better bus connections to major supermarkets, could make it easier to leave the car at home when going shopping. Not only would this be a more active way of getting to shops, it would encourage buying less (but more often) because everything has to be carried home.
The use of zoning regulations, lower tax rates or other incentives could be explored to encourage small businesses, such as green grocers and delis, to open in neighbourhood areas.
And perhaps most importantly, our large supermarkets could be encouraged to do better than heavily promoting the unhealthy foods we know to be the main drivers of the obesity epidemic. It is certainly possible to have a healthier food environment in a large supermarket.
These sorts of changes may help contribute to a cultural shift in the way we shop. In the meantime, it seems we might be destined to pay for our convenience with our health.