Anyone who watched the ABC Four Corners episode Stone Cold Justice last night could not help but be moved by its vivid portrayal of the plight of many Palestinian boys at the hands of the Israeli army.
In a highly emotive piece of reporting, Four Corners illustrated some of the 700 cases of Palestinian boys being arrested, interrogated and detained by the Israeli army (there was no indication that girls are being treated in the same way). The alleged interrogation techniques were particularly alarming, with accounts of children being beaten, whipped with rubber hoses, and threatened with sexual violence against themselves or members of the family.
The interrogations had the apparent aim of obtaining a confession that the child engaged in stone-throwing.
The show highlighted the findings of a UNICEF investigation into the treatment of children within the Israeli military detention system, which found that:
…the ill-treatment of children who come in contact with the military detention system appears to be widespread, systematic and institutionalized throughout the process, from the moment of arrest until the child's prosecution and eventual conviction and sentencing.
But is the Israeli army acting lawfully? To answer this question, we must look to international human rights law, and in particular, the UN Convention on the Rights of the Child, which has been ratified by 193 countries – including Israel, which ratified it in 1991.
The Convention sets out the obligations of governments when it comes to children. Of particular relevance to the events depicted on Four Corners is Article 3, which provides that:
In all actions concerning children…the best interests of the child shall be a primary consideration.
Article 37 also requires that governments shall ensure that no child is "subjected to torture or other cruel, inhuman or degrading treatment or punishment"; that no child is deprived of his or her liberty unlawfully or arbitrarily, and the "arrest, detention or imprisonment of a child shall be in conformity with the law and shall be used only as a measure of last resort and for the shortest appropriate period of time". Finally, it provides that:
…every child deprived of liberty shall be treated with humanity and respect for the inherent dignity of the human person, and in a manner which takes into account the needs of persons of his or her age.
If Four Corners accurately reported the actions of the Israeli army, then the conduct portrayed clearly violates both Articles 3 and 37 of the Convention. If offences are committed by children, the state is entitled to detain those children, but under no circumstances is it entitled to torture them or treat them in an inhumane or degrading manner. It is when a state crosses that line that it violates international law.
Being a party to the Convention means that each country has to subject itself to review by the UN Committee on the Rights of the Child every five years. This body of 18 independent child rights experts reviews Israel's report on its compliance with the convention, as well as "shadow" reports submitted by civil society.
Israel was last reviewed by the committee in June 2013. At that time, it made the following observations regarding Israel's treatment of Palestinian children:
The Committee expresses its deepest concern about the reported practice of torture and ill-treatment of Palestinian children arrested, prosecuted and detained by the military and the police… The committee notes with deep concern that children living in the OPT [Occupied Palestinian Territory] continue to be:

a) Routinely arrested in the middle of the night by soldiers shouting instructions at the family and taken hand-tied and blindfolded to unknown destination without having the possibility to say good bye to their parents who rarely know where their children are taken;

b) Systematically subject to physical and verbal violence, humiliation, painful restraints, hooding of the head and face in a sack, threatened with death, physical violence, and sexual assault against themselves or members of their family, restricted access to toilet, food and water. These crimes are perpetrated from the time of arrest, during transfer and interrogation, to obtain a confession but also on an arbitrary basis as testified by several Israeli soldiers as well as during pretrial detention;

c) Held in solitary confinement, sometimes for months.
The Committee went on to recommend that Israel:
Launch without delay an independent inquiry into all alleged cases of torture and ill-treatment of Palestinian children. This should include ensuring that at all levels of the chain of command, those who have been ordering, condoning or facilitating these practices be brought to justice and be punished with penalties commensurate with the gravity of their crimes.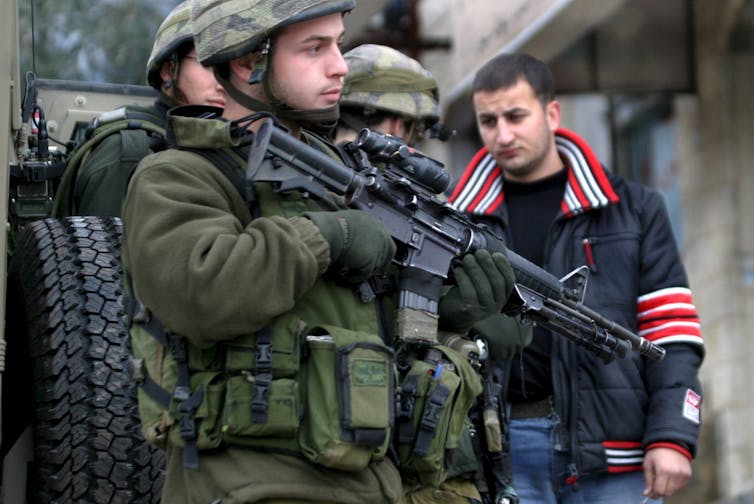 Although Israel has not indicated whether it will comply with this specific recommendation, it has acknowledged that it must change its practices relating to the night-time arrests of Palestinian children, and reform is underway.
In September 2013, Israel indicated that it would pilot a program of issuing summons to children rather than engaging in night-time arrests. It has also reduced the period of time that a child can be detained prior to being brought before a court from four days to 24 hours for children aged 12-13, and from four days to two days for children aged 14-15. This is in line with the recommendations contained in UNICEF's February 2013 report.
When riling against these atrocities that have apparently been carried out by the Israeli Army, we should also recognise that there are several programs being implemented within Israel to foster positive relationships between Israeli and Palestinian children. These are programs which don't attract high-profile media attention from the likes of Four Corners.
For example, the Peres Center for Peace is working to break down barriers and build a sustainable future through a program that involves Palestinian and Israeli children playing soccer together, and Hand in Hand, the Center for Jewish-Arab Education in Israel, is attempting to build peace, partnership and equality through a network of integrated, bilingual schools and shared communities of children.
These initiatives by civil society, and the fact that Israel seems to have begun to implement some reforms to the way it treats Palestinian children, perhaps provide some basis for cautious optimism.