The phone connection illuminates the dashboard screen.
"Ivan Locke," says the man behind the wheel.
"Ivan. Where are you?" says a woman's voice.
"I'm in the car," he replies.
This direct way of answering the phone is crucial to understanding the central character of Ivan Locke (Tom Hardy) in Locke (2013). The film, directed by Steven Knight, is one of the 12 Official Competition films at the Sydney Film Festival (SFF).
Ivan is in his BMW driving down the M6 towards London. Behind him are his wife, family and his career as a construction manager. In front of him is a woman who is giving birth to his child. With each phonecall, and each kilometre travelled, his future becomes more and more uncertain.
What is not uncertain, though, is his determination to keep driving. The woman in labour is not his destination. He barely knows her; nor does he intend to live with her and raise the baby. This predicament is his "fault", and he has decided to be at the birth.
As he drives, the phonecalls keep coming and the crisis deepens. He confesses to his wife that he is not coming home because he has fathered a child who is being born. He informs his boss that he will not be at work tomorrow to supervise the biggest pour of concrete in Europe outside military or nuclear.
He is fired and his wife tells him he no longer has a home. The woman who is giving birth needs him to tell her he loves her. "I barely know you", he replies. She hangs up when she does not get the answer she wants. In fact no-one gets an answer they want.
No-one except the audience – and it comes in the form of a series of vituperative monologues directed at Ivan's dead father. Ivan looks into the rear vision mirror and addresses the empty seat. He is doing this because his father never would have.
"I want to you to see this. I want you to see what I am doing," he says in the rear-view mirror. Locke's trip is a rescue mission. By being present at the birth he will rescue the baby from fatherlessness, and himself from his father.
The melodrama of the monologue
The monologues, marked by unrestrained hatred and loathing as opposed to the calm, reasonable, pragmatic tones of the phonecalls, explain not merely Locke's actions but why Locke is acting the way he is. The effect is to delineate an honourable, even heroic man.
Ivan Locke intends to take responsibility for fathering the child. He is not convinced this means his family is lost to him. It is not that he is an optimist, or that he is delusional.
It is a crucial dimension of Locke's character (and of Tom Hardy's performance) that his insistence on a practical solution to the situation is entirely credible, convincing.
Melodrama is about the recognition of virtue. The monologues lead the audience to believe that Ivan Locke is a virtuous man, they bind us to Locke like a conscience. "I have straightened out the Locke name," he says to his father.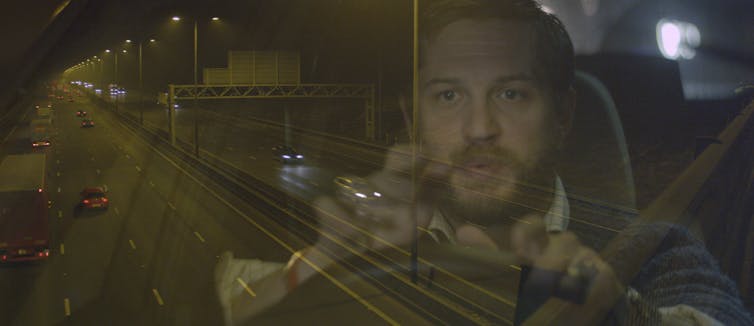 This special relationship between character and audience is a feature of melodrama. Melodrama makes the universe morally legible. I am suspicious of the monologues because they offer this private viewing of a morally legible man.
Locke reminds me of Asphalt (directed by Joe May, 1929) a film that traces the catastrophe that awaits one single act of misjudgement, and The Human Beast (directed by Jean Renoir, 1938), in which a man is condemned by his genetic history.
Locke doesn't go that far by any means, but it does illuminate a character determined to overcome his past, who has been tripped up by a single infidelity. The tide of incoming and outgoing calls suggests Locke has power to act at a distance, a control of space and time but perhaps not the space and time of his own life.
So what are Locke's chances of emerging victorious when the SFF competition is decided on Sunday June 15? Very good.

The Sydney Film Festival runs until June 15.