As Prime Minister Tony Abbott shifts his Asian tour focus to China, it seems likely the threshold for formal approval on Chinese investment in Australia will be raised to A$1 billion.
But any move to open the doors to more investment from China seems destined to drive an outbreak of public concern, based more on Chinese whispers than on fact.
A case in point is last month's outcry about Chinese real estate investors outbidding Australian home buyers, which resulted in the institution of a parliamentary inquiry by Treasurer Joe Hockey.
The starting point was the publication of the Foreign Investment Review Board's 2012/13 annual report. The report listed a figure of A$5.9 billion for Chinese real estate applications that included commercial and residential real estate. This figure was picked up by various media and analysts, some highly respected, and was soon being represented as $6 billion worth of actual purchases of Australian real estate by Chinese buyers.
Such misrepresentation is due to a misunderstanding of what Australian Bureau of Statistics and FIRB statistics actually represent and the lack of statistics that specifically report incoming new foreign investment into Australia.
With the non-approval threshold for Chinese investment likely to rise to $1 billion in line with the agreements the prime minister has reached with Japan and Korea, there is likely to be more unrest about Chinese planned and real investment if the available information is not understood and used responsibly.
The data gap
While reports and analysis on Chinese investment in Australia mainly draw data from the ABS and FIRB, neither are set up to report on inflowing new investment, such as Chinese investment in the real estate sector.
The ABS international investment position (IIP) account reports annual direct investment stock and flow data from all foreign countries, including China. The bureau carries out a quarterly Survey of International Investment (SII) and collects data on FDI. This approach represents the balance of investment outflows and inflows, but not inflows per se. Moreover, the ABS provides aggregate investment data at the national level and does not give detailed breakdowns for sectors such as real estate.
FIRB's annual reports present statistics on approved investment in Australia by foreign interests. Investment below FIRB's approval thresholds is not reflected in FIRB data, unless it is made by state-owned enterprises.
From 2005, FIRB started to report investment applications from China disaggregated by sector. In the context of real estate investment, FIRB requires foreign persons who want to buy land for commercial development or acquire residential real estate in Australia to notify or gain approval before purchase, unless new dwellings are bought from a developer who has obtained pre-approval to sell to foreign buyers.
FIRB approval figures tend to be higher than actual new investment, as they reflect intended and approved investment, some of which may never eventuate. FIRB approval statistics by their nature may include double and multiple counting when more than one investor applies for the same investment project.
New data sheds new light
A completely new set of data has been set up by a joint team from KPMG and the University of Sydney Business School in association with the Chinese Studies Centre. This dataset on annual inflows of Chinese direct investment to Australia offers an alternative source of information on real estate investment in Australia. An interactive website built upon this dataset will be launched by the Minister for Trade and Investment, Andrew Robb, in Shanghai today.
Since 2011, KPMG and The University of Sydney have been working on a new database to close a noticeable gap in public information. These data include Chinese direct investments in mergers and acquisitions, joint ventures and greenfield projects, including commercial real estate deals above $5 million.
According to this dataset, in 2013, 20 real estate investment deals were recorded, worth a total of US$1.29 billion and amounting to 14% of the annual Chinese investment inflow. In particular, NSW has attracted the majority of Chinese commercial real estate investment. 77% of this investment has gone into NSW, followed by Victoria (15%), Queensland (5%), and Western Australia (2%). By ownership of the investors, 65% of the investment volume was made by Chinese private enterprises, while 35% was made by state-owned enterprises.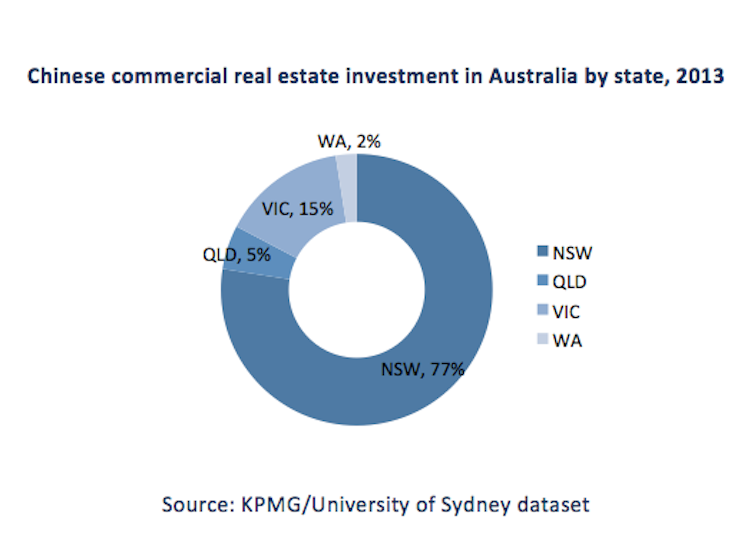 Based on this data it's clear Chinese real estate investment has a substantial commercial component which adds new real estate to the Australian market.
Additional anecdotal evidence points to the long term nature of Chinese investment which allows buyers to take a long-term stance that might be reflected in higher bidding prices. Finally, in these areas there is little difference between private and state-owned investors who pursue similar projects and compete against each other.