A no-deal Brexit would leave both the EU and UK "at greater risk of terror attacks", security minister Ben Wallace has warned in a speech in London. He went on to add that threats that "begin in Europe" can "quickly reach the shores of the UK".
The speech came as part of a series of interviews to gather support for prime minister Theresa May's Brexit deal before it goes to the House of Commons for a vote. The concern seems to be that, if MPs reject the deal on the table, the UK would be locked out of EU-wide security databases after Brexit.
The UK government has been keen to agree a security partnership with the EU. The prime minister told MPs in the House of Commons that her Brexit deal delivers "the broadest security partnership in the EU's history, including arrangements for effective data exchange on passenger name records, DNA, fingerprints, and vehicle registration data, as well as extradition arrangements like those in the European Arrest Warrant".
And the political declaration agreed by the EU and UK on their future relationship does indeed state that they "should establish a broad, comprehensive and balanced security partnership".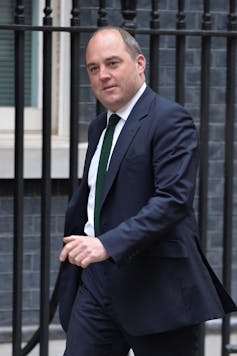 Opponents argue that the deal with the EU could damage other security partnerships – particularly the Five Eyes Alliance with Australia, Canada, New Zealand and the US. This is because the deal "surrenders British national security by subordinating UK defence forces to military EU control and compromising UK intelligence capabilities".
Among them is former MI6 chief Richard Dearlove, a Brexit supporter who has argued that the UK must "cut free" from Europe and avoid "continuing entanglement and subordination to the EU after Brexit" on security.
But these fears are overblown. As Dearlove should know, intelligence ties with the US and others are compartmentalised from wider diplomatic and political tensions. Just look at the furore over the future of the "special relationship" under the presidency of Donald Trump. Intelligence officials on both sides of the Atlantic realise that intelligence liaison is of mutual interest to both sides. Britain can offer the US unique geography because of its proximity to Europe, expertise and new insights. US agencies can provide tech and money. Cutting exchanges would be damaging for both sides and suggesting otherwise is misleading.
Britain has also always collaborated closely with European allies as part of the North Atlantic Treaty Organisation (NATO), while GCHQ, the Secret Intelligence Service (SIS or MI6) and Security Service (MI5) have enjoyed intimate, and increasingly stronger, ties with European counterparts.
GCHQ's director, Jeremy Fleming, told NATO delegates in June 2018: "We're leaving the EU but not Europe … We have excellent relationships with intelligence and security agencies right across the continent."
Even a no-deal Brexit wouldn't threaten Britain's existing bilateral arrangements with individual European allies. Much intelligence sharing takes place at a national level away from the EU anyway. But it's clear that some intelligence and law enforcement sharing would be restricted post-Brexit. That would have knock-on effects for counter-terrorism, serious organised crime and trafficking.
John Sawers, another former MI6 chief, has warned that Brexit means no longer shaping rules for sharing data. The UK would also lose its automatic access to information systems used in the EU to track the movement of "dangerous people".
In the short term, the negotiated withdrawal agreement continues the UK's access to the European Arrest Warrant. British law enforcement will continue to have access to the European-wide Secure Information Exchange Network Application (SIENA). The UK's membership of Europol – the EU-wide law enforcement agency – is open for negotiation, even if officials had earlier warned that it would have to leave. Loss of access to Europol would certainly limit Britain's influence.
But what next? The government's proposals for its future security relationship with the EU are the opening gambit in a long drawn-out negotiation process. This is not the endgame, just the start. While May's vision for a post-Brexit security agreement doesn't – as Brexiteers such as Dearlove and others suggest – spell the end of traditional ties with transatlantic partners, nor end bilateral exchanges with European allies, it does place significant blocks in the way of low-level EU-wide information sharing that remains important to national security. Where it will end up is anyone's guess.