Football fever may not be the only thing spreading when hundreds of thousands of sports fans converge on Brazil for the FIFA World Cup this June and July.
Mass events such as the Olympic and Commonwealth Games, World Youth Day and Hajj, the Islamic pilgrimage to Mecca, always attract the attention of health authorities wanting to reduce the risks of infectious diseases.
So what are the risks of mosquito-borne diseases at the World Cup?
Australian travellers feeling the bite
Dengue is a major health risk for travellers visiting tropical destinations, causing high fevers, headaches, rashes, body aches and vomiting. The virus is primarily spread by the yellow fever mosquito, Aedes aegypti, but also by the Asian Tiger Mosquito, Aedes albopictus.
Australian travellers are increasingly returning home infected with mosquito-borne diseases. More than 1,800 Australian travellers returned home with dengue in 2013, the highest ever reported. Data so far from 2014 suggests this record may be broken by the end of the year.
Chikungunya virus, which causes similar symptoms to dengue, is another mosquito-borne pathogen on the rise. The virus is primarily spread by Aedes albopictus but Aedes aegypti can also play a role in outbreaks. A record number of 133 Australian travellers brought the disease into Australia during 2013. This compares to a five-year average of 32.4 cases from 2008 to 2012.
The problem isn't just Aussies getting sick. Returning travellers can also bring back pathogens that infect local mosquitoes. Local outbreaks of dengue in Far North Queensland are triggered by infected travellers being bitten by, and subsequently infecting, local mosquitoes.
There have also been cases of "baggage dengue" or "airport dengue" where infected mosquitoes have hitchhiked back to Australia.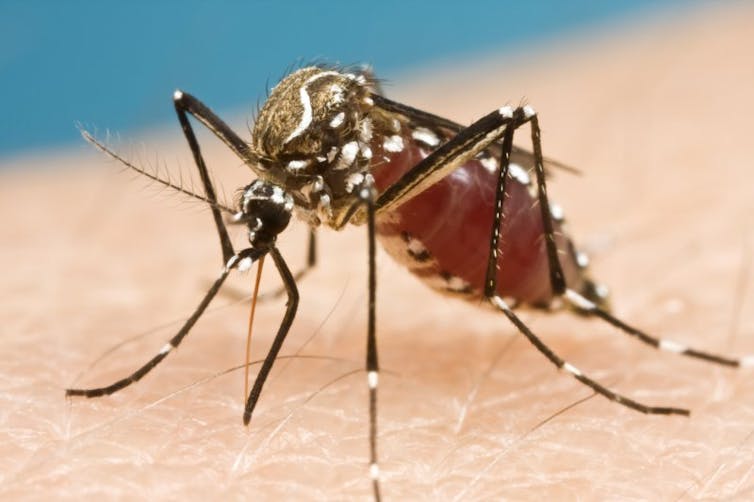 What's happening in South America?
Between 50 to 100 million cases of dengue are reported worldwide each year. South America has experienced a fivefold increase in dengue cases over the past ten years. Brazil has been particularly hard hit, with more than 1.4 million cases of dengue, including over 500 deaths, reported in 2013 alone.
The Caribbean is also experiencing an outbreak of Chikungunya virus for the first time and health authorities are concerned about its potential to spread to North and South America. The spread of Aedes albopictus has increased the risk of Chikungunya virus outbreaks beyond the tropical areas into temperature regions of the continent.
The risks of dengue to travellers in Brazil have been long known. A study of of 1,586 ill travellers returning to the United States from Brazil between July 1997 and May 2013 revealed more than 100 cases of either dengue or malaria infection, the two most common reasons for hospitalisation in returning travellers.
The risks of dengue are not uniform across Brazil. While many Australian travellers worry about their risk of dengue in the Amazon rainforest, it is actually the Brazilian cities where the greatest risk lies. Dengue is an "urban disease" with the two carrier mosquitoes, Aedes aegypti and Aedes albopicuts, generally favouring water-holding containers found around dwellings.
Fortunately, the tournament is not being held in peak "dengue season". But a recent analysis suggests the host cities in the northeast regions of Brazil may still experience high levels of dengue activity, particularly in Recife, Fortaleza and Natal. Dengue has been reported in many regions of Brazil over the past month.
Avoiding mosquito-borne diseases
Prevention is critical to avoiding mosquito-borne diseases. There is no vaccine for dengue.
A range of insect repellents are effective. But there are some differences in insect repellent use required in dengue endemic regions.
Mosquitoes that spread dengue are day-biting species so repellent needs to be applied first thing in the morning, not just at dusk. These mosquitoes are also generally less abundant than the usual Australian pests, so there is a risk that travellers may be complacent regarding the use of repellents.
Sleeping under a bed net at night won't provide protection, although it may help reduce your risk of malaria.
While the timing of the World Cup will mean that overall risks are generally low to moderate, if you're travelling to northern cities of Brazil or elsewhere in tropical South America, take extra care to avoid those mosquito bites.