Editor's note: The following is a roundup of archival stories related to race and violence.
Two white men are going on trial this month for shootings that happened in Charleston, South Carolina during 2015.
Michael Slager, a white former police officer, faces a murder charge for killing 50-year-old Walter Scott, a black man who was unarmed. Slager fired eight shots as Scott ran away.
Dylann Roof, a self-proclaimed white supremacist, faces 33 federal charges, including a federal hate crime for massacring nine black churchgoers at an AME church. He is eligible for the death penalty.
As the trials bring back memories of those horrifying events, we look at highlights from The Conversation's archive.
A dark past, present
Parallels between the two shootings and South Carolina's history of racial violence quickly rose to the surface.
The past is still with us, writes A.D. Carson, a Ph.D. student at Clemson University.
"In 1876, State Senator Simon Coker – who was in Charleston investigating violence against blacks – was seized by a mob and shot in the head as he kneeled in a last prayer. One of the perpetrators of that atrocious event was none other than the eventual governor and senator, Benjamin Tillman, who made his disdain for black people known…"
A statue of Tillman still stands on the grounds of the South Carolina State House in Columbia. Remembering, not honoring, this dark past is important to stop the past from repeating itself, Carson writes.
A place of hate, hope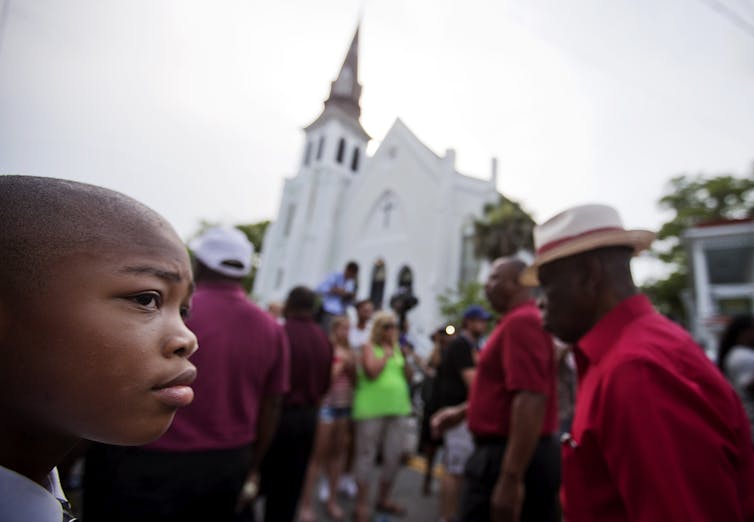 It also was not the first time the Emanuel AME church was the target of racial violence, writes Sandra Barnes, a religion scholar at Vanderbilt University.
"Here are just a few examples of the assaults that took place on Emanuel AME and other churches over the years: white raids; black church services being made illegal in Charleston between 1834 and 1865; the burning of Emanuel AME after the slave rebellion lead by Denmark Vessey; the police harassment of civil rights protesters at Emanuel AME in the 1960s."
Roof's attack was one of many – part of systemic violence embedded in the state's history.
All oppression is connected
Before opening fire, Roof said:
"I have to do it. You rape our women and you're taking over our country. And you have to go."
Not only are his words deeply racist, they are saturated with a form of sexism that reaches back to a colonial mentality of entitlement, writes Lisa Wade, a sociologist at Occidental College.
"It's most clearly articulated in the history of lynching, in which black men were violently murdered routinely by white mobs using the excuse that they had raped a white woman. Roof is the modern equivalent of this white mob."
A vulnerable father
South Carolina also has struggled with an issue related to Walter Scott's death – child support. Reports from the Scott case suggest he ran from Officer Slager because he was afraid of being jailed for not paying child support.
In 2011, a case went to the Supreme Court in which a South Carolina man served one year in prison when he failed to pay child support. Incarcerating poor men often makes a difficult situation much worse, writes Ronald Mincy, professor of Social Policy at Columbia University.
"The fear of incarceration bears indirect responsibility for Scott's death. And Walter Scott was not alone in feeling this fear. At present, there are approximately 9 million nonresident fathers (that is to say, fathers who do not live in the same household as their child or children) of whom over half are economically vulnerable."
A movement grows
After a video of Scott's death was released, members of the #BlackLivesMatter movement called for more citizen oversight of policing. This call to bear witness has served as a form of resistance to oppression since the Jim Crow era, writes Nicholas Mirzoeff, professor at New York University.
"The #BlackLivesMatter movement that began after the death of Trayvon Martin in 2012 insists not just that we sneak a sidelong glance, but that we pay full attention to the repeated deaths of African Americans. This looking is not a gaze, because it does not claim power over the victims. Rather, it creates the digital form of what Martin Luther King Jr called 'the beloved community.'"