The ultimate result of the New South Wales election is still waiting on the resolution of the upper house where counting continues. A possible court challenge could lead to a fresh upper house poll being called. That leaves the re-elected Baird government's plans hanging in the balance.
Unlike the narrow Labor wins at the recent Queensland and Victorian elections, which caught many pollsters off-guard, the comfortable NSW Liberal National victory on March 28 was widely predicted.
But the elections did all have one thing in common: they showed that the old notion of "polling day" is increasingly outdated. Early voting is rising rapidly across Australia, including in the latest NSW election.
In 1995, only 4% of NSW electors voted early. By the 2011 election, it was 15%. The early figures indicate that could climb to about 25% in 2015. (That includes about 640,000 prepoll votes and 284,000 online votes via the iVote system, while the final number of postal votes is still to be confirmed.)
According to the company operating iVote at this election, Scytl, NSW set a record for the most online votes in any government election worldwide, beating the previous record of more than 240,000 online votes set by France, as well as recent online votes in Estonia and Norway. It also represented a sixfold increase from the 46,864 iVotes at the 2011 NSW election. That's entirely in line with Australians being early adopters of technology, such as smartphones.
Overall, the high early vote in NSW mirrors a trend seen in other state and federal elections. For instance, at the 2013 federal election, more than 26% of voters voted early. That was more than double the rate of a decade earlier.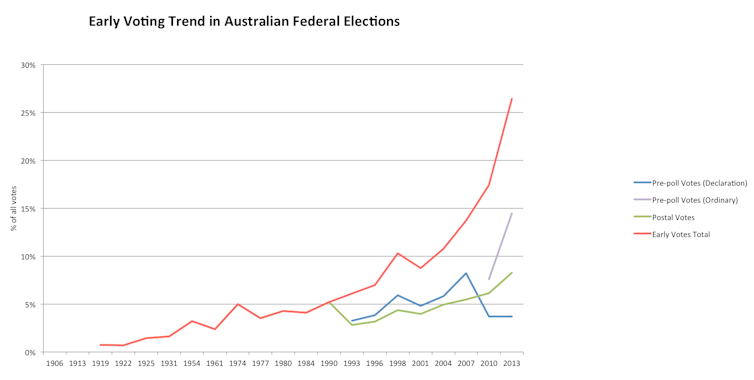 But is it good for democracy to have so many people voting before polling day? And how are Australia's political parties likely to change their campaign strategies to woo early voters?
Electoral commissions offering more options
Australian election commissions like to be thought of as custodians of their electoral system and tend to see themselves as the most independent parts of the public service. With a limited role in policing candidates' political behaviour (with the exception of South Australia, where the commission regulates truth in political advertising), their focus is on protecting the integrity of the electoral administrative process and expanding participation.
While the former is most visible in the breach rather than the observance, the latter is seen in voter awareness campaigns, personalised reminder services, electoral reminder mail, easier voter enrolment (such as automatic enrolment in NSW) and an increased range of options for early voting.
In NSW, those options include pre-poll voting at physical voting locations, postal ballots and the predominantly online iVote electronic voting system.
iVote is not without its critics – and in this election a human error meant 19,000 votes were cast online while two minor parties (the Outdoor Recreation Party and the Animal Justice Party) were not listed above the line on the upper house ballot paper. The Animal Justice Party is still in the race against the Coalition for the final upper house seat. If it narrowly misses out, there is a strong chance of a legal challenge.
But even amid widespread media coverage of that error and other potential security concerns, the popularity of online voting in this election beat even the state electoral commission's forecasts of 200,000 to 250,000 iVotes.
Convenience vs cohesion: the pros and cons of early voting
It is generally agreed why electors vote early: convenience. Rather than lining up on a Saturday, what many people see as a chore can now be completed at leisure.
Swinburne's Nathan Reader has previously pointed out that that this matches a changing tempo of life: more Australians work on weekends, are busier than ever before and are less tolerant of what they perceive as inflexible compliance with government.
So the real question is whether the early voting trend in Australia is significant, or just another part of the larger change that has come with the rise of the convenience economy.
The most prevalent argument against early voting is that it undermines the "function" of elections: that in a representative democracy, citizens who are largely absent from the day-to-day governmental process should stop once every few years and have a good, hard think before voting.
This is a "republican" (as in Rome) model of citizenship that places emphasis on the individuals adherence to the civic duties to be engaged, informed and participative. In this context, then, elections should be "focusing events" filled with information-rich political discourse: from candidates to electors in the form of policy ideas; from electors to candidates in the form of questions; and between electors, debating the key issues.
This allows citizens to make informed decisions they can feel committed to. It also gives governments legitimacy for their programs and allows political elites to accurately gauge popular opinion.
The idea is that the contest of ideas runs right runs up to polling day. And the electronic media blackout just before the poll gives us all time to retire to our homes unmolested to reflect, weigh up what policies matter most to us and consider all the pros and cons, opportunity costs, risks and trade-offs.
There is another argument against early voting: that it undermines an important social cohesion process, emphasising collectivity and equality, which is the point of having elections in the first place. Some people feel that by removing the "gathering together" aspect of elections, pre-poll, postal and online voting also undermine a key civil ritual.
These perspectives do have merit, but they overstate the significance of elections. Indeed, these views make elections synonymous with democracy itself: a formalistic view of a complex concept. Elections can be important civic rituals, but they can also be ritualistic. Elections are often not competitive, but simply serve to re-endorse an existing government.
The battle for swinging voters
Concerns that early voting will significantly change exactly "when" people make a vote decision also appears unfounded. As the figure below shows – drawing from Australian Electoral Study data – the majority of Australian voters have already made a decision on how to vote before a federal election is called.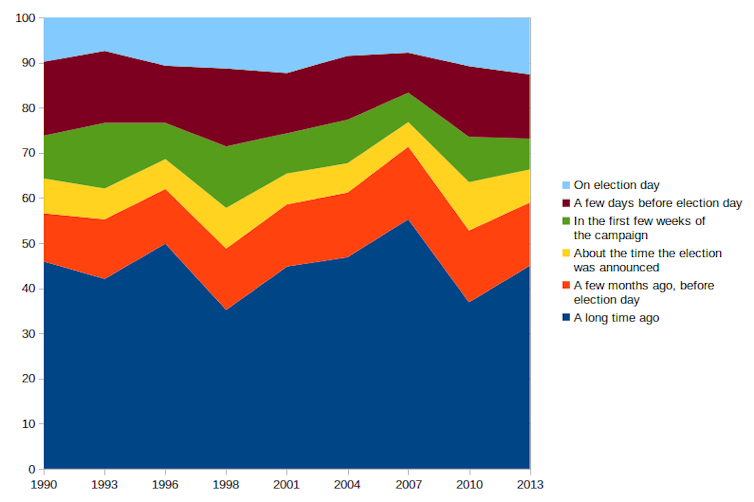 Swinging voters who decide how to vote late in the campaign are often disparaged as uninformed, "soft" and under-engaged.
Whether that is true or not, our political parties have tended to respond as if it is. Electoral messages are simplistic and put on high rotation, following a model of audiences that assumes low levels of attention, interest, recall and cognitive processing. The rise of early voting in Australia does not appear to have significantly changed this jaundiced view of the public.
However, one way that increased early voting is changing elections campaigns is that parties know that electors may "defect" from the campaign and vote early.
Traditional election campaigns have four distinct time periods: frame (the campaign); defame (the opponent); explain (the policy); and acclaim (move to a positive commitment decision close to polling day).
The increased availability of early voting options will mean there is a stronger incentive for parties to "win" the political communication game in each day of the campaign.
Early voting options also means that campaign communications will try to be more persuasive: don't just vote for me, but vote for me right now. Opposition parties will need to have higher visibility between elections, so will need to campaign rather than attempt small-target strategies. Governments, as always, will need to perform because elections are theirs to lose, not to win.