Violent conflict is surging after decades of relative decline. Deaths in war, refugee numbers, military spending and terrorist incidents have all reached historic highs in recent years, according to a new United Nations and World Bank study.
There has been an eruption of horrific violence in Gaza on top of ongoing conflicts in Syria and the Rohingya crisis in Myanmar and Bangladesh. Add to this eight million people on the brink of famine, a million declared cholera cases and over three million internally displaced people in Yemen and it becomes clear that the world needs to address the root causes of violent conflict.
Major world powers sat down for a meeting at the UN General Assembly in April 2018 to discuss the new UN initiative, "Sustaining Peace". Among their number was the UK Minister of State for the Commonwealth and the United Nations, Lord Ahmad, who gave a statement noting the UK's support of the agenda of peace – particularly the renewed focus on conflict prevention.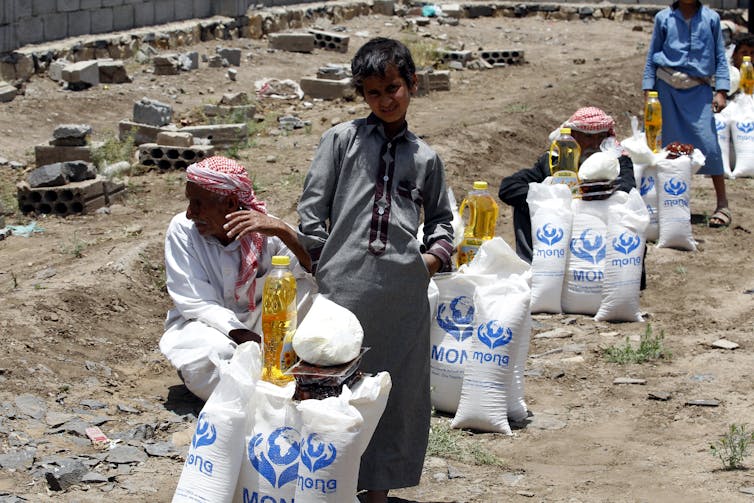 But there is a key element missing from the UN's peacebuilding plans: the role of economic, social and cultural human rights. When it comes to building peace, the role of human rights has been focused on civil and political rights – such as the right to life, the right to vote, establishing democratic institutions and the rule of law. But the contribution of economic, social and cultural rights has been largely overlooked. That is a mistake which needs to be addressed.
A root cause of conflict
Addressing economic, social and cultural rights is important for tackling violence and building peace because the denial of these rights can be a major contributing factor to conflict. They can in fact be one of the root causes of conflict and a driver of continuing unrest. For example, violations of the right to water caused by poor management or discrimination in access to water can caused violence in 2000 in Cochabamba, Bolivia. Water shortages can also lead to displacement such as that which contributed to the civil war in Syria where tensions caused by four successive droughts in the predominantly Kurdish northeastern region of the country forced two million small scale farmers to migrate into the urban areas of Aleppo and Damascus. So addressing fundamental rights can be a part of the solution and can be a key element of preventing conflict as well as post-conflict peace building and development.
Consequently building and sustaining peace requires attention to the "before, during and after" of destructive conflict, and economic, social and cultural rights are of crucial importance in all of these phases.
Significantly, they provide legal entitlements for people's basic needs such as food, water, housing and health. Realising such basic rights are essential to preventing violent conflict as "prevention is better than cure".
If these basic needs and rights can be met then it will help prevent conflict and so reduce the terrible human cost of war and violence – so prevention can be cheaper than the cure, too. In 2016, conflict cost world states US$14.3 trillion, or 12.6% of global GDP. Increased focus and expenditure on conflict prevention could save states between US$5 billion and US$70 billion per year, reducing the economic cost of war as well as reducing the human cost.
An early warning system
The monitoring of economic and social rights can also form part of an early warning system when it comes to conflict risk assessment. For example, monitoring the number of violations of rights (such as the rights to food, housing or health), the widening geographical spread of violations, and worsening discrimination against particular community groups can help identify areas where there is an increased risk of conflict emerging, escalating or relapsing. These monitors can also spot worsening poverty which also fuels conflict.
Mapping violations that act as conflict triggers – such as civil and political rights violations – can assist in understanding how to address grievances before they "tip over" into violence. For example, repression of peaceful protests over food shortages can trigger violence. The root cause of the violence is lack of food but the repression of the protest is what tips it over into violence. Tackling both the root cause as well as the freedom to peacefully protest is necessary and so discussion of economic and social rights need to be integrated into mediation and diplomacy efforts.
But there are some challenges to this process, including definition of "early" in terms of timing for interventions and obtaining, gathering and sharing the required data in conflict zones. Here the role of civil society and particularly human rights defenders is key as they are often the only groups with access to obtain such data.
Ensuring that economic and social rights are included in measures to prevent conflict and sustain peace does not require reinventing the wheel. The existing international human rights framework for such rights already provides a legal basis, clear obligations and indicators for the management and prioritisation of resources to meet basic rights. Such a framework can be used to assist with grievances within a state before violence erupts and certainly as part of any mediation when tensions are high.
The UN must take the lead role here, if asserting and protecting these rights are to really help prevent future wars and destructive conflicts. It needs to mainstream economic, social and cultural rights within all three pillars of the UN - peace and security, development and human rights. Training, leadership and sharing of expertise will be required.
The enhanced focus on prevention within the "sustaining peace" agenda is welcome. But until those tasked with building and sustaining peace start dealing comprehensively with economic, social and cultural rights, a part of the puzzle will remain missing. Without it, sustaining peace will not be possible.