On March 8, 40 girls were killed in a fire at a home for abused youth in Guatemala. More than 800 children and adolescents were living in the home.
In Guatemala, youth are at high risk of becoming victims and perpetrators of crime and violence. This insecurity is a primary factor pushing thousands of young Central Americans to leave their homes and travel north. In fiscal year 2016, nearly 60,000 youth from Central America and Mexico crossed the U.S. border without a parent or guardian. During the peak of the crisis in 2014, more than 68,000 made the perilous trek.
The vast majority of these minors are arriving from what are called Northern Triangle countries in Central America: Guatemala, Honduras and El Salvador. More recently, an increased number are coming from Guatemala. Since 9/11, U.S. policy has primarily focused on securing the southern border. For even longer, U.S. foreign policy in Central America has focused on funding a militarized war on drugs, which in turn has fueled the root causes that push people to migrate.
But some efforts have been made to identify and address these root causes.
Since the summer of 2015, I have been assessing a small pilot educational program that targets some of the issues that eventually lead to youth migration. Who benefited from the pilot and how? What could this case study teach us about how to direct future humanitarian aid to Central America? These were questions I set out to answer.
Root causes of uprooted childhoods
Civil wars in El Salvador, Nicaragua and Guatemala may have ended in the 1990s, but the violence has taken new forms. Since the wars, organized crime and corruption within Northern Triangle countries have become widespread. They are key factors that "push" migrants to move out.
Meanwhile, there has been little economic development in the region, and there are limited educational opportunities for youth. These factors create the allure of opportunity in the north that "pulls" young people to migrate far from home.
Research has confirmed the impact of these push-and-pull factors. In interviews with 404 unaccompanied minors or children separated from their families, the United Nations High Commissioner of Refugees identified several patterns of harm in their home countries. They included violence by organized, armed criminal actors, such as drug cartels, gangs or state actors, and violence and abuse in their homes by caretakers. Many stated they had been abused by human traffickers while en route to the U.S.
Another study by the World Bank found that about half of youth in the region, particularly those of indigenous origin, are at risk of behaviors such as migrating. Poverty, interpersonal violence and violation of human rights, such as lacking access to education, contribute to this risk.
Voices of the youth
Since 2010, USAID has funded the Violence Prevention Program, which develops crime prevention activities in Central American countries. In Guatemala, it served 50,000 families across 21 municipalities between 2010 and 2014. It funded 26,761 vocational courses and involved 37,040 children and young adults in educational, cultural and recreational activities.
A 2014 evaluation of the program found that it was generally successful. Residents of the cities and towns served reported reductions in extortion, blackmail, drug sales, homicides, robberies and gang problems. Those interviewed reported greater confidence in the police and supported local crime prevention efforts.
However, another study on activities in Guatemala found the communities still perceived problems such as a lack of vocational training and limited job opportunities for youth. In response, an educational program was piloted as part of the Violence Prevention Program, in partnership with the Universidad del Valle de Guatemala.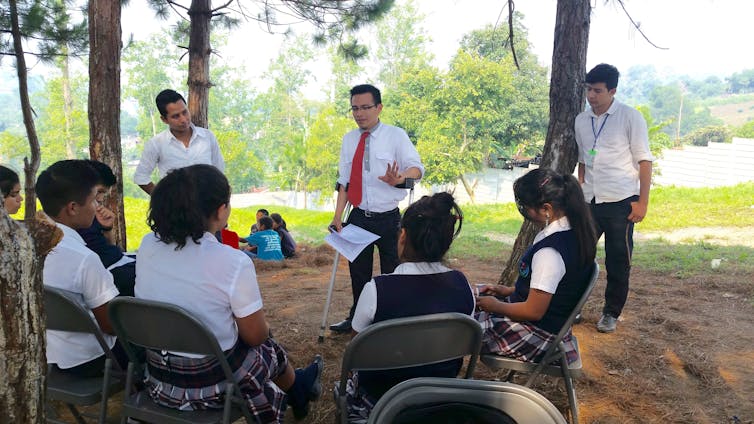 From May 2012 to July 2014, the educational pilot was developed. The program provided 159 young adults aged 16 to 24 with scholarships for technical education. I interviewed these youth, as well as administrators and staff of the organizations that were involved.
In total, 10 youth accepted the scholarship program in the Highland Campus. All of them were from Coban, a city of about 80,000 inhabitants, and one of the most violent regions in Guatemala during the civil war. The city is still affected by ongoing drug wars.
The scholarship recipients were both girls and boys, mostly of Pocomchí and Q'eqchi' indigenous origin. Mayan ethnic groups are often socially and economically marginalized and have limited access to education. The students chose to study mechanics, computer science and tourism programs. Through the university's departments of psychology and social work, they were provided with psychological and social services, housing, food and other allowances.
The young people I interviewed reported that the pilot program enabled them to access economic and social opportunities that they would not have otherwise, such as getting a job or creating their own enterprises. A female participant told me:
"In Santa Rosa, [girls] have to stay at home, waiting to become adults, waiting for a boyfriend to come so that they may get married. I always had a different idea. That probably motivated me [to apply to the program]. I asked my mom why she didn't give me education… Now that I was able to achieve all of my goals, I have seen that many of my female peers do not have labor security."
The youth I interviewed expressed no desire to migrate to the U.S. given the risks the journey poses. On the contrary, some were assisting in community planning to get improvement grants from municipalities and support organizations. One participant stated:
"I accepted [the scholarship] because it was an opportunity that is not given [before; it matched my] desire for advancement, to study… if I educate myself more, I can be a better person and as a citizen to return to my community, like I'm doing now, to give back some of what I'm receiving."
The pilot included psychological and emotional workshops that was found to increase the self-efficacy, satisfaction, happiness and persistence of participants. A series of seminars were carried out as part of this to learn from the lessons learned from other educational programs.
Funding violence prevention
Currently, funding for these type of programs is not sufficient to create large-scale impact and long-term stability in the region. Funding the war on drugs and enforcing immigration at the southern border continue to take priority for the U.S.
During the 1980s, U.S. foreign assistance to Central America was earmarked to combat the leftist government in Nicaragua and contain guerrilla forces in El Salvador and Guatemala. After Hurricane Mitch hit the region in 1998, the U.S. increased assistance in the form of humanitarian and development. Then, under the second Bush administration, the U.S. established the Central American Regional Security Initiative to contain crime and violence and curb growing migration. However, a review of this initiative concluded that its emphasis on addressing security threats post-9/11 actually aggravated the roots causes of migration.
In 2014, the U.S. government committed US$9.6 million in emergency funding to El Salvador, Guatemala and Honduras to assist migrants returned from the U.S. USAID launched a five-year, $40 million program to improve security in Guatemala.
Despite these efforts, youth continue to face limited access to education. The pilot I studied responded to the emerging needs of the youth at risk. Programs that strengthen the regional socioeconomic fabric of affected communities stand as alternatives to anti-drug operations. These programs could establish conditions for children and youth to stay in their countries of origin and live more productive and healthy lives.