Christmas is over, the novelty of new toys has worn off, and the holiday chorus of "I'm bored" is echoing in households everywhere. What can you do to stop the boredom?
First, it's important to understand why children feel bored. According to the literature, boredom signals a person's need for physical or mental activity to keep him or her occupied and to vent energy, just like needing food to satisfy feelings of hunger. Apart from the constant nagging, having bored children can lead to negative behaviour, and that's the last thing parents want during the long summer holidays.
What's wrong with kids being bored?
Apart from maintaining the peace, there are other important reasons to keep your children from being bored. The long summer holiday period can result in what's called learning loss. That is, children who aren't kept mentally and physically active during the long school holidays can lose some of the skills they learned during the school year.
The phenomenon of learning loss is well documented in research, and studies have shown that often schools have to spend several weeks bringing students back to their pre-holiday learning levels.
---
Read more: Should Aussie kids go on US-style summer camps?
---
At best, children learn little or nothing during the summer holidays, and at worst, they can lose weeks of learning. The greatest losses occurring in the area of mathematics, and then spelling. The children most at risk of learning loss are those from low-income families, because of the differences in holiday experiences and activities of children from high-income families.
Regardless of income, there are many ways to stop children being bored, maintain their learning and keep them busy and happy during the holidays.
Activities at home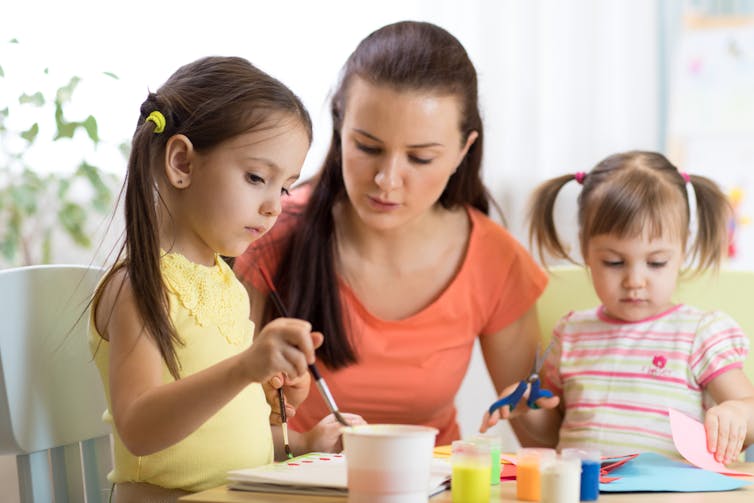 Home is where you can get back to basics with your children.
Encourage your child to read a book. Research has proven that reading for pleasure improves reading attainment and writing as well as general knowledge, and community participation. Reading also provides insight into human nature and decision-making. If you don't have books at home your child is interested in, take a trip to the local library and let them choose.
Play games with your children. If you want to help maintain your child's mathematical learning and keep them having fun, there are lots of simple games you can play. All you need is a deck of cards, a set of dominoes or some traditional board games such as Monopoly, Guess Who or Yahtzee.
If you want to help with spelling, try playing Scrabble or teach your child to do simple crossword puzzles. For those who like a challenge, chess promotes important problem-solving skills.
Get messy with some creative art. If your child is feeling creative and you don't mind a mess, let him or her paint, build, sculpt, design or invent. Creative art has been found to assist in children's learning and promote well-being.
Digital activities
Play fun and educational video games. If traditional activities don't do the trick, there are always the digital alternatives. Research has found playing video games can have cognitive, emotional and social benefits. But it's important to choose carefully.
---
Read more: Why digital apps can be good gifts for young family members
---
Rather than choosing games that promote mindless violence or require little or no thinking, there are many educational games and apps that can help your child continue learning over the holidays such as Minecraft, Pick-a-Path, or MathDoodles. Many good apps are free and even if they're not designed to be educational, they often involve problem-solving skills important in developing critical and creative thinking.
Outdoor activities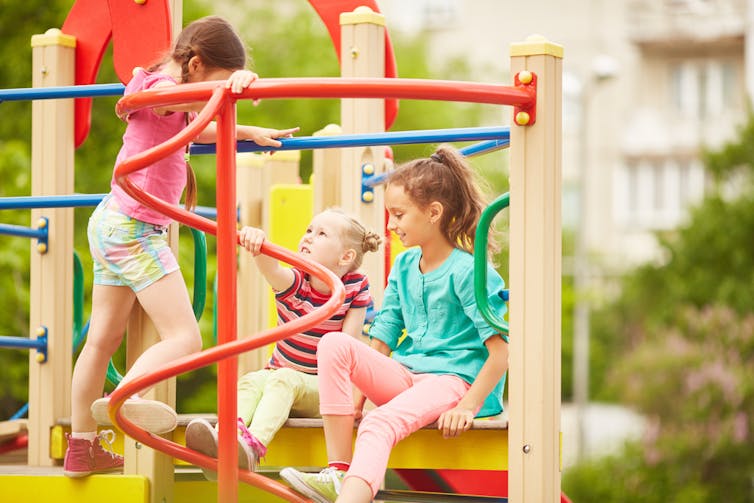 Take your children to the local park or playground. Recently, the NSW Department of Education announced over this year's summer holidays it will trial having the playgrounds of 40 schools open to the public. This is aimed at providing access to outdoor spaces for families who don't have backyards for children to play in.
The benefits of outdoor play during the summer holidays are significant. Science says holidays often result in weight gain among adults and children but there are also social benefits like improved self-confidence to be gained from interacting with other children.
---
Read more: Will you gain weight this Christmas?
---
If you want to add educational benefits to outdoor activities, play games that involve keeping score to help children maintain their mathematics skills. Younger children could go on "shape hunts" or "number hunts", or you could play a game of I Spy to ensure there is mental and physical activity happening.
There are lots of other low-cost activities to support your children's education. Going shopping can help your kids learn about financial literacy. Going to a museum or going hiking can teach children about history and nature.
Most importantly, all of these activities will keep your kids' minds and bodies active, keep you sane and stress free, and stop the kids from saying "I'm bored".