Monitoring of our fisheries' health has demonstrated that no solely-managed Commonwealth fishery is subject to overfishing – Senator Anne Ruston, Assistant Minister for Agriculture and Water Resources, media release, June 4, 2016.
Assistant Minister for Agriculture and Water Resources Anne Ruston said no solely-managed Commonwealth fishery is subject to overfishing.
Is she correct?
Checking the source
When asked for sources to support her assertion, a spokesperson for Senator Ruston pointed The Conversation the Fishery Status Reports 2015, which says:
In 2014, 65 stocks were assessed across the 9 fisheries managed by AFMA [the Australian Fisheries Management Authority] on behalf of the Australian Government. Of these:

55 stocks (85%) were classified as not subject to overfishing, and 46 stocks (71%) were classified as not overfished; of these, 44 stocks were both not subject to overfishing and not overfished
no stocks were classified as subject to overfishing, and 7 stocks (11%) were classified as overfished; this is the second time that no solely Australian Government–managed stocks have been subject to overfishing since 2006
10 stocks (15%) were classified as uncertain with regard to the level of fishing mortality, and 12 stocks (18%) were classified as uncertain with regard to the level of biomass; of these, 3 stocks were uncertain with regard to both fishing mortality and biomass. [Emphasis added]
Commonwealth fisheries
Commonwealth fisheries are managed by the federal government, as distinct from fisheries managed by the states and territories.
Commonwealth fisheries are only a modest player in Australian seafood production so Senator Ruston's claim shouldn't be interpreted as suggesting there's no overfishing in Australia.
Commonwealth wild catch commercial fisheries make up about 28% of the Australian production but this is mainly high volume, low value product.
Around 14% of the gross value of Australian commercial seafood production comes from Commonwealth fisheries – less than that of Tasmania, South Australia or Western Australia. And that's without considering economically important recreational fisheries managed by the states and territories.
'Overfishing' vs 'overfished' vs 'sustainable'
Defining whether a fishery is overfished or sustainable is not clear cut. There are different definitions from jurisdiction to jurisdiction, even within Australia. A recent global review of what sustainability actually means in fisheries concluded that:
the sustainability of seafood production depends not on the abundance of a fish stock, but on the ability of the fishery management system to adjust fishing pressure to appropriate levels.
This is important with regard to Senator Ruston's claim, because she talked about "overfishing", not whether Commonwealth stocks are "overfished" – that is, she was referring to the current levels of fishing pressure, not the current levels of stock.
The Commonwealth fisheries harvest policy emphasises this distinction and measures whether a fish stock is "overfished" by the biomass or tonnage of stock, and "overfishing" by the fishing mortality or what proportion of the stock is removed each year.
This draws a line between mistakes that may have occurred in the past versus current management of harvesting that should ideally correct any historical overfishing.
Is there overfishing of any Commonwealth fisheries?
The Australian Bureau of Agricultural and Resource Economics and Sciences (ABARES) produces annual assessments on the status of 92 Commonwealth fish stocks.
It says that 12 stocks or 13% have been overfished, including some well-known species like Orange Roughy. More recently, Orange Roughy has been a management success with catches reduced and stock recovery well-established. So, although they were overfished, there is no longer overfishing.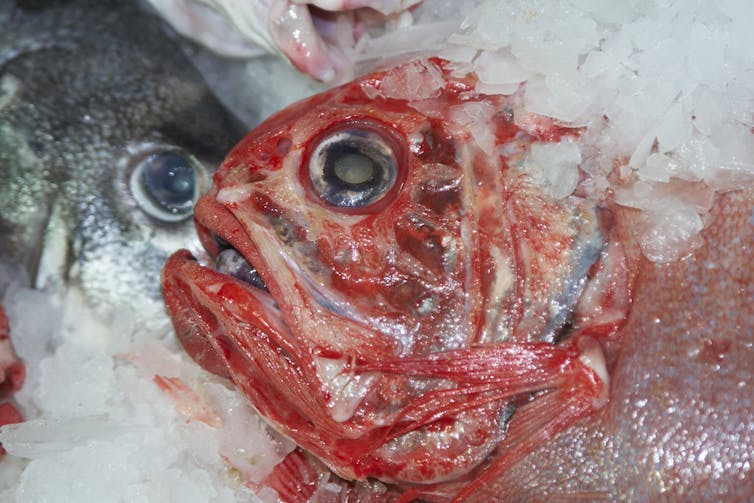 But this isn't the case for all Commonwealth fisheries. Two Commonwealth fisheries are assessed as currently subject to overfishing – Striped Marlin in the Western Tuna and Billfish Fishery, and Bigeye Tuna in the Eastern Tuna and Billfish Fishery.
Both are covered by Senator Ruston's caveat around whether the fish stock is solely managed by the Commonwealth because they're part of larger stocks harvested by other countries.
The Australian Bigeye Tuna catch is only one-third of 1% of the total catch from a huge stock that spans the western and central Pacific. As with many Commonwealth fisheries, the allowable annual quota is rarely taken. This is due to markets and business structures, not stock abundance. Less than half the allowable catch was taken in the most recent year.
There is overfishing of Striped Marlin with around 4,000 tonnes taken by several countries across the Indian Ocean. The Australian catch, however, was less than a single tonne in the last year. So it's reasonable for Senator Ruston to distance Australian fisheries management from these two fisheries where overfishing is occurring.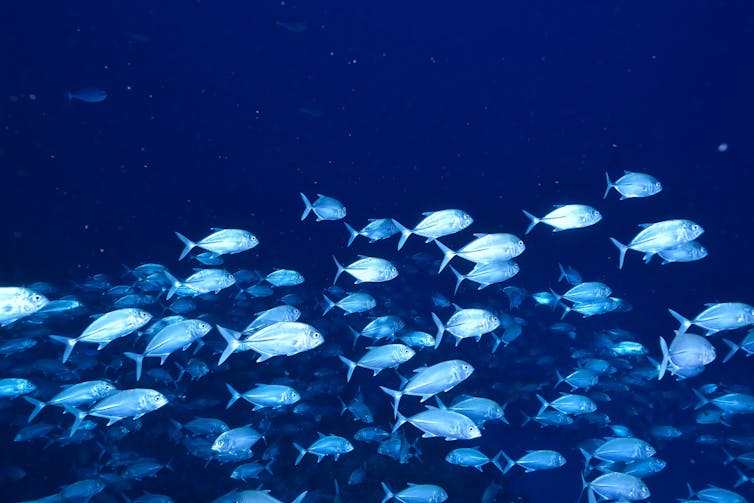 Uncertainty
There are two issues of uncertainty regarding overfishing of Commonwealth fish stocks. Firstly, there's uncertainty around classification of 10 stocks managed by the Commonwealth. Their status is not clearly defined. It's possible some of them are subject to overfishing, although catches are controlled and considered to be conservative.
Secondly, uncertainty surrounds the definition of "overfishing" used by the Commonwealth, which is different from that of some other jurisdictions and from the understanding or expectation of much of the public. The Commonwealth considers that overfishing occurs when the fishery is no longer able to produce its maximum sustainable yield – a very conservative and commercial perspective. Elsewhere, including in nationwide reporting of fish stocks, the bar is set lower and the "overfishing" label only applies when spawning adults are so depleted that future production of juvenile fish is reduced.
If fisheries were a cattle farm, the Commonwealth criteria would say there was a problem if the farm could be managed better and produce more income, whereas many other jurisdictions would only consider there was a problem if the future productivity of the farm was harmed, say by overgrazing.
Verdict
Senator Ruston has accurately quoted from the Fishery Status Reports 2015. It's true that "no solely-managed Commonwealth fishery is subject to overfishing", even by the Commonwealth's conservative definition of overfishing.
However, there is some uncertainty about the classification of some Commonwealth-managed fish stocks. – Caleb Gardner
---
Review
The author's comments present a sound summary of the current situation in relation to the status of both "overfishing" and "overfished" in Commonwealth managed fisheries. However, there are a few points are worth mentioning.
Current management of harvesting can correct current overfishing and it should be able to correct the impact of historical overfishing, but it cannot correct that that overfishing did occur. So although Orange Roughy were overfished, there is no longer overfishing and the impact of earlier overfishing is being corrected.
It's true Striped Marlin and Bigeye Tuna are harvested by other countries and this is the cause of the overfishing problem. However, what is more pertinent to the senator's comment is that the total stocks of these species are managed by international bodies and not the Australian government.
A decade ago there were many Commonwealth fisheries subjected to overfishing as assessed by the same criteria that are currently used; now there are none.
If overfishing is detected, it can be fixed with the traditional fisheries management techniques covered in Australian fisheries legislation. – Bob Kearney
---
Have you ever seen a "fact" worth checking? The Conversation's FactCheck asks academic experts to test claims and see how true they are. We then ask a second academic to review an anonymous copy of the article. You can request a check at checkit@theconversation.edu.au. Please include the statement you would like us to check, the date it was made, and a link if possible.