Elvis's story is so classically American (poor country boy makes good in the city) that his press agents never bothered to improve on it.
So said the great chronicler of American popular culture, Greil Marcus, in his classic 1975 study, Mystery Train.
Elvis Presley was born on January 8, 1935 in a two-room shack in the small town of Tupelo, Mississippi – and died 90 miles away on August 16, 1977 at his Memphis mansion, Graceland. His music was shaped by his upbringing and surroundings – as Marcus observed: "The cultural range of his music … includes not only hits of the day, but also patriotic recitals, pure country gospel and really dirty blues." He sold an estimated one billion records, more than anyone in record industry history. As John Lennon said: "If there hadn't been an Elvis, there wouldn't have been the Beatles."
Australian academics John Connell and Chris Gibson wrote in their 2003 study of the geography of pop music, that music tourism "relies on evidence of cultural activities, incidents from the past, tangible artefacts that can be photographed". And it's a very big business – for example, Elvis tourism is worth an annual US$600m to Memphis's economy. More than 600,000 people visit Graceland each year – which is second only to the White House as the most visited home in the US.
Sun Studio in Memphis, where the young Elvis cut his first commercial record in 1954, attracts 160,000 visitors.
Memories monetised
A number of factors drive music tourism. The rising affluence of the key market – baby boomers (people born between 1946 and 1964) – is a key reason as well as faster and cheaper travel and ease of access (Graceland opened in 1982 to the public). But perhaps the biggest driver, according to Connell and Gibson, is the nostalgia that evokes memories of earlier freedom, reminiscences and regret.
But my research, and discussions at Elvis Presley Enterprises, suggests 34% of visitors to Graceland are under 30. So why are so many young people – not even born when Elvis died – flocking to these sites? Part of this younger demographic can be explained by parents passing down their musical tastes to their children. The use of Elvis's songs on film soundtracks and adverts has also helped in the widening of his fan base. This reinvigoration of this visitor base has prompted public investment – in 2015 Memphis spent US$43m on the development of Elvis Presley Boulevard.
At the heart of music tourism is the level of involvement the tourist has with the musician, sparking interest in providing physical contexts such as where they were born or died or where they recorded or performed their music. Social geographer Tim Cresswell defines place in its simplest form as a "meaningful" location – and music tourism provides an opportunity for fans to "consume" important landmarks or towns either by visiting them or by listening to songs about them. Memphis – with its famous motto: "Home of the Blues, birthplace of Rock'n'Roll" – presses many emotional buttons.
Paying respect
The metropolitan area of Memphis has a population of 1.3m people. About 90 miles to the south–east – a three-hour Greyhound bus journey away – is Tupelo, a small country town with a population of just 36,000. Their Elvis tourism model is much different to Memphis. The executive director of the Elvis Presley Birthplace Museum in Tupelo, Dick Guyton, summed up its positioning:
Elvis lived here until he was 13 years old, so he was an unknown little boy when he left Tupelo. He became an international entertainer once he got to Memphis. Memphis takes care of the entertainer Elvis, what we portray here is the unknown Elvis, the little boy Elvis. We don't have any neon, we don't have any bright lights, we don't play any loud music. They want to come where Elvis lived as a child and see where he was born. It wouldn't be right if we had lights all over the house because it wasn't like that when he lived there.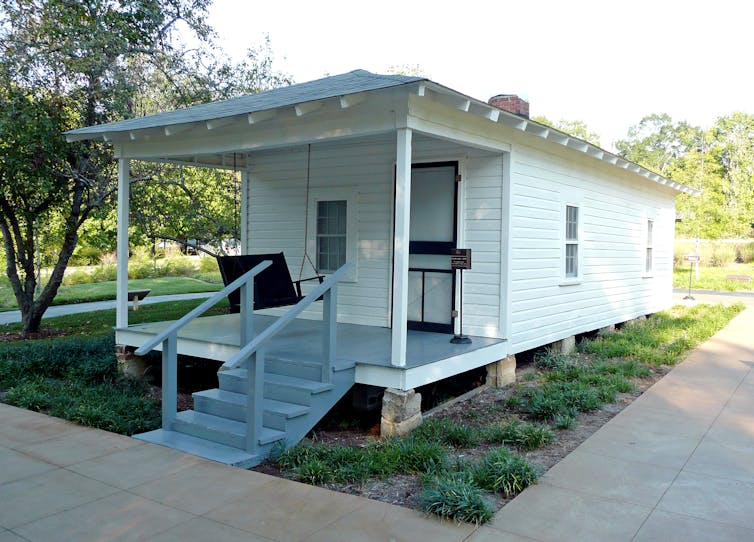 The site has his boyhood home, next to a small museum and a chapel playing Elvis's gospel songs: quiet, tranquil and lovely. On the site there is also the small relocated Assembly of God church where Elvis sang southern gospel as a boy and whose pastor taught him basic guitar chords.
Fans celebrating major anniversaries is a key element of music tourism, part of the process of remembering times past. More than 100,000 visitors are expected to attend the Elvis Presley week in Memphis on the 40th anniversary of his death. And so the legacy of Elvis lives on and grows.