Her name was Lola. She was a showgirl.
But that's not all she was. Not by a long stretch.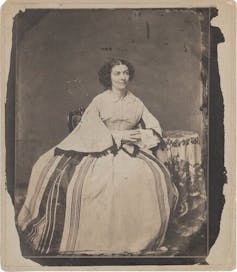 Lola Montez was born in Limerick, Ireland in 1818, and christened Maria Eliza Delores Rosanna Gilbert. She changed her name to Lola when, at 18, she fled an arranged betrothal to a reviled old man. The woman who had dined (and slept) with the kings of Europe, plotted against the Jesuit-controlled monarchy in Bavaria, given advice on matters of state to Czar Nicholas and Ludwig I, performed in the opera houses of Europe, married at least three times and travelled the globe with her infamous Spider Dance, died alone in a New York boarding house of syphilis, aged 42. Her gravestone simply reads "Mrs Eliza Gilbert".
By the end of her short and explosive life, Lola might have suggested a better epitaph:
A woman of beauty and intelligence needs the quills of a porcupine as self-defence – or else risk ruin.
She made this assessment in the lecture tour of America she embarked upon after her colourful but calamitous theatrical tour of the Victorian goldfields in 1855-56.
It is this part of Lola's globe-trotting journey that is celebrated in Bling!, a sparkling exhibition at the Museum of Australian Democracy at Eureka in Ballarat. A life size figurine of Lola descends from the ceiling — like Mary Poppins in crinolines — of a circular room adjoining the cosy catacomb that houses the original Eureka flag.
If Lola's ersatz feet were to touch the ground, she'd find herself surrounded by the most extraordinary collection of goldfields' jewellery. Over 250 pieces of finely wrought gold, often depicting the tools of the trade that earned diggers the cache that allowed them to purchase such pieces of adornment, often for the first time in their lives.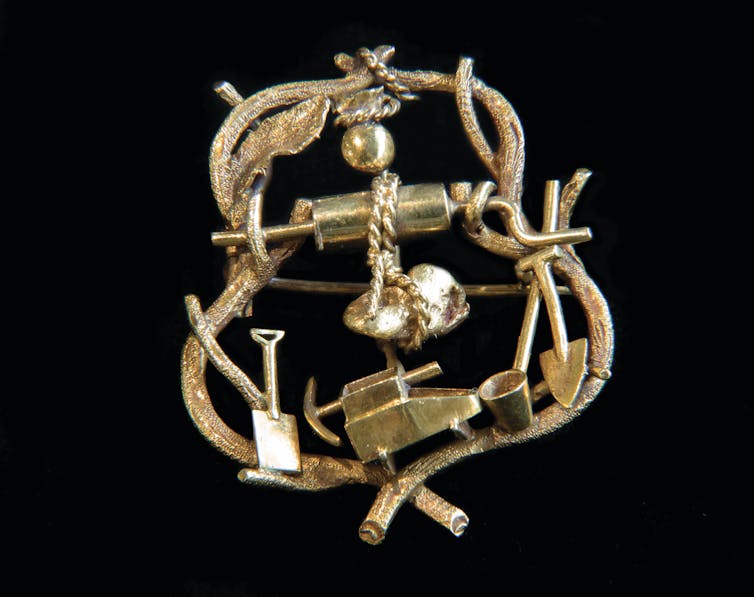 Other brooches, earrings and hair clasps represent the fauna and flora of the colony that had welcomed them as penniless (and sometimes illiterate) immigrants and given them the opportunity to dress like queens.
These were challenging, topsy-turvy times.
An upside down society
Lola plummeted into the upside down society of goldrush Melbourne and hit the ground running. Like most entrepreneurs and show-offs, she banked on attracting attention. But whether Lola fully anticipated the amount of social opprobrium about to be heaped on her shoulders is unclear.
Reviewing the Melbourne performance of her autobiographical theatrical production, Lola Montez in Bavaria, Punch derided Lola for wearing her hair in short curls "like a barrister's wig".
"She can talk politics like a book", the review continued, "and teach kings how to govern their people more easily than you and I could conjugate a French verb". This was faint praise, and Lola was damned for her self-promotion and delusions of grandeur.
One of the most poignant and telling aspects of Lola's story is her own need — despite the gold nuggets tossed at her on stage by adoring diggers — to set the record straight. In her lecture tour in 1858, Lola revealed that:
A woman, like a man of true courage, instinctively prefers to face the public deeds of her life, rather than, by cowardly shifts, to skulk and hide away from her own historical presence.
With the mass popular uprisings on the Ballarat goldfields in recent memory, the raven-haired democrat might have expected finally to have found a captive audience for her grand political designs.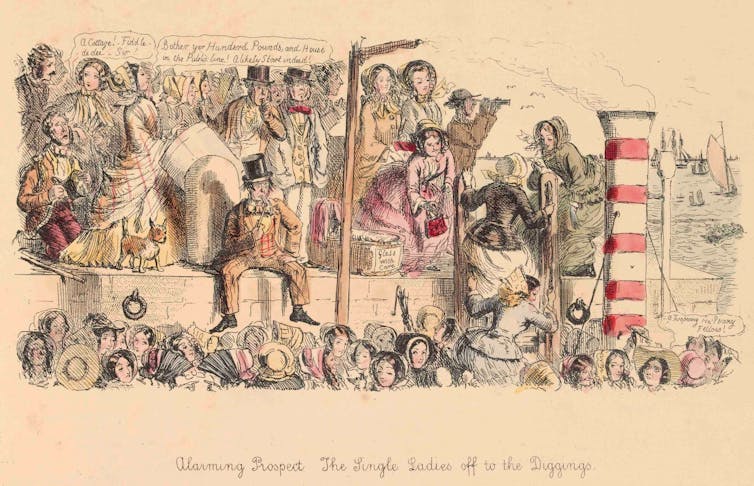 The early gold rush was also a golden era for rebellious women. Viennese violinist Miska Hauser toured Victoria at this time. In a letter dated 15 May 1855, Hauser described:
Emancipated wenches in unbecoming riding habits, and with smoking cigars in their mouths, appear on horseback, and crazy gentlemen … career madly after them and laugh delightedly if a flirtatious equestrienne in a spicy mood aims a mock smack at them with her riding crop.
A month later Hauser wrote that Victoria was "deafening", "giddy" and "life here is like a Venetian carnival!"
You see all the dykes of civil order torn down … women who have long since forsaken the joys of family life and despised all regard for respectability are here hoisted to rank and wealth. Even young ladies who nevertheless claim to be well-reared and cultured, sit all day at the latter-day gambling tables, where every decent impulse disintegrates.
Hauser had met Lola in San Francisco, and was not surprised to encounter her again in Victoria. He found "the beautiful good-for-nothing" stretched out in a room on a white ottoman, smoking cigars, surrounded by mountains of boxes and chests. She had Tarot cards laid out. Lola, reported Hauser, was very superstitious.
The social problem in Victoria wasn't just with impulsive stage performers like Lola. Hauser attended a meeting in Melbourne that was convened to determine how "the ever-increasing fickleness of women could be most quickly and safely remedied … no-where in the world do husbands get such short shrift from their wives as here".
One solution was to erect houses of correction for "undutiful and flighty wives" where women could be punished for "their wanton caprices and faithless intrigues".
The architects of this plan clearly had short memories. Their confidence in detention facilities might have been eroded by the disquieting events of November 1854.
On 3 November, the Geelong Advertiser reported a "female revolt" at the Immigration Depot where the female portion of the inmates
rebelled against the constituted authorities … [two or three] members of the fairer sex, inspired, doubtless, by too ardent a desire for liberty, scaled the fence round the buildings …
Meanwhile, the "remainder of ladies vigorously assaulted the unfortunate manager".
Just over a year later, Clara Du Val, common law wife of Henry Seekamp, edited the Ballarat Times while her husband was on trial for sedition in the wake of the Eureka Stockade. On New Years' Day 1855, she wrote this truly radical editorial:
What is this country else but Australia? Is it any more England than it is Ireland or Scotland, France or America, Italy or Germany?
Outlandish displays of good fortune
It wasn't only women's outrageous behaviour that drew criticism in gold rush Victoria. Commentators were apt to pass judgement on their appearance as well, particularly the nouveau riche penchant for outlandish displays of good fortune; for bling.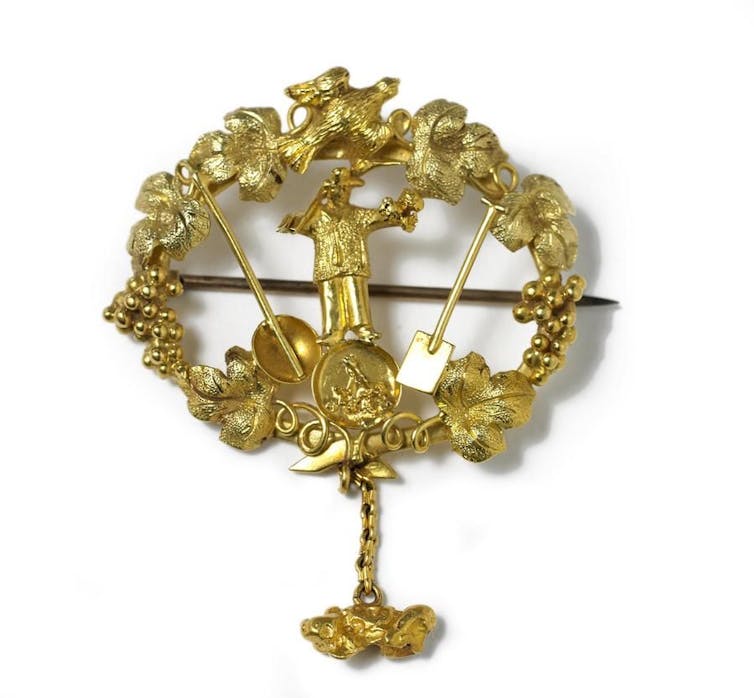 Charles Rudston Read, public servant and author of What I Heard, Saw, and Did at the Australian Gold Fields (1853), remarked on Victorian women "liking flash dresses better than making butter and cheese". After a visit to Ballarat, English sojourner Elizabeth Ramsay-Laye wrote
I do not think the ladies of New York could out-dress some of the fashionables there.
It was not a compliment. She went on to describe:
The most absurd caricature of a digger's wife, spending up on items with which she has no acquaintance, gaudy, ostentatious, laughable.
William Kelly, who wrote a book that compared gold rush Victoria and California, noted that Victorian women had "a passion for parasols" and were "addicted to flowers and corn-stalks" worn in their bonnets.
Kelly was particularly perplexed by how many women could be seen in public: women
of the strong-minded class … striking but unattractive women jostled you on the flagways, elbowed you in the shops and rattled through the streets in carriages hired at a guinea an hour, arrayed in flaunting dresses of the most florid colours, composed of silks, sarcenets and brocaded satins.
For good measure, diggers' wives also paraded "gaudy jewellery". (The wives were often diggers themselves, it should be added.)
But Kelly saved his most derogatory description for a humble washerwoman, who was, alas, not humble at all. Here she was "dressed for the washing tub". Her hair tied up in a knot and "fixed with a huge gold pin with a father-o'-pearl head".
She wore a satin dress and apron, and clasped on her wrists "a pair of massive bracelets". A heavy watch chain hung around her neck "stuffing a carved time piece into her virtuous bosom".
The Bling! exhibition at M.A.D.E. has collected a dizzying array of the sort of adornments that this washerwoman — making a show of her newfound market power — could have commissioned or acquired.
It was not only the miners who wanted to wear their pride in their freshly minted wealth on their sleeves – and fingers, wrists, necks and bosoms.
One of my favourite pieces in the exhibition is a brooch made in 1855 by Geelong jeweller William Paterson. It depicts a perky, cartoonish kangaroo sheltering among huge, curling fern fronds. The metal is hard but all the lines are soft, welcoming. The iconography of place mirrors the innovation of the piece: naive, exotic, precious, beloved.
No petticoat revolution
So did the boundary-pushing Lola reap the professional rewards of being in the right place at the right time?
Not by her own reckoning she didn't. There is the famous incident of Lola horsewhipping Henry Seekamp after he gave her a bad review for her performance at the Victoria Theatre. This encounter is routinely re-enacted for school groups and Chinese tourists at Sovereign Hill (though not the coda of the exchange, when Seekamp gave Lola a black eye).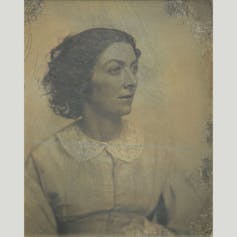 Then there was the night Lola lost her temper with heckling miners at Castlemaine. From the stage she shouted at them that "she was a rich as any man in the room. She was the maker of her own fortune and she would recommend the man who had hissed her, to go to school, and learn not to hiss what he did not understand".
So why might Lola have been showered with gold nuggets but also bombarded with vitriol?
It has often been noted that in times of deep cultural crisis — times of giddy change — attitudes about sex and gender become more dynamically held or contested. The early gold rush in Victoria was such a time. Just as the European revolutions of 1848 transformed political hierarchies, so too the social turbulence and popular unrest in goldrush Victoria challenged gendered power structures.
Imperial anxieties about the state of social flux in the colonies in general, and about the presumptuous, defiant behaviour of women in particular, were expressed by politicians, newspaper editors and dancehall racketeers. Popular goldfields entertainer Charles Thatcher sang that
The gals that come out to Australia to roam
Have much higher notions than when they're at home.
With a prominent libertarian and democrat like Lola so effectively vilified, the public/political sphere could continue to be constructed as a place of respectability and conservatism.
The show might go on, but there would be no petticoat revolution here.
---
This is an edited extract of a public lecture delivered by Clare Wright at the Museum of Australian Democracy at Eureka as part of the public programs for Bling!
Bling! is on at M.A.D.E. until 4 July.