Jermaine Brown became Toronto's 15th homicide victim of 2006. His murderers shot him five times — once in each of his legs, twice in his torso; the final bullet maliciously tunnelled through his neck and out of his side.
Jermaine Brown was my older brother.
I often imagine how he felt, as he laid on the cold concrete, motionless as the life left his body. The pain. The fear. The loneliness.
It always brings me back to the profound sadness and anger I felt when I was 15. The restless nights where my mind would do nothing but wander and cogitate revenge. That was a word I fixated on — revenge — a word that began to govern each of my breaths. I was slipping down an emotional slide from which a return could be impossible.
This emotional slide is not unique to me. It is a commonplace narrative of despondency among youth in the Jane and Finch community of Toronto — a neighbourhood where nearly a quarter of residents are on social assistance and high school graduation rates are low.
Mental health and emotional intelligence must be a focus in communities like this — communities that are home to marginalized Black youth.
If it wasn't for basketball, a few caring mentors and teachers, family and my brother's constant reminder to, "focus on ball and school… be the best," I don't know where I would be today.
As a teacher with the Toronto District School Board and a PhD candidate in York University's Faculty of Education, I now focus my research on mental health and its influence on the success of Black youth throughout our education system.
I am also the co-founder of a program called Generation Chosen.
We need to invest in mental hygiene
The federal government has announced it is setting aside $19 million over five years to research culturally-appropriate mental health programs and support for vulnerable Black youth.
Mental health experts say this funding will help improve access to treatment for a vulnerable sector of the population.
However, although treatment is important, our society is far too treatment-oriented.
We should consider investing into programs that focus on the development of mental hygiene.
Generation Chosen, an inner city program tailored to the needs of disenfranchised youth, does exactly this.
The focus of the program is on mental health, emotional intelligence, education, jobs and recreation – keystone items we have identified as dictating the social mobility of those most vulnerable in our society.
A program that saves lives
Generation Chosen tackles monthly themes that are often conceptualized as being taboo, such as fear, hate, forgiveness, resilience, love, stress, vision and identity.
Each topic is addressed through four components: Anchor Sessions (30 minute hands-on group activities that build team work, catalyze introspection, elicit vulnerability and promote meaningful relationships); Anchor Talks (30 minute themed talks infused with multi-media and provocative discussions); Educational Workshops (monthly visits from professionals who are culturally similar to our youth and can speak about their work experience); and finally a ChozenTrip (a field trip that brings everything discussed and experienced in the month together).
The program has been very successful in creating positive change for its participants in its two years of operation.
We have helped 13 participants apply to get into college and university programs, connected youth with various job opportunities, helped homeless youth obtain shelter, inspired youth to disassociate themselves from gangs and repaired broken family relationships.
Many have even said that the program saved their lives.
One such instance of this was in July 2016. Some of our youth were reluctant to attend programming that evening, as the offer of driving around with neighbourhood friends seemed like a more appealing evening plan.
Dahir and friends made the difficult decision to attend Generation Chosen that evening with the intention of meeting up with their friends later. That would be the last time they saw one of their friends. Shortly after they were dropped off, there was a drive-by shooting that targeted the vehicle they were in.
At the word of the news, the young men began sobbing uncontrollably, tasking us with the duty of consoling and building back up these vulnerable men. "That could have been us," said Dahir.
$19 million is not enough
In 2016, Statistics Canada reported about 1,198,540 people of the Black diaspora living in Canada.
I am of the philosophy, "what's essential for some, is good for all." I also believe that all people of the Black diaspora suffer from trauma that can lead to a wearing down of their mental and physical health.
Let's crunch some numbers.
If we assume the population of Black youth 15-24 years of age has stayed at around 17 per cent of the Black population since 2001, the total number of Black youth between the age of 15 and 24 years would be about 203,752.
Using this value, the promised $19 million investment for Black youth amounts to an allotment of approximately $93.25 per person over five years. That is about $18.65 per person per year.
This is an embarrassing amount that does not consider long-term outcomes for the Black community, especially when the cost to see a counsellor or other mental health specialist ranges from $50 to $240.
Although some services may be covered by private health insurance, $19 million is not enough!
Life over death for Black youth
Institutional racism, economic disadvantage, racial profiling and social exclusion are daily realities for the youth we serve and there is no escaping this.
What we can do is provide them with the skills they need to weather the storm of white supremacist capitalist patriarchy, and navigate the complicated world before them.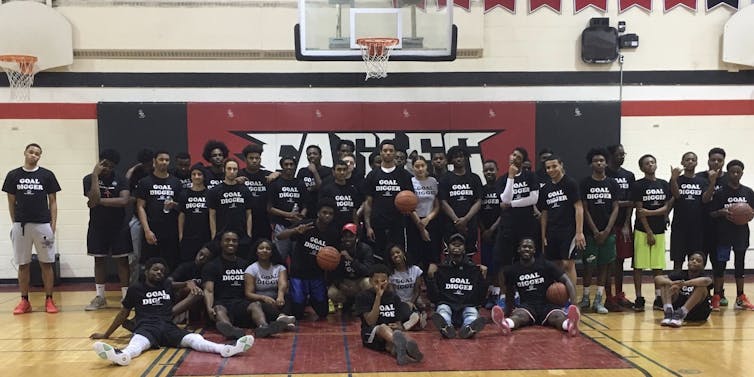 There need to be more programs in the Black community that, like Generation Chosen, focus on the development of emotional intelligence. Or we will continue to lose our youth.
Take for example my nephew, Clayshawn "Caheem" Monteith, who was murdered in 2016 just after his seventeenth birthday.
Or Edmond Clovis, one of our participants who was murdered in Thunder Bay after making a step to turn his life around.
Or the many other people I knew and grew up with like Delaine, Jeremy, Skippy or Byron who would have benefited from a program like Generation Chosen.
If the killers of my brother and all these other youth had a program like Generation Chosen it would probably have led to a shift in the culture of hopelessness.
An investment of $19 million is a good start. It shows the government is finally listening. But it is definitely not enough.
With a more sustainable funding amount, invested in the right kinds of programs, the government can show it values life over death in our communities.