Children's fantasy has become a lucrative global industry, and duly producers are plumbing all kinds of magical authors. Enid Blyton's Magic Faraway Tree is only the latest children's classic destined for the silver screen, with a live action film currently in production.
Enid Blyton is one of those children's authors that everyone recognises, yet many love to hate. She had a prolific writing career, phenomenal selling success, and the popularity of her books shows no signs of waning. But her books have also often been labelled racist, sexist, classist, easy reading for the very young, and mass-produced.
Her zenith was 1955, a year in which she produced an incredible 70 titles. Although I grew up in Greece, even I have memories of reading book after the book of the Famous Five adventures (of which, it was announced earlier this summer, a film series is also planned). Blyton's facile plots and language make these books particularly suitable to be read in different languages without much being lost in translation.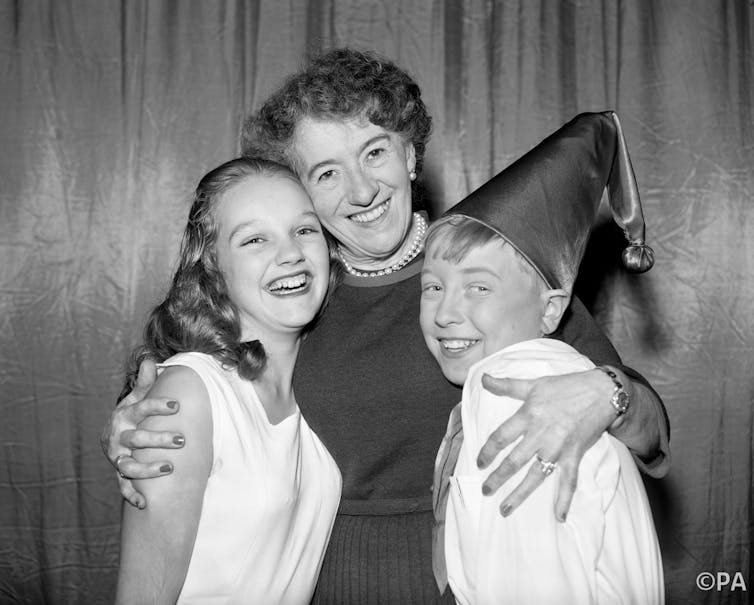 But Blyton was not only successful in writing the adventure tales and school stories for which she is best known. Some of her best-loved books fall neatly into the category of children's fantasy.
This is a genre that began in earnest during the "golden age" of children's literature in the Victorian era. Lewis Carroll's Alice's Adventures in Wonderland paved the way for a series of timeless classics. Generations of readers have grown up engrossed in novels such as The Princess and the Goblin, Peter Pan, The Hobbit and the Narnia books.
Blyton's Magic Faraway Tree series includes four books, written between 1939 and 1951. In the books, Jo, Bessie and Fanny stray away from adult supervision to find exciting adventures in a series of magical lands. These alternative worlds are reached via the enormous Faraway tree, which acts as a portal (like the wardrobe that leads to Narnia). The lands are always different on each visit, and can be fantastically fun or incredibly unpleasant.
All books in the series are episodic and employ a number of stock creatures from folklore and fairy-tales, and revel in humour and onomatopoeia. Many of my students mention them – they bring back fond memories of supernatural creatures, childish mischief and a colourful world of magic now lost.
Young adults, old children
And this may be the reason why the film industry seems to be showing an ever-increasing interest in adapting some of the old classics of children's fantasy. As attested by the Harry Potter books, contemporary children's fantasy is not only read by children. This was true to such an extent in the case of Harry Potter that each of Rowling's books was issued with variant covers, a "children's" version and an "adult" version. Critics and publishers have been eulogising the success of these books as "crossover" literature, written for children, but enjoyed by children and adults alike.
Most parents will be familiar with that sense of rediscovery when they read their favourite childhood books to their own children. It is on this that the film industry is intent on capitalising. Fantasy in particular is perfect – it evokes the nostalgia of rediscovering memories of childhood reading and the celebration of imagination that has been central in children's literature since the Victorian era. The film industry can bank not only on the "magic" things special effects can accomplish today to bring a fantasy world to life, but also on the new value now placed on the parent's own reading of fantasy.
It is no wonder that, alongside adaptations of recent children's fantasy books (the Harry Potter series, Eragon, The Spiderwick Chronicles), cinemas all over the world have been packed with both adults and children flocking to see The Hobbit trilogy and the Chronicles of Narnia films. It is clearly Enid Blyton's turn to be rediscovered as a fantasy writer and to be enjoyed again by parents and a new generation of children.
Ursula K Le Guin famously defended fantasy against charges of childishness, saying: "An adult is not a dead child, but a child who survived." The celebration of imagination and the evocation of our own childhood that these books and films allow are part of this trend of a gradual change of attitude to children's fantasy, which has only gained real respect and recognition in the 21st century. Many of us are now crossover readers – and reading children's fantasy makes us proud to be children who survived.