The government's announcement that it is to sell off its stake in Eurostar is another sign of its convoluted thinking towards railway policy.
The operator of international train services from London through the Channel Tunnel to Paris and Brussels has had a turbulent life since its formation. Now, just as it has recently started to report profits, the UK government has decided to sell.
Treasury minister Danny Alexander has vaguely proposed a sell-off sometime before 2020 as part of a wider programme of public infrastructure sales. Eurostar is owned by three shareholders: the UK government has 40%; SNCF, the French state-owned railways owns 55%; and the Belgian state operator has the remaining 5%.
Major hurdles
The company has suffered a number of major hurdles since it started services in 1994. Competition from budget airlines, a lack of investment spending, and the complex politics of the UK rail sector have all contributed to Eurostar having a tough couple of decades.
Despite increases in recent years, passenger numbers remain stubbornly low at just under 10m per year. In the operator's original plans it was expected that this 10m figure would be achieved by the start of the millennium. Within the first 10 years, it was expected passenger numbers would easily exceed 20m each year.
From these traffic levels, Eurostar currently reports an operating profit of £52m on a turnover of £800m. However, this information is only of limited use in valuing the government's stake. The company has only moved into profit within the past two years – too short a period to accurately assess future earnings. Before the government sells its shareholding, Eurostar will need to provide a far more detailed breakdown of its revenue and methods of allocating costs.
There are other failings too. The management's record on developing services to benefit other regions in Britain has been sadly lacking. Back in the 1990s there was much talk of direct services to the continent from Manchester, Birmingham and even from Edinburgh. This never happened, of course. London and the south-east remains the main region to benefit from Eurostar.
Even within London things haven't been particularly coherent. The new station at Stratford next to the Olympic Park was termed "international" in its name but has never seen a train for Paris or Brussels pick-up a single passenger. Eurostar later decided to bypass the specially built station, instead stopping trains at Ebbsfleet in Kent.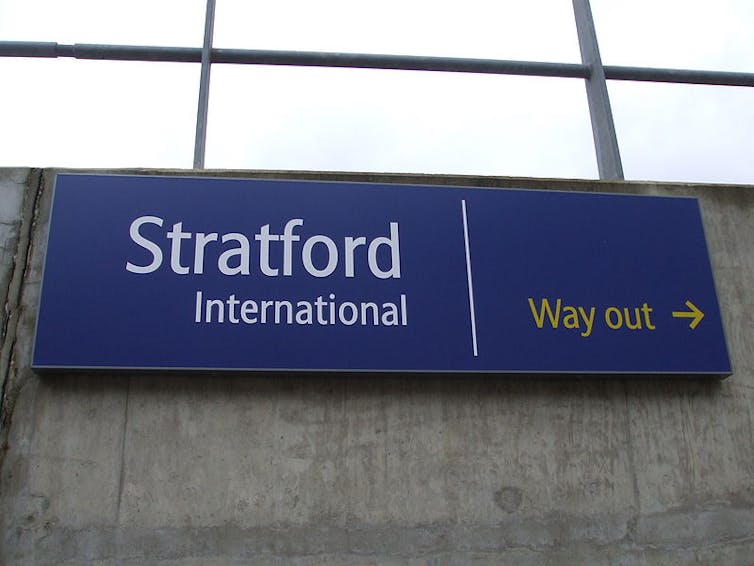 The Germans are coming
In addition, Eurostar is about to find itself in a radically more competitive market. Under the EU's open access policy, the German state railway, Deutsche Bahn, intends to operate services from London to the continent within the next two or three years. Italian state railways are also considering the same move.
Eurostar intends to retaliate by offering services from London to Amsterdam. But without the threat of competition from these other overseas operators it is unlikely Eurostar would have taken the initiative to otherwise expand its services. And now, it may well be a case of too little, too late.
Indeed the French government may wish to increase its own holding by buying the UK government's equity. This would enable SNCF to gain nearly complete control of the service.
And against this background there is another underlying issue why the UK government wishes to dispose of its shareholding. Eurostar is considering making a bid for the East Coast mainline franchise operating between London and Edinburgh, when the route is offered for tender next year. It is currently in a consortium with Keolis – also a subsidiary of French railways – which believes it can replace the current UK state owners.
The government has forbidden its own subsidiary from tendering for the franchise. As such it would appear perverse to allow the UK government to tender instead for the East Coast franchise under the disguise of its equity holding in Eurostar.
A business decision?
It hardly seems the most sensible business decision to sell the government's equity now, when the company has just started to return profits. Taxpayers are still yet to see serious returns on their initial investment.
But given Eurostar's relativity low levels of profitability and the likelihood of competitors providing international services from London, its prospects are far from clear. Assessing Eurostar's value based on future earnings means the UK government might only raise between £150m-£200m for its holding.
Sure, that's more than most businesses are worth. But compared to the sums raised by the Royal Mail sale, even at its ridiculously low floatation price, it isn't all that much. Eurostar won't make or break our public finances.
It raises the key question of why the UK government is so against having any involvement in running railways either at home or abroad. Nationalised rail companies in Europe are keen to gain a slice of the railway action in the UK. So it appears that Eurostar will indeed still end up in state hands – but not those of the UK government.