A new exhibition of works from the Barjeel collection recently opened at the Tehran Museum of Contemporary Art to considerable international fanfare. No reviews have appeared at time of writing (and this is also not one), but The Sea Suspended has been widely hailed as the first group exhibition of modern art from the Arab region ever shown in Iran, displaying 40 works by prominent Arab artists alongside 40 Iranian paintings. Ostensibly this is an extraordinary fact, given the geographical proximity and (when taking the long view) the history of engagement between Iran and its Arab neighbours.
Yet in the shorter view of history that inevitably dominates media analyses, the story of post-revolutionary Iran and its Arab neighbours to the west and south emphasises difference hardening into conflict.
A common narrative, simplistic (and apt to be satirised), but not totally inaccurate, positions the Farsi-speaking Shia Islamic Republic in opposition to the Sunni-dominated Arab states clustered around the Gulf (Iraq an important exception), with Saudi Arabia as their hegemonic power, and the US and its allies aligned with them. Proxy groups continue to vie for influence in Palestine, Lebanon and beyond, while proxy military confrontation continues in the catastrophic wars in Syria and Yemen. Rhetoric, money, arms and direct intervention flow in different directions – from Tehran on one side, and Riyadh working with Abu Dhabi and other neighbouring capitals on the other.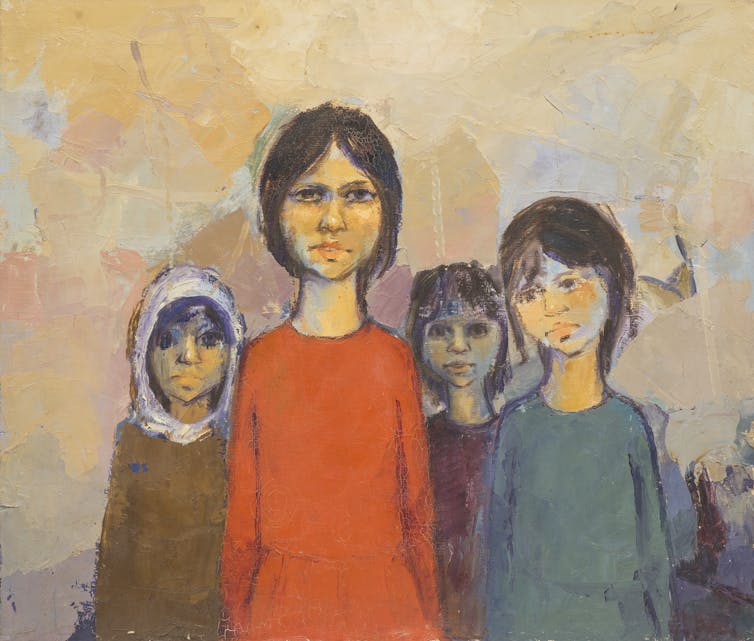 In the context of this fraught historical moment, Tehran's new exhibition is being promoted as a bracing act of cultural diplomacy. The exhibition is a collaboration between the government-owned TMoCA, the commercial Mohsen Gallery, and the Emirati Barjeel Art Foundation. It encompasses work from a variety of Arab countries including Egypt, Lebanon, Iraq and the UAE, alongside a selection of work by Iranian modernists. This juxtaposition has prompted the rhetoric about the exhibition being a cultural "dialogue" or "bridge" and the idea that it is doing something, through art, which formal diplomacy cannot achieve.
Comparing modernities
But such rhetoric makes the differences between Iranian and Arab cultures seem very concrete and fixed. Despite their cultural distinctiveness, there are parallels between histories of modernisation in Iran and majority-Arab countries, of control and influence by European and American imperial power in the 19th and 20th centuries, and of reactions to this. These are all things which helped shape artistic modernisms.
Rhetoric aside, the exhibition invites its audience to view the Barjeel works firstly as representing an "Arab" experience of modernity, in contrast to the Iranian works. This allows for a sense of comparison which might challenge the narrative, constantly reinforced by regional politics, that an Arab sphere exists in historical and cultural isolation from an Iranian one. Of course, framing Arab modern art collectively risks reducing it to a singular phenomenon. But hopefully the works on display allow the audience to consider the particular historical moments and Arab countries they come from – some of which are geographically or politically close to Iran, some not.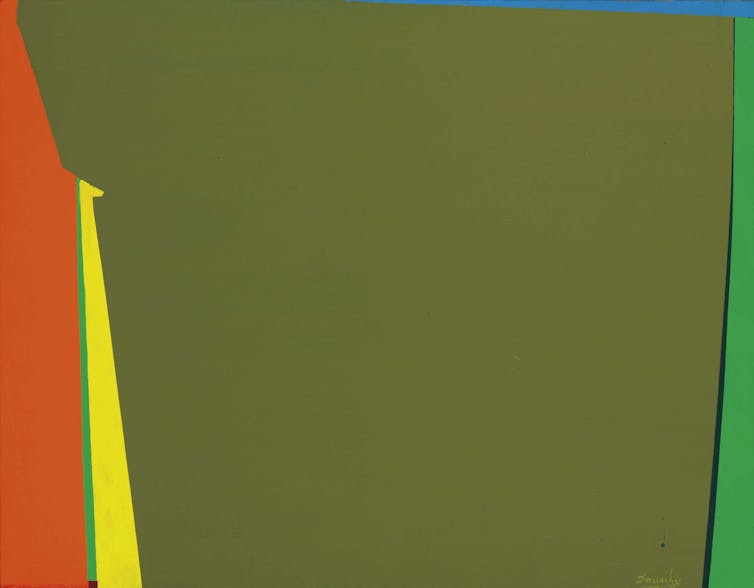 Relating the exhibition to the immediate political context only also ignores a history of exchange between different parts of what became the United Arab Emirates (federated in 1971) and Iran. Dubai and Sharjah – where the Barjeel Art Foundation is based – were built partly through mercantile trade across the Gulf, with an Iranian presence over at least two centuries. Today, the symbiotic art scenes of these two Emirates (effectively a coastal conurbation) form an important site for Iranian art.
While Dubai is the key offshore hub for the commercial market in Iranian art, Sharjah's cultural infrastructure is predominantly institutional: Barjeel Art Foundation sits alongside a raft of public museums and one of the most consistently interesting biennales worldwide. In taking a representation of Arab modern art to Iran (with modern very widely defined, spanning the 1950s up to the 1990s), the foundation is reciprocating the presence of Iranian modern and contemporary art in various iterations of the Sharjah Biennale and the commercial galleries in Dubai.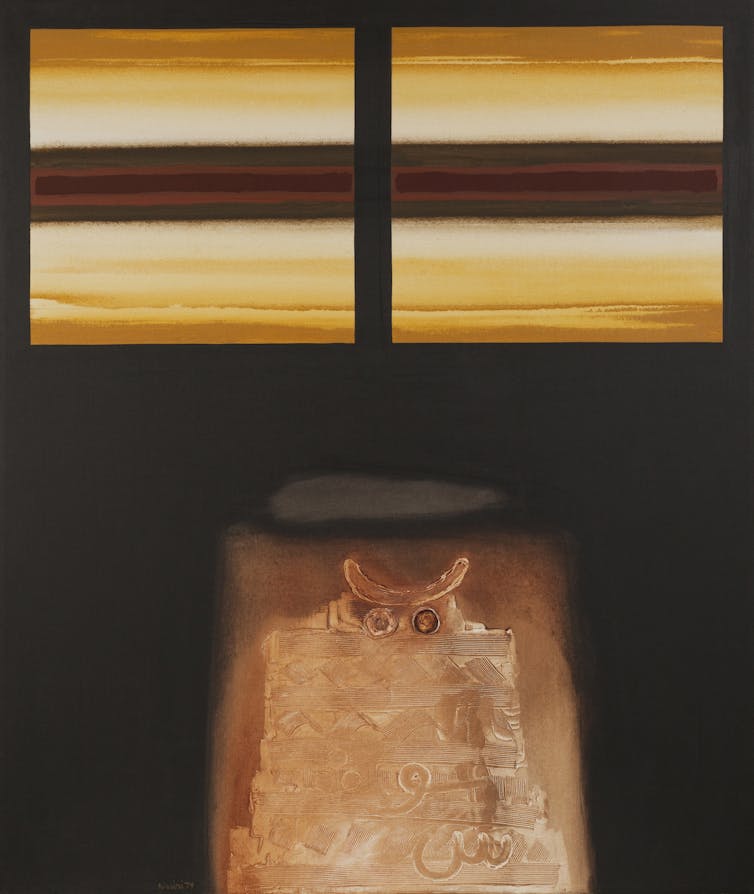 Modernism and memory
Another way of understanding the exhibition – easily overlooked if the idea of Arab modern art is taken at face value in order to emphasise its role as a cultural "bridge" – is to consider why modern art is important to preserve and promote. There is a strong sense of lost history owing to the turmoil in so much of the region in the 20th century. Many archives, collections and museums were destroyed or dispersed. The problem of "amnesia" around Arab modern art has even become an important theme in contemporary art from the region, such as the work of Lebanese artist Walid Raad.
Initiatives like the Barjeel Art Foundation seek to archive and represent an occluded history of a modern, Arab artistic sphere. Clustering behind this is a complex of cultural affiliation, shared questions around modernity, history, politics, culture and art, and a history of pan-Arabism (which has always been at least as much a rhetoric as a political project).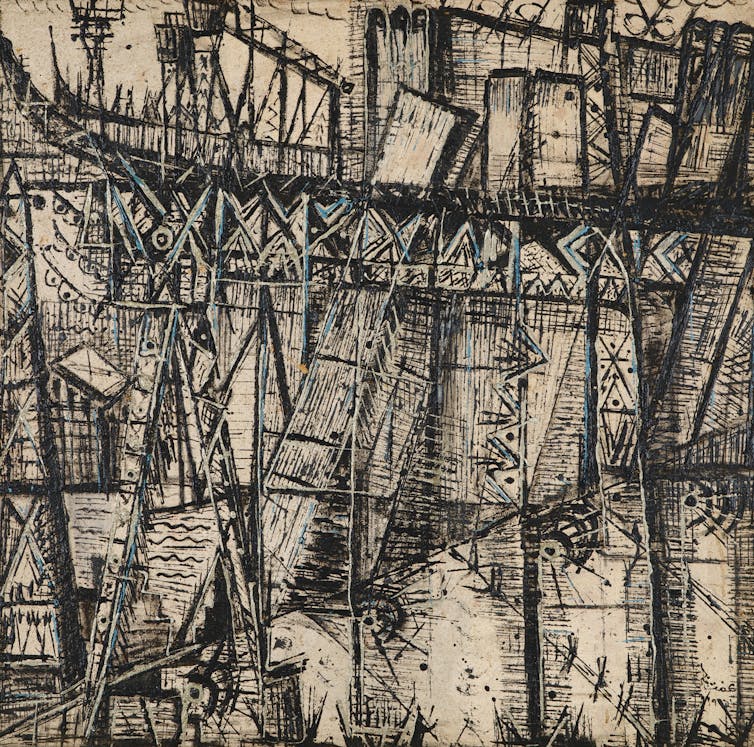 Generating this historical framework for a collection can also be seen as an attempt to work against the continued designation of art, especially contemporary art, as being from the "Middle East" – a term widely used in the "region" as well as outside, but a vague, externally-imposed creation of 19th-century colonial cartography.
Representing this project of historical and categorical reclamation in Iran and setting the exhibition up to produce comparisons, especially if this is done in a way that allows the artworks to tell their own distinct stories, also invites a sense of solidarity in pursuit of a more specific and grounded understanding of art and history. It could be a connective gesture between art worlds. That gesture, since it relates to smaller worlds within Iran, the UAE and the wider region, might be fairly discrete. But it is also productive and potentially profound, and its significance is misunderstood if the exhibition is seen only through the lens of diplomacy.