In Brazil's 2010 presidential election, Marina Silva won 19% of the first-round vote. What was unusual about this result? She was the Green Party candidate and 19% was an almost unprecedented vote for an environmentalist in Latin America.
The election was held to replace the popular head of the left-wing Workers Party, Luiz Inacio Lula da Silva ("Lula"), as president of Brazil after eight years in the position. Dilma Rousseff, former energy minister and aide to Lula, duly won the election as a member of the Workers Party, following a run-off with the "third way" challenger Jose Sera. But it was Silva's performance that surprised people.
Fast forward to the presidential election of 2014. Silva left the Green Party and joined the left-wing Brazilian Socialist Party, to be the running mate of the party's leader Eduardo Campo for the October 5 election. Campo tragically died in a plane crash in the early part of the campaign and the party elected Silva to replace him.
Opinion polls that showed Campo running a distant third suddenly switched to show Silva overtaking Aecio Neves, Sera's replacement for the "third way" Brazilian Social Democrat Party. Indeed, in some polls, Silva overtook Rousseff as Brazilians' preferred candidate for president. The two front-runners are expected to contest a run-off election on October 26 as polls suggest neither will win a majority in the first round of voting.
A history of Green launchpads
Silva's rise first as a Green and then as a Socialist is not unprecedented. In Chile and Colombia, Green candidates have done surprisingly well.
Antanas Mokus, former mayor of the capital Bogota and 2010 Green presidential candidate in Colombia, polled 34%, before leaving the Greens the following year. His successor, Enriquez Penalosa, another former mayor of Bogota, polled 8% in 2014.
Chile's Marco Enriquez-Ominami ran for the presidency in 2009 supported by both the Humanist and Green parties, He polled 20% in the first round, although failing to make the second-round run-off. In 2013 he ran again, but this time with a more explicitly left-wing ticket, only to poll just under 11%.
What we see is a pattern of people associated with left-wing politics running as Greens, gaining significant prominence and then running for another party, potentially with a better chance of winning. Silva is set to break the mould as she is likely not just to run second to the more favoured candidate, but to come close to winning the election.
What we also see is Green parties struggling following the loss of their star performer. Alfredo Sfeir, who followed Ominami in Chile in 2013, polled less than 2.5%.
Even with Silva as their star candidate, the Brazilian Greens won only 3.8% of the vote in the 2010 election. Their current presidential candidate, Eduardo Jorge, is polling just 1%.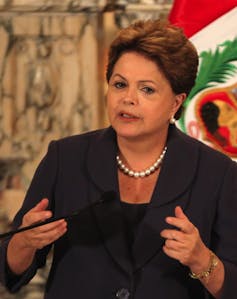 Silva is a committed environmentalist, a former senator of the Workers Party and was Brazil's environment minister in the mid-2000s. A Goldman Environmental Prize winner, The Economist described her as having "mostly sensible, middle-of-the-road policies" and not being "the radical her rivals were painting her to be".
Silva continues to be at the forefront of the presidential election, although fading somewhat as election day draws nearer. Her performances in debates and on television have been assured. Silva could well push Rousseff all the way in the election.
Her background as a former Workers Party and Greens member does not appear to have damaged her standing. An election victory by Silva would propel Brazil to the forefront of global environmental politics.
While not the first "green" to be a head of government — Latvia and Georgia have both elected Greens as prime ministers — Silva would certainly lead a large and increasingly influential nation. She would also become another influential South American election candidate who has used the Greens as a launchpad to successfully pursue their agenda.
All she has to do now is win the election.