US presidential elections are not decided by direct popular vote. Each state is allocated a certain number of votes in the 538-member Electoral College, and the winner of each state gets that state's votes.
Most states are safely in the bag for either the Republican or Democratic nominee before the election even begins. But every election a dozen or so "swing states" are up for grabs, and these will determine who wins the Electoral College. The vast majority of advertising dollars will go to these states, and they will get a lot of attention from both candidates and pollsters.
In a close race where neither candidate will get 50% of the vote and third-party candidates are creating chaos, campaigns in individual swing states could be very important in 2016. Democrat Hillary Clinton is heavily outspending her Republican rival, Donald Trump, on TV advertising in swing states; Trump prefers to stage mass rallies in them.
This has been a strange campaign in many ways, but the swing state map looks very familiar. This election will be decided by states Barack Obama won in 2008 and 2012 but that often voted Republican before that.
Many of these states are demographically and geographically diverse, with both parties' coalitions well-represented in the electorate. Voter turnout is very important in these places.
Obama's campaigns were famously good at getting out the vote. But which of these two less-popular candidates can do the same?
As in the last few elections, 2016 will probably be determined in the eastern time zone. If Trump can win Florida, Pennsylvania and Ohio he will be on track to winning the necessary 270 Electoral College votes, but if Clinton can hold onto any of them her chances of winning the election are good.
Florida (won by Obama in 2012): 29 electoral votes
Florida is the fourth-largest state in the US and the biggest swing state. It is perennially important and tightly contested.
Florida is a southern state with a lot of northern transplants. It has large, cosmopolitan cities and a deeply conservative rural heartland. It has one of the largest Latino populations in the US, but that population is politically diverse, including many traditionally Republican-voting Cubans.
The large elderly population often favours Republicans, though Jewish retirees may baulk at supporting Trump.
Florida is so hard to read that different pollsters get different results there from the same data. Trump will need to win Florida to win the election; he has often led there recently.
Pennsylvania (Obama 2012): 20 votes
Pennsylvania, another large and diverse state, is so pivotal in this election that one recent analysis declared the entire election "could probably just be held there".
Pennsylvania hasn't voted for a Republican since 1988, but it is the kind of place Trump hopes will be receptive to his message. The state has long symbolised nostalgia for America's lost industrial dominance, which Trump promises to restore.
So far, however, Clinton has maintained a healthy lead in Pennsylvania, which may act as a critical firewall for her if Trump can win in other "rust belt" states. The African-American vote will be critical for her.
Ohio (Obama 2012): 18 votes
Ohio is another former industrial powerhouse that has lost out from trade deals, and where Trump's anti-globalism message resonates.
The racial and cultural polarisation that marks much of US politics is very visible in Ohio. Every successful candidate since 1960 has won Ohio, and no Republican has won without it.
Trump has had solid leads in the last few polls there.
North Carolina (Romney 2012): 15 votes
Obama won in North Carolina in 2008, but lost in 2012.
Winning back North Carolina has been a key part of Clinton's strategy from the beginning, but it is also one of Trump's favourite locations. Democrats have won here in the past by mobilising a coalition of African Americans and college educated whites.
Trump appeals to racially conservative whites and less economically mobile people who feel the sting of manufacturing losses. The race is too close to call.
Virginia (Obama 2012): 13 votes
Affluent suburbs are traditional strongholds of Republican voters, but in the last two decades some suburbs have become critical parts of the Democratic map.
The Virginia suburbs of Washington, D.C. are among the most important. College-educated government employees tend to lean Democratic, and the continuing expansion of security-related agencies in D.C. helped turn Virginia Democratic in the last two elections.
However, most of the rest of the state is deeply conservative, and Clinton's lead could be endangered if her standing in the national polls deteriorates further.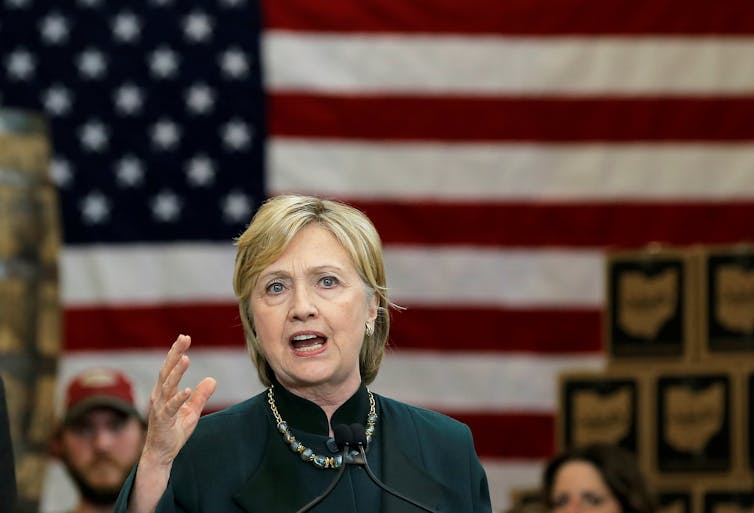 Colorado (Obama 2012): nine votes
Colorado is a showcase of the most colourful examples of both liberalism and conservatism in the US. It was the first state to legalise marijuana, and Boulder and Aspen are renowned centres of progressive counter-culture.
Colorado Springs, on the other hand, is a major institutional centre of both the military and evangelical activism.
Clinton's once-comfortable lead there is shaky, and Trump recognises Colorado as part of an alternative Western path to victory if he can't win in Pennsylvania.
Nevada (Obama 2012): six votes
Obama won handily in Nevada in 2008 and 2012 with the help of the large Latino population and the state's powerful unions. Trump, however, currently enjoys a narrow lead.
The state is the source of a nascent right-wing insurgency that has resulted in armed standoffs in the West, and is also home to Republican megadonor Sheldon Adelson, whom Trump is desperately courting.
Nevada could be the other Western state critical to Trump's chances.
Iowa (Obama 2012): six votes
Iowa voted for Obama twice, but it now looks like Trump's strongest swing state.
Trump does well with white rural voters, and there are probably enough of them to deliver him the state – though contrary to stereotypes, Iowa is majority urban.
Despite its distance from the border, Iowa is home to some of the most-vicious anti-immigrant politics in the US.
New Hampshire (Obama 2012): four votes
Like Iowa, New Hampshire enjoys political prominence because of its early spot on the primary calendar, and Trump's big win in the New Hampshire primary set up his gallop to the Republican nomination.
Since then, however, even the state's conservative voters seem to have cooled on him. He is the first Republican in 100 years not to win the endorsement of the state's right-wing flagship newspaper, the Manchester Union Leader.
Clinton has led consistently in New Hampshire but is by no means a certain winner. Its four votes could be decisive in a cliffhanger.
Wait and see
This is how things stand when the difference between the candidates in national polls is just 1%. If the race changes, other states could come into play.
When Clinton led by an average of eight points in early August, deeply Republican states like Georgia, Arizona, South Carolina and even Utah seemed up for grabs. Similarly, Trump could threaten other Democratic states in the midwest like Wisconsin, Michigan and Minnesota if he takes a national lead.
In either of those scenarios, one of the candidates would be headed for a comfortable victory. But neither can afford to feel comfortable right now.