Businesses and NGOs mainly rely on traditional approaches to fundraising. But in recent times, both sectors have shown significant interest and had great success in the adoption of crowdfunding as a contemporary approach to fundraising.
However, NGOs and businesses need to recognise the challenges of adopting crowdfunding, and how they may operate and effectively use it in the future.
Crowdfunding
Crowdfunding is a way to interact with individuals, communities and organisations for sourcing a fixed amount of loan or donation or investment money within a set timeframe via internet and digital social networks. Crowdfunding can be initiated for providing a necessary support to business and social welfare projects or ideas. Participants or sponsors of these types of initiatives may pledge a set minimum amount and may receive some reward in return (if any) based on their contribution. Funds are returned to the relevant parties if the crowdfunding initiative fails to raise the desired target money within a set timeframe.
Crowdfunding may require the use of a third-party technology platform or website for setting up and managing crowdfunding projects or campaigns, and accepting funds.
Third-party crowdfunding technology platforms or websites may charge fees for their services on successful projects: Pozible, one well-known crowdfunding platform in Australia charges a 7.5% fee on a successful project.
Crowdfunding adoption cases
The use of crowdfunding and community engagement are not new concepts. What is new is the use of online social media platforms and channels — websites, blogs, forums, Facebook, Twitter — in reaching out to the wider community networks, declaring their importance, establishing emotional connection and using their power for raising funds. The use and benefits of crowdfunding both in business and social welfare projects have now been more frequently reported in media and have drawn significant attention.
Ability to source funds is one of the biggest challenges faced by start-up businesses. Enviu, a Dutch business, used crowdfunding platform Symbid to reach out to potential investors all over the world and successfully raised $123,000 approx. Investors were given ownership in the company and allowed to sell their shares. They will receive a dividend in proportion to their contribution. STREAT, an Australian business, is using a crowdfunding platform Pozible to raise $80,000 by 30th November 2012 for a cafe business in Melbourne.
RiAus used crowdfunding platform "StartSomeGood" to engage with the community and successfully raised $5000 for two science and technology students in Australia. African Volunteer Corps used crowdfunding platform WeDidIt! Fundraising, and successfully raised funds to support and pay for the services of educated young volunteers for one year in Kilimanjaro, Tanzania.
Challenges
Crowdfunding does not mean free or easy money; it requires a lot of work. Efforts in crowdfunding could be a real value or waste. Success is not guaranteed; there are a number of cases where projects have not raised sufficient money to achieve their targets within a set timeframe.
It is also difficult for a donor to determine whether the crowdfunding activities for a certain project are trustworthy, legitimate and follow the local, national and international regulations (i.e. ASIC). From a donor's perspective, it is extremely challenging and important to ensure a crowdfunding project is not a fraud and the donated money will only be used for the intended stated purpose.
Crowdfunding platform providers may change their terms and polices at their own will. There is a need to define clear processes to direct who would monitor and govern crowdfunding project owners and crowdfunding platform or website providers and their fee.
Implications and Future Use
Crowdfunding is not an ad-hoc quick fix for a funding issue. It is all about value and emotional engagement through clear visions and a story. It is like any other fund-sourcing approach. Businesses and NGOs need to carefully define, strategise, plan and execute crowdfunding initiatives.
In order to effectively use crowdfunding power at a larger and wider scale, businesses and NGOs should consider the following model.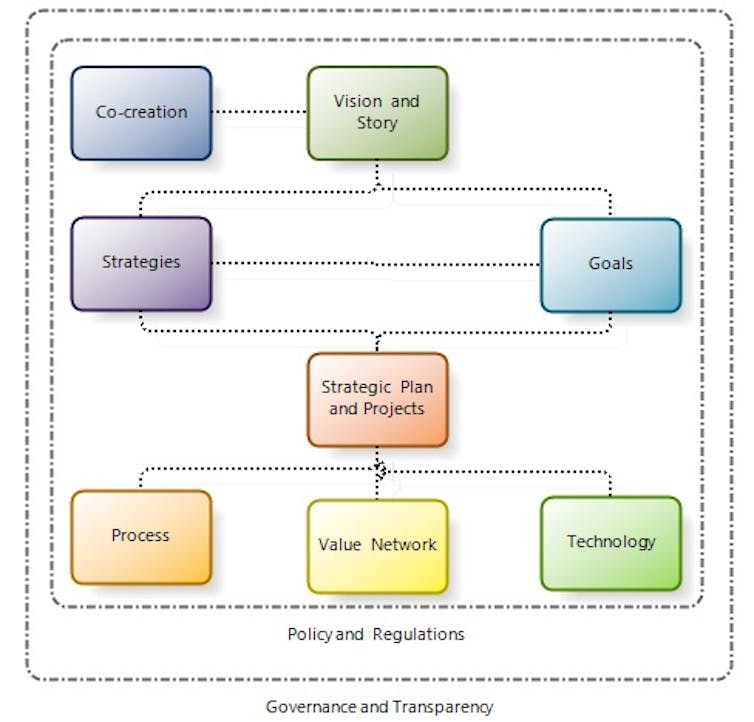 Each of the following are essential in the crowdsourcing strategy:
Co-creation: engage community when developing and prioritising ideas and projects for crowdfunding projects. Engage people both at the organisation level and specific project level.
Vision and story: clearly state crowdfunding vision and tell the story to support this vision.
Goals and strategies: detail vision and story in terms of clear targets or goals (ends) and develop strategies (means) to achieve those targets. Crowdfunding initiatives without clear targets and strategies are a recipe for failure.
Crowdfunding strategy must follow a balanced and agile approach to communication, engagement and marketing.
Strategic plan and crowdfunding projects: develop a strategic plan and portfolio of crowdfunding candidate projects in align with your strategy.
Process: publicise the end-to-end crowdfunding process to gain trust, reputation and awareness.
Provide a secure and simple process of payment.
Value network: build value network of influential and like-minded people who can motivate and influence others. Set and communicate the contribution reward.
Technology: crowdfunding is not simply posting a project on the website and asking for money. Identify how best to use all different types of technologies and channels to support crowdfunding project. Post a project on the crowdfunding platform or website. Spread the visionary message and story about the project through social media channels such as Twitter, Facebook, blogs and forums.
After all, it is about people, communication and engagement; you should actively monitor social media and the crowdfunding website.
Policy and regulation: make sure to explicitly mention your crowdfunding policy and regulatory compliance requirements with the project description on the crowdfunding platform.
Governance and transparency: build an overall picture of ongoing crowdfunding projects, which is important for informing the community, but also for planning and controlling. Make sure to report project progress, outcomes and audit findings to relevant stakeholders and community.
When integrated with the traditional funding model, crowdfunding seems useful for fundraising and delivering successful business and welfare projects. Crowdfunding a project may not achieve its desired target, but it may help to gain experience, mobilise communities, and extend relationships for other non-crowdfunding projects.
Failure to achieve your current target in one project does not suggest the failure of a next project. Failure of a project builds the experience for the success of next project.