About 10% of us (including 20% of people over 60 and 50% of people over 70) suffer from fungal nail infections. So why do we get them, and does it matter?
Technically called "onychomycosis", fungal infection of the nail plate (the hard outer nail) or nail bed (that lies under the hard nail) will most often appear as yellowish, white, black or green discolouration of the nail. The infected nail may also appear thickened or brittle. In severe cases, from long-term infection (where all the tissues of the nail have been infected), the infected nail may break up and fall off.
Fungal nail infections can be difficult to cure, and they typically don't go away without antifungal treatment. The fungus can spread to other areas of the hands or feet, and can be mild with purely cosmetic implications, or more severe with pain, low self-esteem and embarrassment due to disfigurement.
Toenails are more often affected than fingernails, possibly because they're larger, slower to grow, suffer pressure from footwear, often have poorer hygiene, and are often in a closed environment (shoes) where fungi can grow.
Although fungal nail infections are not life-threatening, they're an important health problem because of their high prevalence and poor response to therapy.
Fungal nail infections are thought to have become more prevalent during the 20th century thanks to people migration, longer life expectancy, increasing numbers of people with compromised immune systems (such as HIV sufferers), use of stifling foot wear and locker rooms in the gym.
Causes and symptoms
Fungal nail infections are caused by different types of fungi, yeasts (such as Candida) and moulds. Fingernail fungal infections are typically caused by yeast fungi, especially Candida.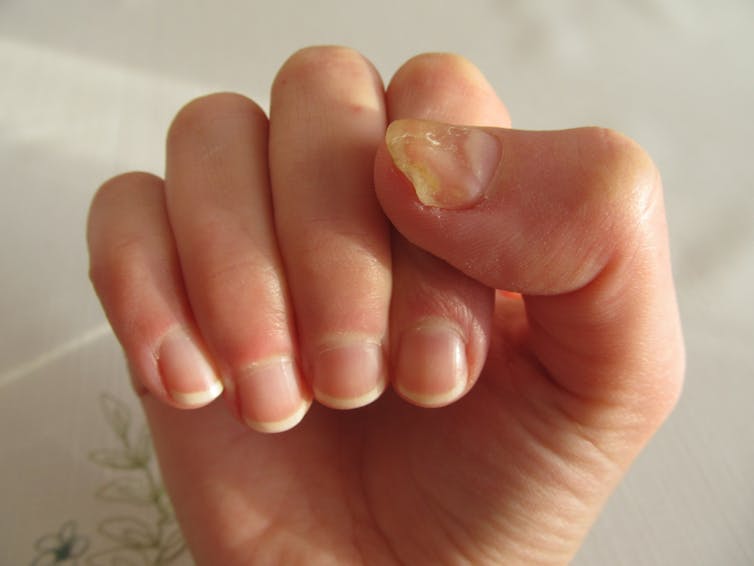 Fungal nail infections are more common among people who are of lower socioeconomic background, older, male, diabetic, obese, immune deficient (such as HIV or cancer), lacking personal hygiene, and environmental factors such as fungal contamination of swimming pools, public toilets and communal bathing facilities.
One of the problems with treating fungal nail infections is the fungus that causes it is difficult – if not impossible – to eliminate from the environment. These fungi thrive in warm, moist environments that you typically find in gyms, swimming pools, bathrooms, socks of unnatural fibres and enclosed shoes.
Because fungal spores can remain viable for months in these environments, frequent exposure can increase the risk of infection (and re-infection). Fungal spores can be picked up in many ways – such as wearing shoes that harbour the organism, by walking barefoot in areas where the fungus is prevalent (especially public showers and locker rooms), by wearing wet shoes or socks for long periods, through previous injury to the toe or toenail that opens a path for easy entry of the fungus, or by wearing improperly-fitting shoes.
Fungal infection occurs when the organism invades through an opening in the nail, meaning fungi will usually attack nails that are already damaged. After infection occurs, the growth of the fungi leads to mild inflammation, which causes the nail to thicken and the nail plate to detach from the nail bed. The space underneath the nail can then serve as a reservoir for bacteria and moulds, which can cause the nail to become discoloured.
Diagnosis and treatment
Fungal nail infections and the resultant nail destruction can promote other sources of infection like cellulitis (a bacterial skin infection) and other forms of tinea, and aggravate foot problems resulting from other illnesses such as diabetes. Diagnosis is usually confirmed by looking at nail clippings through a microscope or other tests before starting treatment.
Treatment may not be required if the infection is minor. The severity is judged by looking at the degree of discolouration, nail thickening and pain.
Topical agents such as amorolfine (Loceryl 5% nail lacquer; applied once or twice a week) and ciclopirox (Penlac 8% nail lacquer; applied daily) are usually prescribed for mild forms of the disease, but the treatment periods are long and their efficacy is somewhat limited due to poor nail plate penetration. These medications kill fungi by interfering with their cell membranes, which leads to their death.
For more severe cases, oral antifungal medications might be required. These include fluconazole (an antifungal agent also commonly used to treat thrush), terbinafine (a broad-spectrum antifungal) and griseofulvin (usually used for skin infections). The latter is a very old drug and carries the risk of causing damage to the liver. Terbinafine is most effective and therefore is the preferred oral treatment. A 12-week course cures 70-80% of cases by causing the fungi's cells to leak and die. It can, however, cause gastrointestinal side effects and depression.
Most nails with extensive fungal infection may still look disfigured even after 12 weeks of treatment, as the nail plate grows slowly and it takes about nine months to grow out fully. Even once the fungus is successfully eradicated, there may be long-term effects on the appearance of the nail.
When you go to your doctor, marking a line on the nail with a scalpel blade at the base of where the fungus starts is helpful for treatment follow-up. The patient can follow the marking as the nail grows out. If the newly grown-out nail is growing out discoloured, further treatment is required.
Onychomycosis patients may need to learn new, healthier habits to stop the fungus growing back. These could include protecting toes from sources of infection, wearing correctly fitting footwear, laundering socks in hot water with disinfectant, wearing protective footwear at the pool and gym, keeping nails short, using open-toed footwear and wearing shoes made of breathable material.
---
Kavya E.Baby, Medical Registrar (basic physician trainee) at Canberra hospital, contributed to this article.