When Australian companies report results they typically include an outlook statement from the business' leaders, giving investors some guidance about their expectations for the future. They issue these forward-looking statements with some caution as investors might rely on them, and the law requires that they be based on "reasonable grounds".
The Conversation's Face Value uses sentiment analysis to try and determine how Australian business leaders are feeling about the future.
---
A contradiction is emerging between how consumers should be feeling and what the heads of companies expect them to do. What we know about low wages growth and underemployment seems to suggest households would be tightening the purse strings but the sentiment of business leaders is very positive in sectors relying on consumer spending.
Wages are struggling to keep pace with the prices of the things we buy and average hours worked (per worker) have also been trending down or flat at best. This is not a picture of robust consumer finances.
On top of this retailers are facing the threat of competition from US giant Amazon. Yet according to our analysis of the outlook of leaders of Australia's ASX 200 companies, positivity has increased.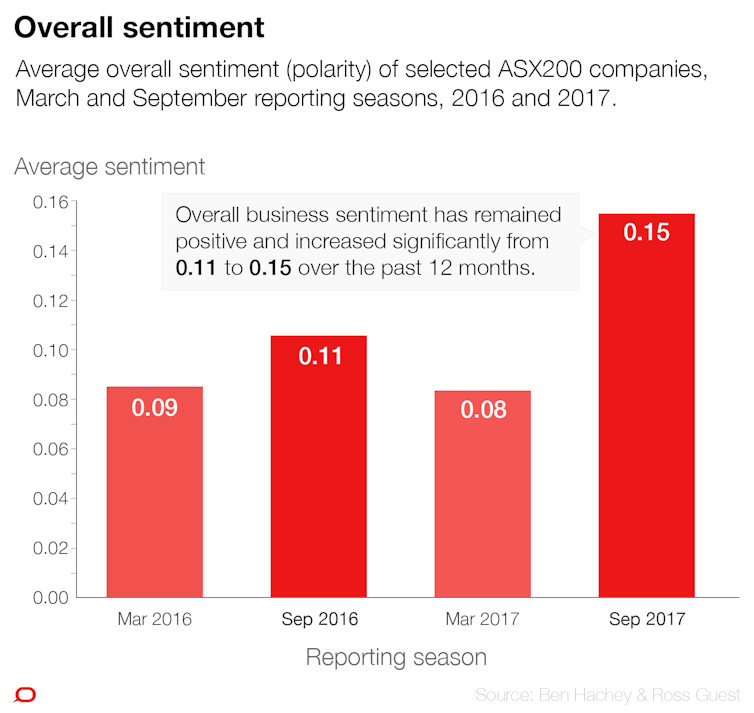 The sentiment of business leaders has remained positive and improved over the past 12 months according to our analysis. The "polarity" score, which measures whether the sentiment is positive or negative, has increased from 0.11 to 0.15 (a statistically significant improvement).
We also looked at how subjective these statements were and found there's been no significant increase in how opinionated these statements are.
Our findings also mirror other business confidence surveys and even the Reserve Bank of Australia's own outlook, which also paints a buoyant picture. The RBA expects growth in the economy to strengthen gradually to be around 3% in the first half of 2018. The RBA expects wage growth to gradually pick up over the next year or two and for average hours worked to increase somewhat.
Similarly, the Westpac-AusChamber Actual Composite index strengthened in June 2017, rising 1.8 points to 65.0. This factored in a strengthening in the labour market, as manufacturing firms plan to hire more workers and manufacturing wages rise. And the NAB business confidence survey also reveals that business conditions and confidence are improving.
The positive outlook for economic growth according to the RBA is driven by resource exports notably iron ore and liquid natural gas (LNG) production, household consumption including retail sales, and non-mining business investment. The RBA also expects wage growth to soon pick up.

These drivers are reflected in our sentiment analysis. Business leaders in ASX categories relying on household spending, have stronger than average positive outlook on the future, with an average score of 0.18.
This was led by businesses like JB HiFi (0.41), TabCorp (0.23) and Flight Centre (0.18); and also consumer staples led by Ardent Leisure (0.50), Treasury Wine Estates (0.38) and Coca-Cola Amatil (0.18).
The outlook for manufacturing is also positive due to a range of factors such as infrastructure spending by governments, stronger world growth, and improved international competitiveness due to a lower currency, commercial construction and home building, according to the Westpac-AusChamber index. This is supported by our analysis which found stronger than average sentiment from business leaders in the materials sector (0.17), through companies such as Amcor (0.26).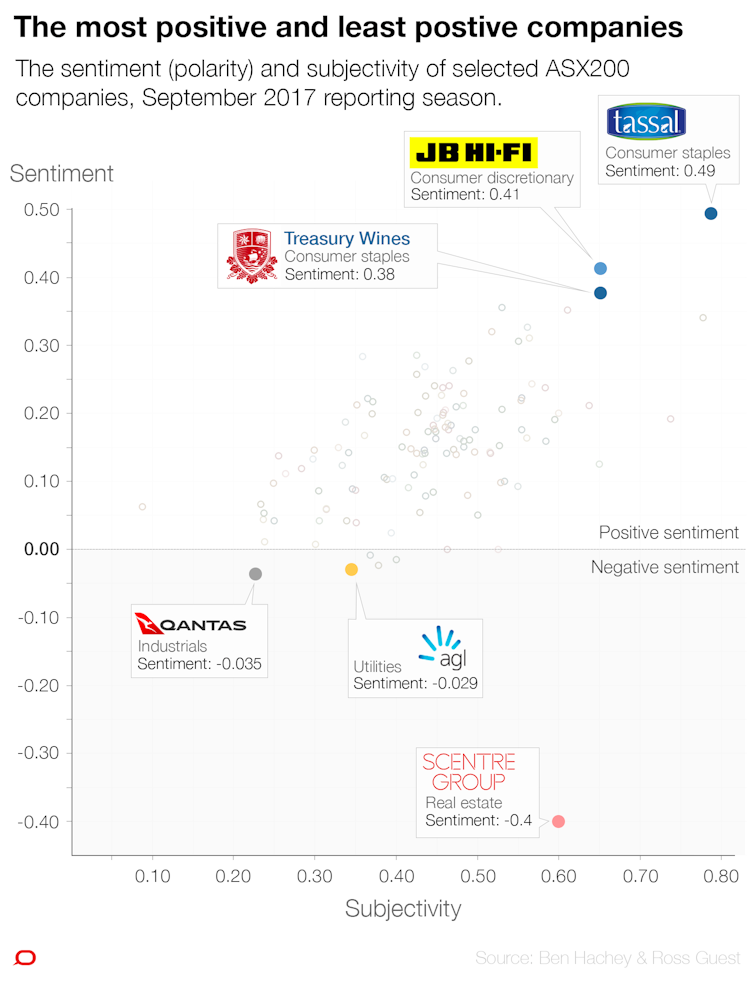 But the outlook isn't all positive among our business leaders. Sentiment was weaker than average in utilities (0.07) led by AGL (-0.03). This is hardly surprising given the high uncertainty around energy policy – AGL for example owns coal-fired power plants. Also sentiment was somewhat weaker (0.13) than average among industrial company leaders, the sentiment in Qantas' outlook was negative (-0.03) and property/real estate company Lend Lease (0.09) was also weak.
Perhaps the gloomy slow wage growth and underemployment will catch up to the more positive sentiment on consumer goods and services in company reports. Or this contradiction might simply reflect the high uncertainty in the global environment.
Consumers certainly seem a little confused: the weekly ANZ-Roy Morgan Consumer confidence Index ticked up slightly last week but has jumped around in recent months. Certainly the positive sentiment from business leaders about consumer spending we see in company reports seems optimistic.