The Liberals went to the election promising more affordable child care, but the government's own figures released today show a massive increase in the cost of child care for millions of families since the 2013 election. – Shadow minister for early education, Kate Ellis, media release, March 6, 2016.
The cost of child care is not just an issue for parents – it can affect the whole economy because expensive child care can dissuade parents from working and paying tax when they'd otherwise like to.
Labor's shadow minister for early education, Kate Ellis, said there's been a "massive increase" in child care costs since the 2013 election of the Coalition government.
Is it fair to link rising child care costs with the election of the Coalition government in 2013?
Checking the source
When asked for data to support her assertion, a spokeswoman for Ellis directed The Conversation to compare the latest data from the March 2015 Early Childhood and Child Care in Summary report with the March 2013 Early Childhood and Child Care in Summary report.
The spokeswoman said that comparing the data from March 2015 (when the Coalition was in government) with March 2013 (when Labor was in government) showed:
… a marked difference in the out-of-pocket percentages at all income brackets, which results in a significant out-of-pocket difference for the time period.
You can read the spokeswoman's full response here.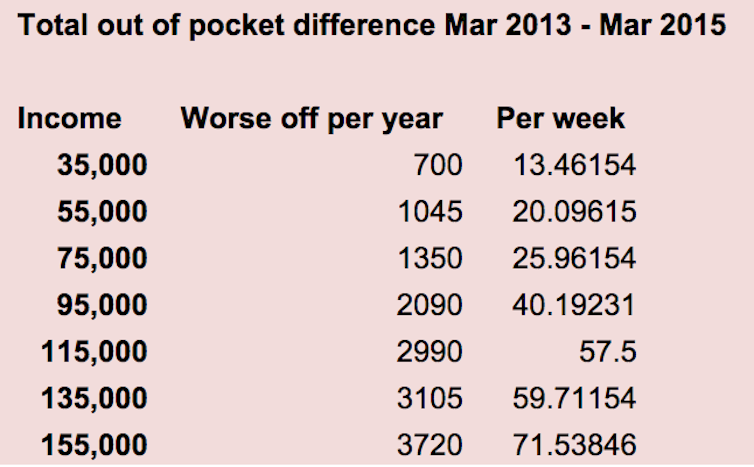 It's true a basic comparison of the data does show a rise in child care costs under the Coalition government. However, the trend was underway before the Coalition came to power.
The long history of rising child care costs
In fact, child care costs have been outpacing the rise in the consumer price index since at least 2009.
To calculate the consumer price index (CPI), the Australian Bureau of Statistics examines price changes over time for a hypothetical "basket of goods and services" typically bought by Australian households. Child care is one of the services in that imaginary basket.
The ABS has been tracking child care costs every quarter since March 1982, and that index is expressed in chart form below. Remember, this chart doesn't show the dollar cost but rather an [index](https://en.wikipedia.org/wiki/Index_(economics) – a statistical measure of change.
As you can see, the underlying trend of rising costs has not been greatly affected by government policy. The general trend in price increases looking back to early 2009 is roughly unchanged.
See those two big dips in the line chart? Those two significant periods of decrease in the out-of-pocket (net) price paid by parents coincide with the introduction of the child care tax rebate in 2005 under the Howard government, and its expansion in 2008 under the Rudd government.
Data compiled by the University of Canberra's National Centre for Social and Economic Modelling (NATSEM) for the 2014 AMP-NATSEM Child Care Affordability in Australia report showed the rise in child care prices has outpaced inflation since before the last federal election in 2013.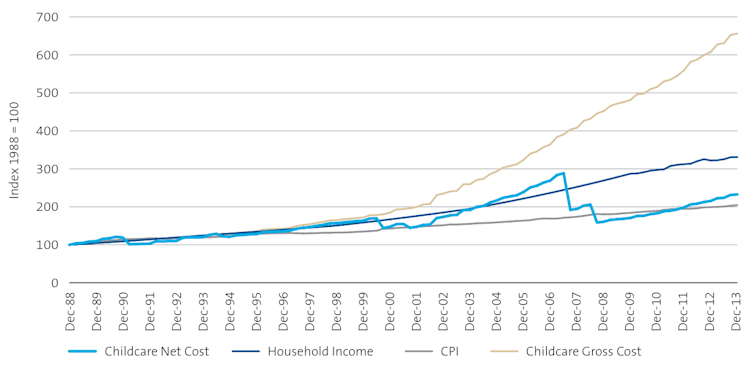 In other words, while it's true costs have risen since the last federal election, that trend was underway long before the current government took power in 2013.
What's driving rising child care costs?
Firstly, demand is high and supply is low. Female participation in the workforce has been growing, which is driving up demand for child care.
There seems little prospect of falling demand on the horizon, and that keeps prices high.
Child care is an expensive business because it's labour intensive. Labour costs make up the vast majority of costs for child care centres.
Since 2012, the National Quality Framework has also placed additional cost pressures on child care centres. The national framework required more physical space per child, more staff per child, a higher presence of qualified early childhood teachers, and more qualified (and more expensive) staff.
All of this requires child care centres to spend more dollars per child and increases costs for parents.
The evidence is that the general trend in child care prices and costs has followed the same trajectory from 2013 to 2015 (under the Coalition government) that it was on from 2009 to 2012 (under the Labor government).
What can be done?
There are two basic policy options to drive down child care costs: increase assistance to families or intervene in the market to stop rising prices.
Both come with big costs.
Increasing subsidies would lower the cost of child care for families. The two big drops in the net child care cost in 2005 and 2008 show the large effect that increasing assistance to families can have.
But these subsidies are very expensive for the taxpayer. Alongside the drops in net child care price in 2005 and 2008, there were continuing increases in the gross price of child care. Subsidies go up; child care providers raise the price.
Secondly, although increased assistance to families brings some increase in employment, the increases are small.
For married and partnered women – the group whose working behaviour is most sensitive to changes in the cost of child care – we estimate that to achieve a 1% increase in hours worked, government needs to reduce the price of child care by between 5% and 10%.
Some may argue that additional child care subsidies lead to improved outcomes for children, better options for families, and a commitment to a range of policies that enhance and support gender equality.
The government could take over the provision of child care as it does primary education, or impose some kind of price control on child care. Both currently seem unlikely.
The Coalition government's current proposal is to link child care payments to a benchmark price. This is presumably to impose some downward pressure on prices. It remains to be seen how this benchmark price would be adjusted every year, and whether or not this would lead to an increasing gap between subsidies and actual costs to families.
Finally, removing quality restrictions on child care centres could reduce price pressures. This, however, runs contrary to the early childhood education objectives and demand from parents for higher quality child care.
Verdict
It's true there's been an increase in the cost of child care under the Coalition government. However, Kate Ellis' description of a "massive increase in the cost of child care for millions of families since the 2013 election" obscures the fact that the trend was underway for years before the current Coalition government came to power. – Robert Breunig
---
Review
This is a sound analysis. The author has provided evidence that clearly demonstrates the rising costs of childcare to families and that costs are rising at a rate faster than inflation.
The author's conclusion that this trajectory began prior to the Coalition assuming government in 2013 is accurate and justified.
These rises are related to an increasing mismatch between supply and demand, along with improvements in the quality of the early childhood programs being offered as a result of the Quality Reform Agenda instigated by the ALP and agreed by all governments through the Council of Australian Governments in 2009.
However, it is important to note that the implementation of the reforms in early childhood were not primarily in response to parental demand. The reforms were based on extensive international research evidence, including a major OECD 20-country review. To consider winding quality reforms back as one option for reducing costs would, in my opinion, be detrimental to the national interest. – Susan Krieg
---
Have you ever seen a "fact" worth checking? The Conversation's FactCheck asks academic experts to test claims and see how true they are. We then ask a second academic to review an anonymous copy of the article. You can request a check at checkit@theconversation.edu.au. Please include the statement you would like us to check, the date it was made, and a link if possible.