"With one of the most concentrated food retail sectors in the world dominated by the supermarket duopoly, the barriers to making it easy to buy local food in Australia are significant. It is time for Australia to learn from the example of other countries and provide assistance to rebuild local food systems." – The Australian Greens, official website.
The percentage of market share controlled by the two major supermarkets, Coles and Woolworths, depends on which groceries you include.
Ferriers Focus May 2011 examined the 2010 annual reports for Wesfarmers and Woolworths, the National Association of Retail Grocers of Australia November 2010 Report and the Master Grocers Australia December 2010 Report, and concluded their market share was almost 80%. Deloitte Access Economics in October 2012 identified market share to be Woolworths at 41.1% and and Coles at 31.0%, for a total of 72.1%. This decline may be related to the growth in low cost food retailer, Aldi, and changes in consumer shopping practices.
But supermarkets sell more than just packaged dry groceries; they also sell fresh meat and fruit and vegetables. The Roy Morgan Supermarket Currency Report of 2012 identified that Coles and Woolworths in 2011 had 45.5% of the market in fruit and vegetables and 47.2% of meat. In these areas, Coles and Woolworths do not dominate. Consumers choose to patronise local fruit & vegetable retailers, butchers, bakeries and delicatessens for such items.
Election FactCheck's previous check on this issue found that when all grocery items were included, the best estimate is that Coles and Woolworths control 55-60% of Australia's total grocery market.
So, given that figure, does Australia have one of the most concentrated food retail sectors in the world? It is partially correct, in regard to the proportion of sales generated by the two supermarkets.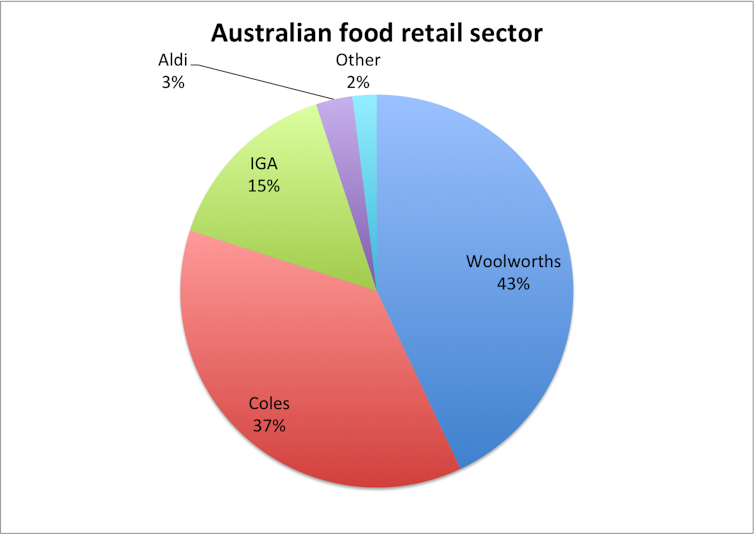 For instance, as these tables show, the four major players in Australia together control 98% of the market (with Coles and Woolworths controlling 80% in this study of packaged groceries). In the UK, five major retailers control just over 70%, with the biggest, Tesco, controlling 28%. In the US, the biggest player is Walmart, with 25% of the market, and in China, the five biggest retailers together control 38%.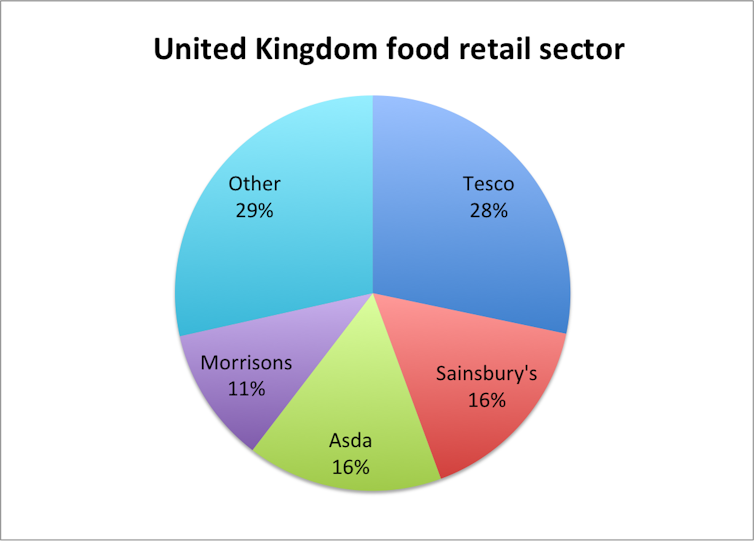 Critics such as the Greens and MP Bob Katter say the market dominance and competition between Coles and Woolworths is squeezing suppliers of goods such as milk, fruit and vegetables. The Greens' policy is to offer $85 million over four years to help farmers sell direct to consumers. The Australian Competition and Consumer Commission earlier this year asked suppliers to come forward with with any complaints.
Despite the sensitivity of this issue, there does not appear significant barriers to accessing fresh, local foods and products in Australia. Research is limited, although one early study has found "buying locally produced foods" was considered an important attribute. Consumers are becoming more active in choosing alternative channels to purchase locally grown/produced foods. Supermarkets and grocers continue to tailor their assortments to include ethnic, organic, natural and local foods to meet changing consumer needs.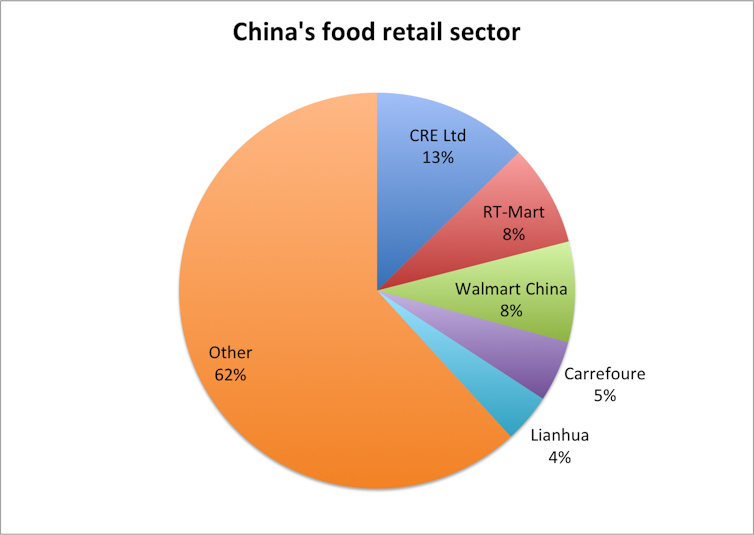 Food and grocery retailing in Australia remains competitive. There are no switching costs for shoppers, who appear to shop across all brands of supermarkets and grocery stores. As reported by Woolworths CEO Grant O'Brien this year, Nielsen surveys over a 12 month period indicated 97% of Australians switch between the major four supermarket chains - Woolworths, Coles, IGA and ALDI. Across a month, 64% of Australians do their food and grocery shopping across all the major supermarkets and speciality stores.
There are low barriers to entry now into the Australian retail market. This has been demonstrated by the entry of German food discounter ALDI 11 years ago. The ALDI group has plans to expand into SA and WA over the next three years, bringing greater levels of competition to the market. US retail giant Costco, has already established a foot print in the Melbourne and Sydney markets and more recently announced plans for Brisbane.
Verdict
The Greens are right - Australia does have one of the most concentrated grocery markets in the world. However, the entrance of Costco, the 6th largest retailer in the World, and Aldi, the world 8th largest retailer, suggests that market penetration is possible and there is room for continued competition.
---
Review
It is correct to distinguish between packaged dry groceries and fresh meat, fruit and vegetables. The concern of the Greens is to rebuild local food systems and there is evidence that already many Australians are choosing to purchase fresh food from alternative retailers including farmers markets and organic stores – although Coles and Woolworths 45-50% share of the fresh food market is still quite high. It is also relevant to consider what the proportion of consumption is between processed and packaged foods compared with fresh foods, with one concern being that supermarkets encourage consumers to spend more of their total food budget on processed foods.
The data does suggest that Australia has a high concentration of ownership in our grocery market. But the supermarket sector in all developed countries is quite concentrated. It is also notable that supermarkets here and around the world are expanding their market power beyond groceries into financial services, petrol, hotels and liquor outlets, and land owning and rental. - Christine Parker
The Conversation is fact checking political statements in the lead-up to this year's federal election. Statements are checked by an academic with expertise in the area. A second academic expert reviews an anonymous copy of the article.Request a check at checkit@theconversation.edu.au. Please include the statement you would like us to check, the date it was made, and a link if possible.