Tex Perkins, once upon a time lead singer of The Cruel Sea and Beasts of Bourbon, appears before his Tennessee Four band in a gentle swagger, grabs the chrome microphone, and announces: "Hello, I'm Johnny Cash". It's Cash's iconic gravelly drawl in a serviceable American accent; it's a playful gesture to a knowing audience.
The crowd gathered in Parramatta Gaol to see Tex Perkins perform at the Sydney Festival cheer as the band launches into Cash's iconic Folsom Prison Blues, first recorded in 1955 but made famous in the two legendary concerts at Folsom Prison in January 1968.
Cash had proposed the idea of a performance at Folsom to Columbia Records a decade earlier, but it had seemed outlandish to executives at the time. Who would take an interest in a country star (with little crossover appeal in the American rock mainstream) playing to a group of prison inmates and, moreover, singing about their tragic lives? Who would put out an album with tracks entitled Dark as a Dungeon and Cocaine Blues?
But by June of 1968, it had become all too clear that At Folsom Prison would be Cash's most significant album in more than a decade and one of the symbols of his enduring legacy. The sessions are now legendary in the annals of post-war American music, both as performance pieces and a double-album recording.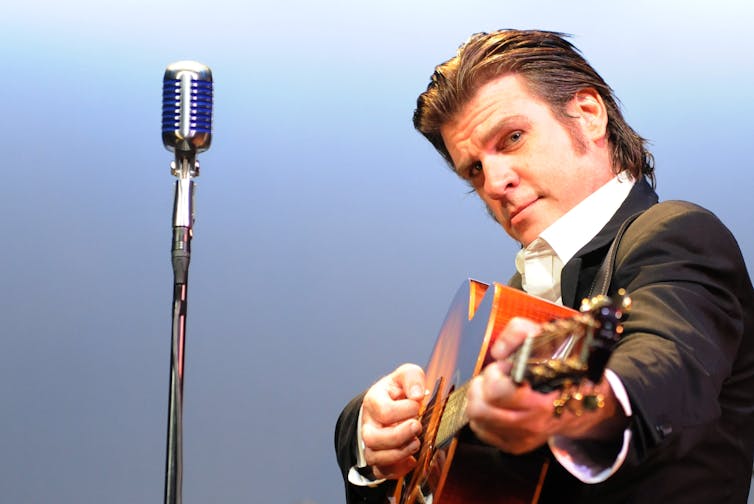 Tex Perkins and his band have attracted some interest for their performances of Cash's music over the last few years, including one very successful outing at Port Philip Prison in Melbourne.
I attended the first of three Sydney Festival performances at Parramatta Gaol on January 16.
I was seated in the exercise yard of the gaol, ringed by what felt like a 20-foot wall strung with barbed wire that's now encased in clear plastic. The yard was expansive, stretching longer and wider than I would have imagined. The gaol was closed only three years ago, and the marks of recent incarceration are still evident on the walls and in the series of walkways that lead from the entrance to the exercise yard.
The raucous inmates audible on Cash's original Columbia recording are obviously missing from Parramatta's surrounding levels of cellblocks. Yet the strangely oppressive feel of the yard suitably captured something of what prison life must have been like here; it's a large space, but it's enclosed on all sides and surveilled from all corners.
With Perkin's superb baritone on Folsom Prison Blues, and the rousing Tennessee Four behind him, Cash and his momentous album of 1968 were miraculously brought to life. This is a song about prison life, set among the male-only population of California's medium-security Folsom Prison, one of the state's oldest penitentiaries. Perkins moved energetically through the opening, reaching the shocking verse:
Son, always be a good boy,
Don't ever play with guns.
But I shot a man in Reno just to watch him die.

On the 1968 recording, the inmates of Folsom cheer at the brazen description of criminal life. In Parramatta gaol, the crowd did its best to emulate that exuberance for Cash's unique brand of social, cultural and artistic deviance. In the opening track and elsewhere, Cash's music opens the lid on an American tragedy, told in a series of jocular tales about young men from the other side of the train tracks, rubbing against the grain of orthodox sociality.
I bet there's rich folks eating in a fancy dining car
They're probably drinkin' coffee and smoking big cigars.
Well I know I had it coming, I know I can't be free
But those people keep a movin'
And that's what tortures me …
This is the persona of Cash and his adopted inmate population. He gives full expression to prison's emblematic social life. On Cocaine Blues, Cash covers an iconic song about a misery-fuelled binge leading to the speaker's incarceration:
The judge he smiled as he picked up his pen
99 years in the Folsom pen
99 years underneath that ground
I can't forget the day I shot that bad bitch down.

Reprised in the performance of Perkins and his band, the experiment was more than an empty imitation of a legendary event. Cocaine Blues captured the aggression and playfulness of Cash's original performance in Folsom: a rousing blues arrangement, with Perkins and the band thumping their instruments. The disturbing violence of the lyrics, as in Cash's performance, was offset by Perkin's playful simulation of Cash's bodily gestures (holding that guitar high!) and uncanny vocal similarity.
The crowd got in on some of the Cash standards filtered in among the darkness of the Folsom Prison material (Ring of Fire, I Walk the Line), but the strongest material of the evening issued directly from the Folsom Prison songs. Cash's lament for prison life is always part celebration: it concludes in a performance of a song written by a Folsom inmate, Glen Sherley. Sherley's Greystone Chapel closes the prison narrative with:
Inside the walls of prison my body may be
But the Lord has set my soul free.
Sherley's blend of country folk and gospel sentiment is strangely affecting, issuing directly from the pen of an inmate.
The staggering achievement of Cash's Folsom Prison experiment is its capture of a very particular time and place in the late 1960s. In the lyrics and coverage of a range of American musical styles (country/blues/folk), the penitentiary is infused with the history of invisible lives that suddenly spring to attention; it feels a little like a rebellion against the American establishment, a music and performance infused with a punk ethos long before punk reared its head in the American mainstream.
Through Perkins and the Tennessee Four, the Sydney Festival performances were equally experiments of a kind. Such events are unique performance genres, attaching music (both recorded and performed) to a historically significant time and place. This was not empty imitation, but an attempt to recuperate the mythos of Cash's two nights at Folsom Prison and its resonance in American popular culture.
As such, to my mind, the experiment was a magnificent success. Perhaps next we'll see the recreation of the Newport Folk Festival of 1965 and the moment of Dylan's "plugging in". Could one sell tickets to Woodstock as a historical and cultural simulation? Why not?

Far from Folsom played at the Sydney Festival until January 18. Details here.

See also:
The Parramatta Folsom Prison Blues: what's wrong with that?