Yesterday's decision to confer the Nobel Prize for Literature on revered French novelist Patrick Modiano has sent even the most widely-read English speaking critics scurrying to find copies of his books.
They are only available in English translation from a small independent publisher in the United States.
Once again, the Academy's decisions draws attention to the insularity of literary culture in the English-speaking world, demonstrating the fact that many – indeed, most – of the world's best writers hail from countries other than Britain or the United States.
On Twitter the public commentary leading up to the award had been running strongly in favour of Japanese author Haruki Murakami – as it does every October.
Many critics tried to read between the lines of a media interview given by Horace Engdahl – a member of the 18-strong Swedish Academy responsible for deciding the prize – in which he claimed western literature had been ruined by arts grants and creative writing programs and that it was only in "reading many writers from Asia and Africa, one finds a certain liberty again".
For a time, those comments made Kenyan writer Ngugi wa Thiong'o a fierce favourite to win. Ngugi famously wrote his 1982 novel Devil on the Cross on prison-issued toilet paper, having been jailed for criticising social inequality and injustice.
Others perhaps hoping to see a little more gender equity in the awards were barracking for Belarusian journalist and author Svetlana Alexievich.
Unlike most literary awards, the Nobel Prize is awarded to an individual author for a body of work, rather than to a single book. The guidelines also require the work to demonstrate not only "literary merit" but also to express "idealism".
This requirement for "idealism" has tended to be interpreted as broad humanitarian concern, often with a political, provocative or utopian edge. It is an artistic vision instantly recognisable in the works of Nobel Laureates such as Orhan Pamuk and Toni Morrison, John Steinbeck, J.M. Coetzee and Naguib Mahfouz.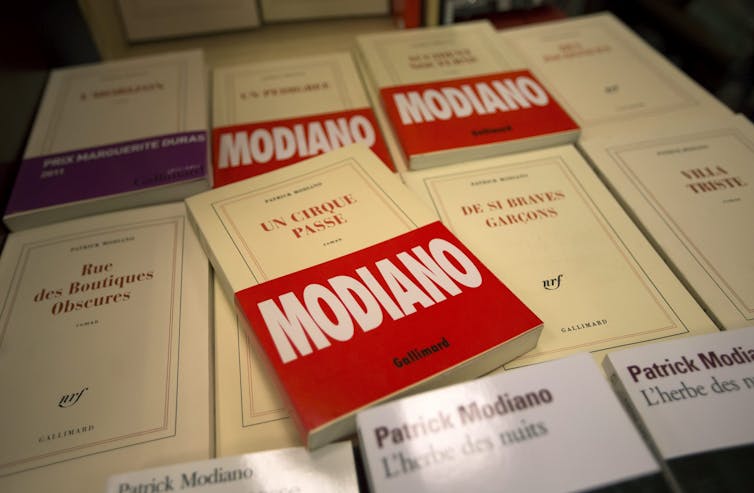 In the words of the judges of the Swedish Academy, Modiano has been awarded:
for the art of memory with which he has evoked the most ungraspable human destinies and uncovered the life-world of the Occupation.
Modiano's most famous works are short postmodern detective novels. Set in a Paris shaped by war, filled with dark streets, smoky cafes and the sparse aesthetics of noir, they are concerned with memory and time, identity and loss.
Missing Person (2004), maybe his best-known work – one that is often set for students of French at Australian universities, at least – features a detective whose last case involves his own lost memory. He steps back into history, in order to investigate who he is.
The problem turns out to be largely metaphysical – the case is open-ended. Modiano's detective stories provide no answers to the questions they raise. Rather, they bring to the fore the relationship between fiction and history. What the past is, and how and why we attempt to recollect it.
This is a timely question for the History Wars.
But it is never really clear how and why a panel of judges comes to the conclusions they do. Why choose Mondiano over Ngugi, or Philip Roth? Indeed, next to Ngugi or Alexievich, Modiano might be considered to be something of a safe and conservative choice.
In Australia, the Prime Minister's Literary Award goes to the work "deemed to possess the highest literary merit". The guidelines for the NSW Premier's Literary Awards, for which I've served as a judge, declare that "literary merit is uppermost is assessing nominations".
Despite protestations, the concept of literary merit is far from being a settled question.
There is very often a mismatch between public expectations of the judging process and the reality that few judges publicly record the reasoning behind their decisions.
Literary judgements are the product of fierce battles over competing aesthetics, in which the force of an individual judge's rhetoric plays a key role. All of this unfolds within in a deeply political environment, against a set of institutional imperatives.
Language is certainly prominent in every judge's mind. I have sat in a room with a particularly thorough judge who analysed every sentence he deemed to be of such "banality" as to demonstrate that a certain book could never be shortlisted for the award. He had circled around 100 individual examples. Still another judge memorably reasoned that a novelist who could not propel a character from room to room without "turning the doorknob and opening the door" was similarly unworthy.
And indeed, I understood her larger point.
But although language is always uppermost in a judge's mind, decisions also concern what the Australia Council has traditionally called "creative substance", which means vision or world-view, including significance, difficulty of subject matter, and indeed, relevance. This last refers to the way a literary work might give expression to voices that are rarely heard, or speak to issues of public significance in the context of the political, social and cultural climate of the day.
The question of significance often gives rise to the most contested and publicly debated decisions – and, to my mind, that's a good thing. It affirms the power of language to expand our ethical horizons, deepen human experience, and change hearts and minds.