Grace Park is an 8-year-old girl from Manchester, United Kingdom, who likes making colorful bracelets with plastic lanyards, playing games with her two older brothers, and writing poems for her mum.
The childhood of Grace's mother, Jihyun Park, wasn't so carefree. She grew up in Chongjin, North Korea, where political life begins at an age when children are supposed to be watching cartoons and goofing around with friends.
As an 8-year-old, the elder Park was tasked with memorizing the biographies of Kim Il-Sung and Kim Jong-Il. She spent hours perfecting synchronized musical performances for the leaders' birthdays and meticulously ironing her red scarf for school. On the playground, her classmates played war games and pretended to kill American soldiers.
Park has a harrowing life story that includes two escapes from North Korea, forced repatriation, torture in a North Korean political prison camp, and being sold into sex trafficking. Through unyielding perseverance, she made her way to the United Kingdom, where she now lives with her husband and three children.
As a U.S.-born Korean-American, I have been researching various aspects of North Korea, from the underground network of people who smuggle outside information into the isolated country, to the country's defectors.
I first became aware of Jihyun Park's remarkable story after reading about her online in 2014. When I learned she had children, I was particularly interested in what it was like to raise a child in a world that, compared to North Korea, has unparalleled freedoms.
So in October 2017, I met with Park at her home in Manchester. She talked about the joy she gets from being able to raise her kids in ways that would have been impossible under the shadow of political oppression. At the same time, there's a real struggle to explain her past to her children – a life that differs so starkly from their own.
Worlds apart
As she prepared lunch for her two young children (the eldest is in college), Park told me that she would wake up as a child and never see her own mother.
Like most North Korean mothers, Park's mother was required to tend to collective chores before her own household chores. While it was still dark outside, she would sweep the neighborhood roads before sweeping her own home. Even as a housewife, she never made lunch for her daughter because she had so many collective duties to perform – picking up trash, collecting wood and picking vegetables to meet the neighborhood quota to donate to the state. She never saw her daughter off at school. Nor did she ever pick her up.
Park said that she often thinks about this as she drops off and picks up her children from school. A simple daily task that so many parents take for granted (or begrudgingly do) wasn't even possible in North Korea.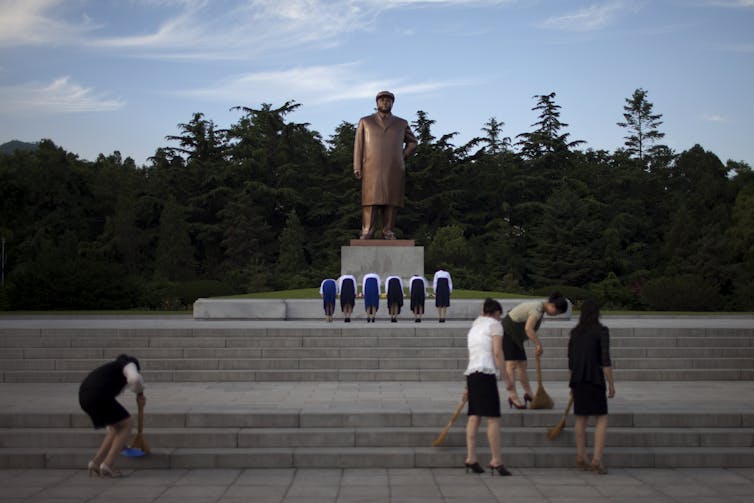 Yet life in the United Kingdom hasn't been without its own set of challenges.
When she first dropped off her daughter Grace at nursery school a few years ago, Park couldn't communicate with the teachers about her toddler. When teachers tried to tell her that Grace had a good day or a challenging day, Park didn't understand. For a young mother from North Korea, the language and cultural barriers resulted in a spate of misunderstandings and missed opportunities.
When Grace entered preschool, Park worried that she would be discriminated against. After all, she and her family were in "someone else's country," as Park put it; they were Asian refugees with little to no money.
But she was pleasantly surprised that Grace ended up meeting a diverse group of friends, some of whom were also refugees. Grace taught her fellow preschoolers how to say hello in Korean ("ahn-nyoung") and Grace learned how to say a few phrases in Russian, Arabic, Urdu and Polish.
Today, Grace speaks English with a thick Manchester accent and speaks Korean with a heavy northeastern North Korean accent.
The scars of the past
Because Grace was born in the U.K., Park has struggled with how to tell her about her past and her home country without scaring or worrying her.
Two years ago, Grace noticed the deep scar on her mother's leg and asked how mum got hurt. Park delicately tried to explain the torture she experienced in a North Korean political prison camp. (She was sent there as punishment for trying to escape the country in 1998.)
When Grace started watching some interviews and documentaries featuring her mother, much of it went over Grace's head. But while watching an interview conducted by Amnesty International, Grace did lean over and silently hug her mother.
Something must have resonated.
Other disconnects seem more difficult to overcome. Many kids are unable to appreciate a routine as commonplace and mundane as a family dinner.
But to Park, these dinners are filled with meaning: They're when she feels the most blessed. Meal time with her family in North Korea was rushed. Bellies were never full, and if there were any talking, it would be her father sternly lecturing the family about politics.
Now she's able to eat second helpings of tasty food, tell jokes and laugh with her children. When Grace does occasionally complain about the food, Park is quick to remind Grace that they have relatives in North Korea who are never able to eat until they're full.
"So why can't we send them food?" Grace and her brother wonder.
Communication breakdown
How does a mother raised in a totalitarian state explain North Korea's political situation to her young daughter? Where to begin? Why can't they send them food?
Grace has asked several times to make a phone call to her aunties and uncles in North Korea. Or they could use Park's phone to FaceTime them. Or at least email them pictures for Christmas.
When Park tells her daughter that their aunts and uncles don't have internet, Grace suggests communicating "the old-fashioned way" – handwriting a letter, sticking a stamp on the envelope, and dropping off the letter at their local post office. Maybe they'll write back and send them pictures of their families in North Korea?
Grace and her brother do recognize Kim Jong Un. When his image appears on television, they giggle and make fun of his weight and his hairstyle. They also blame Kim Jong Un for their mother's scar on her leg, and for not being able to call their relatives in North Korea. But Grace and her brother still don't seem to grasp why they can't just pick up the phone and call their relatives.
Park told me that the challenge of explaining her life and the country she is from extends beyond educating her children. With her newfound freedom, she feels the moral duty to be the voice of millions of voiceless North Koreans to anyone who will listen.
To ensure that future generations don't forget the tragic experiences and memories of North Korean citizens, she founded Stepping Stones in 2017. The nonprofit organization raises awareness about human rights violations in North Korea, with a specific focus on women and children. The group is lobbying to make Feb. 17 an international day to remember all North Korean citizens who have been oppressed by the North Korean regime. (Stepping Stones chose this date to coincide with the day that the U.N. Commission of Inquiry on North Korea's Human Rights released their report in 2014.)
In the meantime, Grace continues to live life like an ordinary kid. She rides her bike, makes glittery bracelets, and runs around with her classmates. Her days are filled with crayons, coloring books, play dates and fuzzy hairbands.
It's a childhood couldn't be any more different from her mother's.
For that, Park couldn't be more grateful.