Australia's rugby union team, the Wallabies, might this weekend be crowned world champions for a third time. But they will face stiff opposition in the form of the reigning world champions, New Zealand's All Blacks.
Regardless of the result, in Australia's competitive football landscape rugby union is dwarfed by the three other major football codes – Australian Rules football, rugby league and football (soccer).
While rugby union commands a fanatical following in certain geographical areas and parts of Australian society, and has a long and distinguished history, it has failed to keep pace with the other football codes on a number of levels. There are four main, interrelated reasons for this.
Failure to connect with new fans
In the hyper-commercialised era of mediated sport, rugby union has struggled to attract new followers in substantial numbers.
While rules have been altered and new competitions (national and international) such as Super Rugby and the National Rugby Championship established, TV ratings have been disappointing, not to mention the crowds at games.
Earlier this year, the Bledisloe Cup match between Australia and New Zealand in Sydney was not a sell-out. The ill-conceived National Rugby Championship has attracted a handful of spectators to most games and low ratings on pay TV.
Prospective rugby union fans have found little connection to the National Rugby Championship and even less identification with its various invented clubs, such as the "Stars" and the "Rays".
What also hinders rugby union are issues associated with entertainment and understanding of rules. Unlike the three other codes – where the ball is consistently in play and the rules are simple – this is not the case in rugby union. For sustained periods there can be stoppages due to resets of scrums, time-consuming kicks out of play and constant streams of penalties that stop the flow of play.
Matches turn into kicking duels, and the team that scores the most tries doesn't necessarily win. This is notwithstanding the lack of understanding of rules – especially at the breakdown of scrums, where refereeing decisions can perplex even the players and commentators.
Not a national game
Rugby union is not a national sport. Its support base primarily lies in NSW and Queensland. While the sport was introduced across Australia in the 1870s, by the end of the first world war its base was in these two states and in Sydney in particular.
For almost a century, the code's administrators have been unable to broaden its appeal as the other three codes have. The NRL, AFL and A-League are competitions with large domestic followings across nearly all states and territories. The AFL's new TV rights deal clearly demonstrates its national reach.
Generally, the national appeal of rugby peaks during the World Cup or Bledisloe Cup matches against the All Blacks and hibernates between these periods.
This is similar to the periodic pattern of support for sports such as rowing, archery and yachting at the Olympic Games. Australians are fans of these sports because winning medals brings with it international prestige.
At the grassroots
At the grassroots level, rugby union has not made an impact on the competitive youth sport market. Low participation rates for youth aged between six and 14 highlight this picture.
These figures are even more alarming because in the heartland of the sport – the private school system – AFL and football have emerged as threats, taking away prospective players. At Sydney private schools, substantial numbers of students play football and AFL.
There are perhaps two main reasons for this. It would seem that the sport "played by all shapes and sizes" is now being dominated by early developers – in particular Pacific Islanders, who are larger and stronger in their youth. This discourages a number of players – and their parents – who fear injury. This has been exacerbated by recent findings related to concussion and brain damage.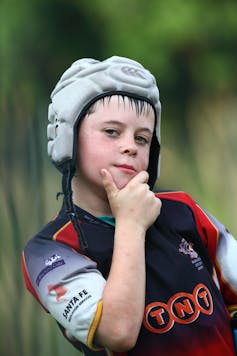 Also, in the age of the talent identification program, players are identified and funnelled into elite programs. Novices, though, are neglected. Prior to this, the philosophy was that all students in "rugby" schools would play the sport.
Class and race
For many, rugby union is still a class-based game – and it hasn't been able to break these shackles.
Since the rugby split – when rugby league emerged – a class divide occurred. Union became a preserve of the middle and upper classes, so much so that its supporters were known as the "rah-rahs".
When rugby union professionalised in 1995, the sport's administrators failed to broaden its appeal. Many held onto and advocated for the sport's "unique culture". While sports such as Australian Rules encouraged Indigenous and other minority group participation, and the A-League welcomed Anglo-Celtic-background Australians to the fold by de-ethnicising the sport, Australian rugby has been reluctant to broaden its appeal.
For many inside the sport, what made rugby union so special was that it was the domain of the players, and the players were the focus of the sport. It was about loyalty and parochialism. Many traditionalists have found it difficult to adapt to the modern era. It would seem that professionalism does not sit well for those both inside and outside of rugby union.