Sunday's contest between independent centrist Emmanuel Macron and the far-right National Front's Marine Le Pen in the French presidential runoff will amount, in effect, to a referendum on France's membership of the European Union.
A May 3 television debate between Macron and Le Pen showed how the candidates hold strikingly different views on issues such as trade, immigration and confronting the impacts of globalisation.
But on no other issue is their chasm as deep as it is on France's relationship with the EU.
Le Pen has vowed to take France out of the eurozone, hold a referendum on EU membership and immediately reinstate national border controls if she attains power.
Macron, on the other hand, is a strong defender of the EU project who would strengthen the eurozone and deepen EU defence cooperation. He has rebuffed Le Pen's proposal to close France's borders.
The establishment backs Macron
With polls showing Macron ahead by as many as 20 points, few observers give Le Pen a chance to win on Sunday. But she is still expected to capture as much as 40% of the vote, which is a distressing signal to those who believe the EU is essential for the continent's political stability and economic prosperity.
This is the second time a National Front candidate has advanced to the second round in a French presidential election. Le Pen's father, Jean-Marie Le Pen, shocked France's political establishment in 2002 by narrowly beating the Socialist Party candidate, then-prime minister Lionel Jospin, to take on the incumbent Jacques Chirac in the run-off.
Le Pen's advancement this year surprised no one. For more than a year, polls had consistently put her in first or second place in the first round of the election. The only question was whom she would face.
Just as a "Republican Front" emerged in 2002 to hand Chirac an overwhelming victory, all signs point to a unified push for Macron on Sunday. As soon as first-round results were announced on the night of April 23, France's political establishment quickly began to rally around Macron.
In his concession speech, Socialist Party nominee Benoît Hamon called for unity to defeat Le Pen, referring to her as an "enemy of the Republic." Prime Minister Bernard Cazeneuve said Le Pen's program would "impoverish, isolate and divide" France.
On the right, former prime ministers Alain Juppé, Jean-Pierre Raffarin and François Fillon (who placed third in Sunday's voting), have all endorsed Macron in the second round and called on their supporters to back him.
One of the few holdouts has been far-left maverick Jean-Luc Mélenchon, who came in fourth in the April 23 first round of voting. While he has said that he will not vote for Le Pen on Sunday, he has not indicated whether he will vote for Macron or cast a blank ballot instead.
The French pollster Ipsos projects that 62% of Mélenchon's voters will back Macron, along with 48% of Fillon's and 79% of Hamon's.
Still, Le Pen is widely expected to perform much better than her father did 15 years ago. Le Pen père received 5.5 million votes in the second round in 2002. Le Pen fille could win up to 14 million.
A debate on French identity
Whatever the outcome, Le Pen has shown that nationalist, anti-EU, and anti-globalisation sentiment – now widespread across Europe – has more traction in France than many had realised.
A record number of French voters opted for anti-establishment, anti-EU candidates in the first round: almost 50% of all votes cast went to candidates on the far right or the far left who wanted to either exit or dramatically rethink France's relationship with the EU.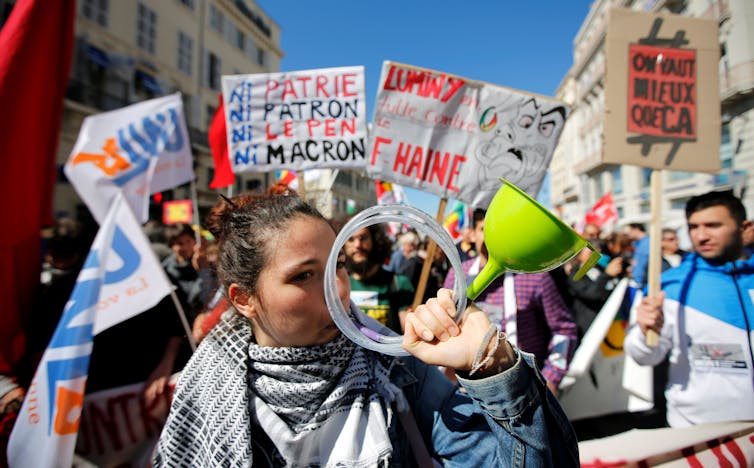 France has indeed had a hard 21st century thus far, with 20 years of economic stagnation, including low growth, stubbornly high unemployment and rising inequality. Joblessness is just under 10%, more than twice that of neighbouring Germany. And youth unemployment stands at 23%.
Large parts of France, such as the northern "rust belt," have been hit hard by de-industrialisation and globalisation.
A series of terrorist attacks over the past two years has also created anxiety over what many French citizens see as uncontrolled immigration and the radicalisation of a growing number of young French Muslims.
Some of these people agree with Le Pen's charge that "untamed globalisation" is threatening not just French jobs and living standards, but also French culture and identity. Many French citizens feel they have lost out against globalisation and technological change.
These are the voters who, in increasing numbers, are turning away from mainstream parties to anti-establishment, insurgent movements on both the left and the right.
Since taking over the National Front from her father in 2011, Le Pen has tried to "undemonise" the party, cleaning up its anti-Semitic, xenophobic public image.
She has had some success in broadening the party's appeal. The National Front is now the main party of the French working class, gutting the Socialist Party and contributing to its historic collapse in this year's presidential election.
Still, few experts believe that Le Pen will be able to mobilise enough centre-right and left-wing voters to put her over the top against Macron. Many French voters continue to view the National Front as toxic and see Le Pen as a danger to French democracy.
Despite Le Pen's efforts to soften her position on the eurozone, saying France could withdraw from it gradually, the majority of voters simply believe they have too much to lose from such a radical step.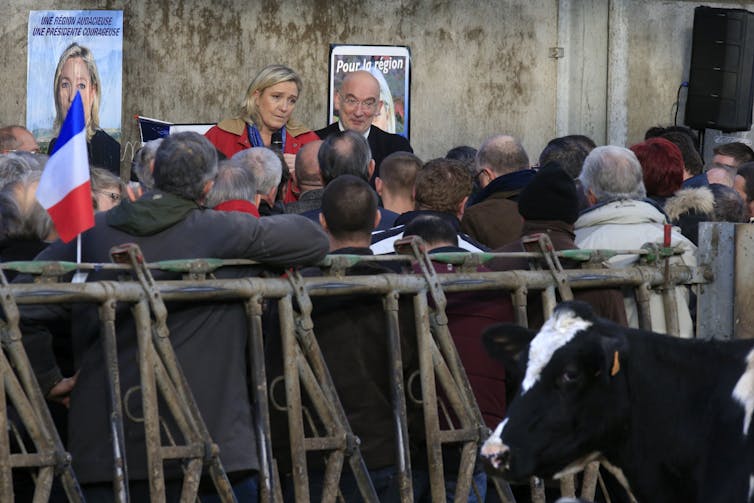 Only a temporary relief for Europe
Macron's likely victory on Sunday night will be met with relief across much of France, Europe and the rest of the world.
A Le Pen victory, on the other hand, would cause massive disruptions, pundits say, including a financial panic, the break-up of the eurozone, and the collapse of the EU.
Sensing the gravity of the situation, European and EU leaders such as European Commission President Jean-Claude Juncker and German Chancellor Angela Merkel have broken tradition to endorse Macron.
But even if Macron wins by a 20-point margin, it should still be a warning to European and EU leaders. If Le Pen gets 40% of votes on Sunday, as expected, it will show the scale and severity of the problems facing France – and Europe.
France and the EU appear poised to dodge a bullet this time. But if neither can respond capably to the challenges of their citizens, whose anger and resentment continues to simmer, the people will rise up in frustration. And we could be facing a very different outcome five years down the track.