More and more institutions across the United States are hiring chaplains and other spiritual care providers. Some are places that have long employed chaplains, but others may come as a surprise.
Various police departments are adding additional chaplains, as are horse racing tracks. At the same time, chaplaincy positions continue to exist in the U.S. House and Senate.
Given the growing numbers of Americans who describe themselves as atheistic, agnostic or "nothing in particular," this can appear puzzling.
Why is chaplaincy growing when institutional religious affiliation is on the decline?
History of chaplaincy
The presence of chaplains in American institutions goes back to the Revolutionary War, when they served the American military. Chaplains helped perform many rituals and were present for patriotic ceremonies and events. Military chaplains have long been uniformed, noncombatant, commissioned officers with rank.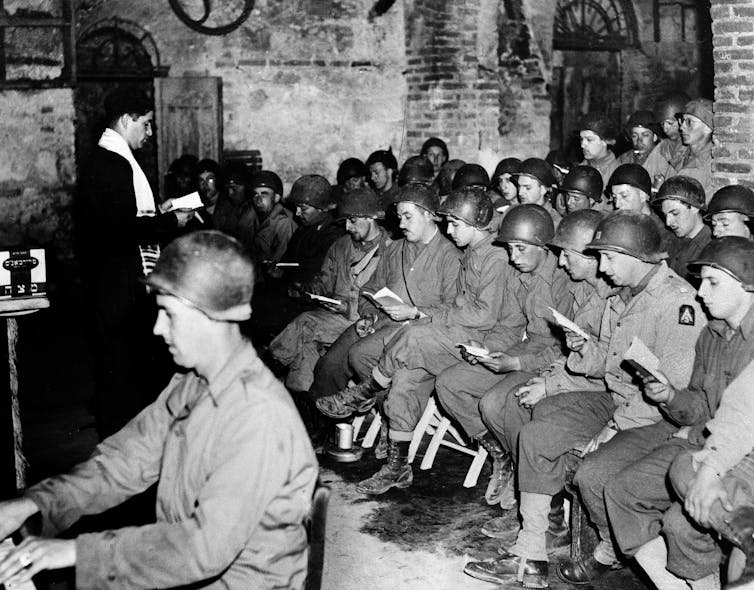 Later, prisons and hospitals came to employ them to provide spiritual care. In federal prisons, chaplains provide a ministry to prisoners, along with support for behavior modification.
In earlier eras, chaplains, like the American population in general, were overwhelmingly Protestant, Catholic or Jewish. They mostly cared for people from their own faith traditions.
Changing role
These traditional roles are changing. In our research we have come across some unique examples of organizations and people providing support to individuals and communities in a variety of situations.
Allay Care Services, a newly launched venture, for example, provides chaplains who, for a fee, help individuals and families clarify their wishes at the end of life and prepare the necessary legal documents. While religious leaders have long worked around these issues, Allay links chaplains to people they do not know. The work takes place by phone.
Chaplains provide care for weary travelers. Donna Mote at Atlanta's Hartsfield-Jackson International Airport is just one chaplain among those working in over 170 countries who provide support to people they see mostly once as they pass through that busy space. At the New England Seafarers' Mission in Boston, chaplain Steve Cushing, greets the foreign-born staff of container and cruise ships every week.
Chaplains are currently deployed with every Red Cross disaster team in the United States and with many fire departments across the country. In these and other examples, they are present with people in crisis and help connect them to other resources. Mote and Cushing, for example, help travelers transfer money to their families, shop for basic necessities or even call home.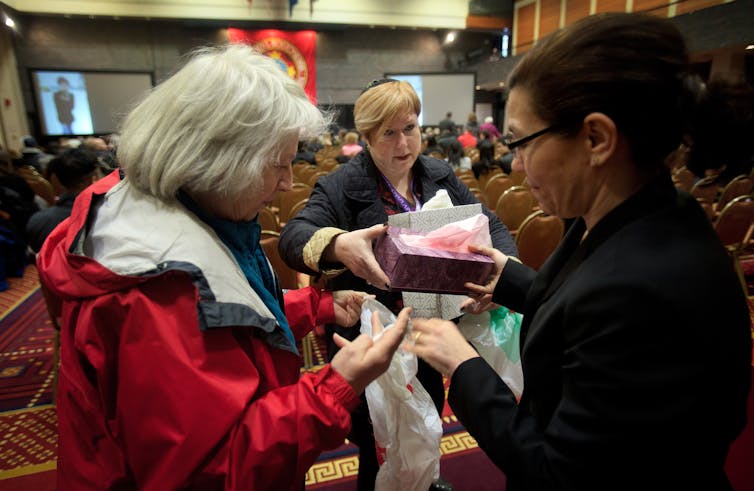 While some of the people chaplains serve have relationships with local clergy, growing numbers do not. This means that chaplains are, in many cases, the only theologically educated people that these members of the public have a connection with.
Religious studies scholar Winnifred Sullivan describes chaplains today as "secular priests" or "ministers without portfolios." Their work, increasingly called "spiritual care," she argues, is understood by many as required by the First Amendment of the U.S. Constitution.
Chaplaincy without religion?
What is most interesting is the presence of chaplains in places not typically thought to be "religious."
For example, chaplains are increasingly present in social movements including Occupy, Black Lives Matter and Standing Rock. They provide a steady presence to protesters grappling with existential questions amid deep tensions that characterize such situations.
An interesting example is that of Laura Everett, executive director of the Massachusetts Council of Churches. Everett serves as a bicycle chaplain. When cyclists are killed in traffic in the greater Boston area, she places white bicycles on the sites and leads services of remembrance for community members.
The point being, even when people are skeptical or distant from religious organizations, many remain personally spiritual. Millennials, especially, are gathering in athletic groups and activist organizations – not congregations - to build community and support personal growth. And they too are being joined by chaplains who accompany them through life in ways traditional clergy have done in the past.
In view of this trend, a quarter of theological schools are focusing attention directly on chaplaincy as their overall enrollment numbers continue to decline. Might this reflect a long-term shift in American religious life?