Tangerine, a film by US director Sean Baker currently screening at Melbourne International Film Festival (MIFF), is a remarkable piece of cinema for a number of reasons.
It's queer in both content and approach: not only does it feature queer actors (the film has garnered much critical acclaim for its use of trans actors in trans roles), it's also queer in its irreverent approach to style, form and storytelling. Filmed on an iPhone 5S, Tangerine presents an alternative to the dominant Hollywood or even Indiewood model of filmmaking.
The film's central protagonist is Sin-Dee (Kitana Kiki Rodriguez ), a trans sex worker fresh out of jail, who finds out that her boyfriend/pimp has been cheating on her with a cisgender woman. Seething with rage, she seeks revenge.
Sin-Dee pounds the pavement throughout the film, looking for her boyfriend and his lover. Meanwhile, her best friend Alexandra (Mya Taylor) tags along, using every conversation as an opportunity to advertise a gig for that evening.
As the women approach fellow sex workers, pimps and friends in the streets of Hollywood, Baker's camera swoops in on them. At once intimate and distanced, these camera movements mirror the intensity of movement that underpins the film: a violent and volatile walking tour of the city, Los Angeles, in which no one walks.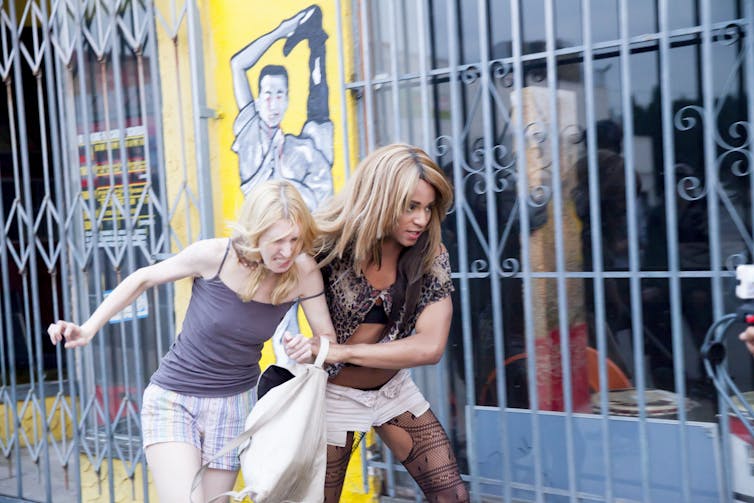 In between, we cut to segments featuring Rasmik (an Armenian taxi driver with a hidden desire for trans women) and his family. Just over midway through the film, his mother-in-law condemns Los Angeles for its superficiality. Searching for the truth behind Rasmik's erratic behaviour, she describes LA as "a beautifully wrapped lie".
Baker juxtaposes (and ultimately joins) the two narrative threads, and in doing so cultivates a unique rhythm: the fast pace of the street is contrasted with the slow pace of the vehicle. This reminds us, as Alexandra proclaims early on in the film, that: "Out here it is all about our hustle. And that's it."