His name is Alpha Diallo, and in his 2016 song "I am at home," the French rapper makes clear who and what he is.
"I am Black," he sings, "Proud to be French of Guinean origin."
Known as Black M, Diallo, 38, is one of many African, Caribbean and Middle Eastern immigrants throughout Europe who use hip-hop to advance racial and economic justice.
In doing so, they are keeping their music in tune with rap's American origins. The genre emerged in 1973 out of the anger and pain within Black American communities such as in the South Bronx, New York.
Back in those days, as they still do now, rappers talked about their experiences on the margins of American society. Those social messages connected with Black and immigrant youth throughout Europe who themselves were searching for identity in countries that have become more diverse but yet where discrimination remains entrenched.
As a scholar of European studies and identity politics, I know how historically oppressed people have used culture, language and music to regain a sense of identity throughout history.
But in my view, modern-day European rappers, particularly Black M, Arianna Puello and Eko Fresh, are taking those efforts a step further by challenging outdated European views of citizenship and reshaping public debate on racial and ethnic identity.
As migration from African, Caribbean and Middle Eastern countries to Europe continues to increase and European societies discuss questions of identity belonging, it's my belief that hip-hop will continue to make significant contributions to ongoing public policy debates, and these three rappers briefly profiled below in particular will lead the charge.
French ideal of a colorblind society
In France, Black M is one of the musicians who raps about racism and the oppressive treatment of immigrants in a nation long known for its colorblind ideal that all people share the same universal rights.
In many of his songs, he uses references to France's national symbols, including the country's red, white and blue flag and the Phrygian cap, a symbol of freedom.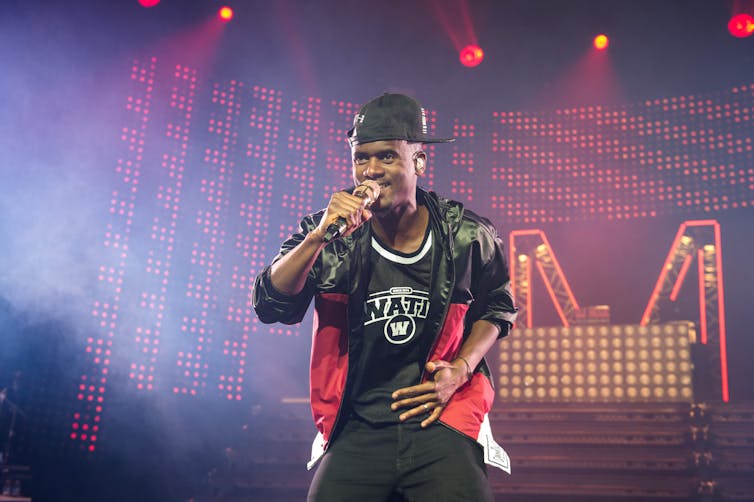 But in "Je suis chez moi," or "I am at home," Black M talks about the mixed feelings he has about the country where he was born after his parents migrated to Paris from Guinea, a West African country.
"France is beautiful," he sings. "But she looks down on me like the Eiffel Tower."
In the same song, Black M challenges the racist stereotype of immigrants abusing the welfare system by singing: "My parents did not bring me into the world to get financial aid."
Black M uses his lyrics as well as his fashion to demonstrate his social activism.
In another video, where he raps about police violence against immigrants, Black M wears a shirt reading "Justice for Adama: Without justice, you will never have peace."
Adama Traoré was a Black French man who died in police custody in 2016 on his 24th birthday. His death sparked numerous anti-racist protests across France.
A Black woman in Spain
Born in the Dominican Republic in 1977, Arianna Puello moved to Spain when she was 8 years old and remembers listening to hip-hop music as she grew up in Salt, a small town nearly 4,000 miles away from rap's birthplace in the Bronx.
"I used to listen to rap with my brother who did beat-boxing and my cousin who had contacts in New York and they gave him the vinyls," she said in an interview. "But I wasn't active. It was in Salt where I saw the rap groups that were there, the graffiti, break groups. … The whole hip-hop movement of the moment, the parties, the jams."
Puello recalls telling herself: "This is my movement, and I want to be part of it."
She recorded her first song in 1993, and her 2008 hit "Juana Kalamidad" reached No. 6 on the Spanish music chart.
Now 46 years old, Puello is considered one of Spain's most popular female rappers. Throughout her career, Puello has used her music and rapid-fire delivery to confront the racism that she has faced as a Black female migrant in Spain.
Her 2003 track, for example, "Así es la negra," or "That's what the Black woman is like," tells the "ignorant racist" that "You're going to have to put up with me, / If I am born again I want to be what I am now, / of the same race, same sex and condition."
Puello's music is successful beyond Spain. She has had several tours in Latin America, the Caribbean and throughout Europe.
But for Puello and other European rappers, hip-hop is not only about international tours and commercial success.
"Hip-hop is a way of transforming pain, the darkness of life, into art," Puello explained. "Instead of picking up a knife, a gun, and going out to shoot, you pick up and write, and your mind turns into philosophy and you turn the reflection of the street into something beautiful."
Three generations of Turkish immigrants in Germany
Since the early 2000s, Ekrem Bora has been a hip-hop sensation in Germany. Born in Cologne in 1983, Eko Fresh, as he is known, has rapped about his Turkish-Kurdish ancestry and the social stigma that his family endured in a country divided over the treatment of immigrants.
In his 2021 track "1994," he describes his family story that starts with his grandfather leaving Turkey to work a blue-collar job in Germany. At the time, the grandfather only knew one word of the German language – "ja" or "yes" – and, as a guest worker, was not considered a German citizen.
Despite such meager beginnings, his grandchildren are now German citizens with full voting rights, and Eko Fresh thanks his grandfather for that. "Grandpa kept saying 'We came here for you'," he raps. "Because he didn't come here with anything, his grandson can now have a say."
In his 2018 track "Aber," Eko Fresh explains how he uses his citizenship and specifically addresses the AfD, the right-wing political party in Germany that opposes immigration:
"I'm working hard and don't even get a loan for a home
You've got big cars, I'm still using the tram
But on election day I'll punish you, then
I'll take matters in my own hand and you will all see
I stand for my country because I vote AfD."
Despite his ability to vote, his life as an immigrant in Germany is complicated.
Much like Black M, Eko Fresh laments his treatment as a second-class citizen in German society.
"We love Germany from the heart like crazy," he writes in "Gastarbeiter," or "Guest worker." "But unfortunately it does not love us back every time."