Review: A Coveted Possession: The Rise and Fall of the Piano in Australia by Michael Atherton
---
In his recent book, A Coveted Possession, Michael Atherton traces the history of the piano in Australia. The book's cover seems almost intent on giving the story away, informing us that its pages chart the instrument's "rise and fall".
As Atherton, an emeritus professor from Western Sydney University, explains, the story of the piano in Australia begins with the First Fleet, namely a small instrument brought from England on the Sirius in 1788, by George Worgan. A short preliminary chapter sets out the prior development of the instrument, from the "plucked" action of the older harpsichord to the felt-covered hammers used in later pianos. This information will be useful for readers with little background knowledge.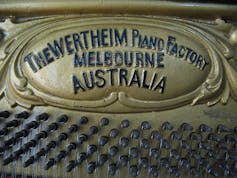 Yet, as the author reminds us, the piano has been more than a musical instrument or a finely crafted piece of furniture; he refers to it as "a machine that conveyed socially constructed meanings". In this regard, the book is rich in subtext. Two dominant undercurrents emerge: that the possession of a piano (and the skill to play it) signified status; and that the Australian "cultural cringe" led to preferences for foreign-made instruments.
---
Read more: Decoding the music masterpieces: Brahms's Piano Quartet in G minor
---
The first piano believed to have been built in Australia dated from 1834 and was constructed by an English emigrant named John Benham. As Atherton tells us, native timbers proved highly adaptable to piano manufacture, both in terms of their outer casework and, more importantly, the soundboard within.
An example of a Benham piano is housed in the archives of the Powerhouse Museum in Sydney. It's one of many instruments stored in the shed-like building next to the main exhibition spaces, which are rarely viewed by anybody, let alone heard. If ever there was a counter-argument for keeping the Powerhouse where it is and opening satellite venues such as at Parramatta so as to allow for the greater display of items, surely this is one.
Atherton provides a brief but concise history of the early builders of pianos in Australia, before moving to the more substantial manufacturers, Jabez Carnegie, Octavius Beale and Hugo Wertheim. For a period, it was a burgeoning and profitable business, complementing the homegrown production and sale of printed music, and the promotion of local virtuoso performers, such as Percy Grainger.
Yet lasting success proved elusive. As a pianist, I have promoted modern Australian pianos in concerts and recordings, and, sadly, Atherton's pages detailing the decline of Beale's factory in Sydney's Annandale and Wertheim's in the Melbourne suburb of Richmond were almost predictable. Those who profited from importing instruments from overseas (sometimes with quite inferior products) argued powerfully to remove tariffs and, aligned with the interruption of the second world war, "market forces" ultimately brought about the industry's demise.
---
Read more: Decoding the Music Masterpieces: Debussy's Clair de Lune
---
Changes in entertainment technologies – such as the development of the radio and the gramophone – also played their part in that process. But despite the decline in the popularity of the "goanna" (rhyming slang for the instrument), Atherton is highly informative when recounting its role as a social healer. Many pianos were donated to so-called "Cheer-Up Huts", where they were played to boost the spirits of those returning injured from war.
Particularly fascinating is the story of the "Changi" piano, an instrument that brought happiness to countless POWs. It is now housed in the Australian War Memorial in Canberra. Other instruments made it as far as battle front lines where, as Atherton observes, their playing represented order among the "anarchic, chaotic and destructive sounds of war".
Atherton can write with an enthralling sense of narrative, which is perhaps most evident in the final part of the book. Here he recounts the role of pianos in various post-modern creative projects.
Noting his own participation in what could be termed "pianofortecide", these endeavours involved the ritualistic destruction and burning of old and unwanted instruments, all in the name of art. Aptly, the chapter is titled "Where do old pianos go to die?". It provides a sobering, realistic glimpse of the fate of pianos that were once treated with love, care and respect. More often than not old pianos are dumped unceremoniously at the tip.
Wayne Stuart and Ron Overs have both, in their own ways, worked in recent years to establish locally made piano businesses, although their efforts seem somewhat in vain. Atherton, who has advocated strongly for Stuart's instruments, asks some pointed questions:
Has Stuart been given a short life as a piano builder because most concert pianists do not wish to move out of their comfort zone? Have conventional sounds, conservatism in music and economics, and also, possibly, Australian tall poppy syndrome damaged the longevity of the piano, not to mention the ongoing vested interests and monopolies courted by local organisations and promoters?
The same could be asked of the never-ending stream of imported pianists who perform with our major orchestras on a weekly basis, while the wealth of talented Australian artists is fairly much ignored!
At times, A Coveted Possession is marred by insufficient attention in the proof-reading stage. And it feels as if the researcher's bullet-point notes have been fleshed out rather casually in early chapters recounting historical developments, where a deeper sense of narrative would have satisfied more.
But for those who are interested in the history of the piano in Australia (and music in general), the book has much to offer. Despite the foretelling of the instrument's demise on the cover, Atherton's book ends on a high note: "The 'goanna' will still be sounding at the end of the century."