Fans of Frozen will have been delighted by Disney's recent announcement that the phenomenally successful film is to be transformed into a Broadway musical, with curtains due to open in Spring 2018.
And the decision to adapt Frozen for Broadway is unsurprising. Disney has had enormous success with several adaptations from screen to stage: Beauty and the Beast and The Lion King each grossed over a billion dollars for the company. Plus the music for Frozen was co-written by Broadway veteran Robert Lopez (Avenue Q and The Book of Mormon), while many from the film's voice cast – Idina Menzel (Queen Elsa) Santino Fontana (Prince Hans), Jonathan Groff (Kristoff), and Josh Gad (Olaf) – have stage experience. And although not every Disney stage adaptation has been a resounding success (Tarzan and The Little Mermaid had fairly short runs), the odds are that Frozen will do well, given that the creative team behind the film will be centrally involved in the adaptation project.
Of course, even without this wealth of talent to help sell it, it seems likely that a stage adaptation of Frozen will open to a potentially huge ready-made audience. The film was the highest-grossing animated film of all time, as well as the highest grossing film of 2013, and the massive popularity of its associated merchandising meant that even the experienced team at Disney was caught by surprise and struggled to meet demand.
Over two years since its US debut, Frozen continues to be admired by audiences worldwide, so it is likely that there will be many fans – of all ages – who will be eager to enjoy the adventures of Princess Anna and Queen Elsa in the theatre. It will certainly be interesting to see how characters such as Olaf, Sven, and the Trolls will be brought to life on stage, as well as the portrayal of the sudden freezing of the kingdom of Arendelle. But as interesting to Frozen's fans as it will be to see this beloved animated world and its characters made real on stage, the addition of new songs and new scenes will sweeten the deal even more than a quart of lutefisk from Wandering Oaken's Trading Post.
Let it go…
It is very likely that a lot of Frozen's expected theatre audience will be little girls, and very likely that a lot of them will turn up to the show wearing princess dresses, both of the "Official Disney Merchandise" kind and their own homemade versions. And no doubt, once again some will worry and fret that all of this "princess" stuff is somehow bad for little girls.
But for many young fans, focusing on the princess and play-acting that role is mainly about the simple enjoyment of belting out the songs, revelling in the escapism, and expressing their admiration for their beloved characters' exploits. After all, many of the Disney princesses-type characters – Snow White, Ariel, Belle, Jasmine, Pocahontas, Mulan, Tiana, Rapunzel, Anna, and Elsa – end up questing far from home. Some are seeking safety, while others are looking for adventure, searching for knowledge, needing or offering help and guidance and all do so as the central characters in each of their narratives.
It's worth remembering that not that many U-Rated films (or films in general) place women and girls in the spotlight. According to the Geena Davis Insitute on Gender in Media, as of 2014 (the year in which Frozen enjoyed its primary run), only 23 per cent of popular films featured a female protagonist.
But a princess film? By definition, the woman or girl is the focus. And that means a great deal to the half of the population who struggle to find films with stories about women and girls. This is why, ultimately, there's a potential problem with worrying that all of this "princess stuff" is somehow automatically bad for girls (and by the way, almost no one seems to worry that it might be bad for the boys, too, as if girls were the only ones affected by gender roles and patriarchy). In fact, it is quite possible that a girl could interpret this apparent concern about princesses in a much more damaging way: that each time she hears comments such as "pink stinks", what she's really hearing is "girls stink".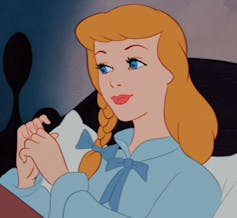 When author Peggy Orenstein asked back in 2006 "What's wrong with Cinderella?", she had apparently forgotten that ultimately, Cinderella didn't go out looking to meet the prince. She just wanted a pretty dress and a fun night out. So here's to a bunch of Frozen fans – of all ages and genders – getting a new opportunity to enjoy a pretty dress and a great night out in 2018 with their old friends Anna and Elsa.