HBO's Game of Thrones simultaneously holds the record for being the most expensive (grossing an average of $6m per episode), most successful (with 18m weekly viewers in the last season) and yet also the most pirated TV series in history. Episodes from the first four seasons were downloaded more than 7m times worldwide from Feb 5-April 6 2015, with a 45% increase from 2014.
Last weekend, the first four episodes from the new (fifth) GoT season appeared on BitTorrent sites. In the 24 hours that followed, the pirated episodes were downloaded well over a million times worldwide, jeopardising HBO's planning for an international online premiere that would have covered 170 countries worldwide.
British internet users have downloaded more pirate copies of the new season of GoT than viewers from anywhere else in the world. The UK led the piracy ranking with 9.8% of IP addresses sharing the content based in Britain, followed by the US with 9.1%, India 7.8%, Canada 5.4% and France 4.2% (as per Torrentfreak data). Looking at this recent case, GoT can be seen not only as a gothic metaphor of military and governance strategy, but also a timely case to reflect on some compelling lessons for business models and firm strategy.
Throne to the lions?
First, HBO's GoT represents a new successful way of combining high-quality entertainment products with successful pay-per-view business models. In common with Netflix and Hulu, HBO offers a pay-per-view streaming service for movie-like, quality TV series without requiring a cable subscription to its users.
The series is globally distributed through exclusive deals with broadcasters such as Sky Atlantic in the UK. This is a relatively new and successful business model that is gaining traction in the entertainment industry but also bringing along some relevant threats.

As a matter of fact, success in these and similar business models is often correlated with (mostly online) piracy. In other words it is sensible to expect that the best products (in this case TV series) will be also facing the greatest piracy threats. Other examples among the most watched and pirated series include The Walking Dead (5.7m downloads between Feb 5-April 6); Breaking Bad (3.8m); Vikings (3.4m); and House of Cards (2.7m).
Working in Concert
Despite consistent efforts, both technology and legislation have to date fallen short in securing intellectual property rights against the threat of piracy. As a result, companies in this market have no other solution than taking piracy into account as part of their business models and their related revenue streams – particularly when products are successful. This translates into finding alternative ways of monetisation in order to counterbalance the losses from piracy activities.
Solutions are neither easy to find nor implement, but past experiences in similar industries can provide some guidance. The music industry, for example, started to seriously reflect on how to redefine its business model after the "Napster effect" that hit the industry sales in late 1999, and continued in other forms despite countermeasures against the renowned piracy pioneer and some of its followers.
In recent years, the music industry fought mp3 piracy by revamping how artists engage with fans. We got grandiose concerts, long international tours laden with special effects and the creation of experiences which have relaunched interest – among purchasers and online pirates alike – in live shows.
In turn, this has allowed the organisers to increase the average price for the tickets without harming attendance. Other business models have included royalties from streaming services such as Spotify, which offer users an almost unlimited access to contents for a modest monthly fee.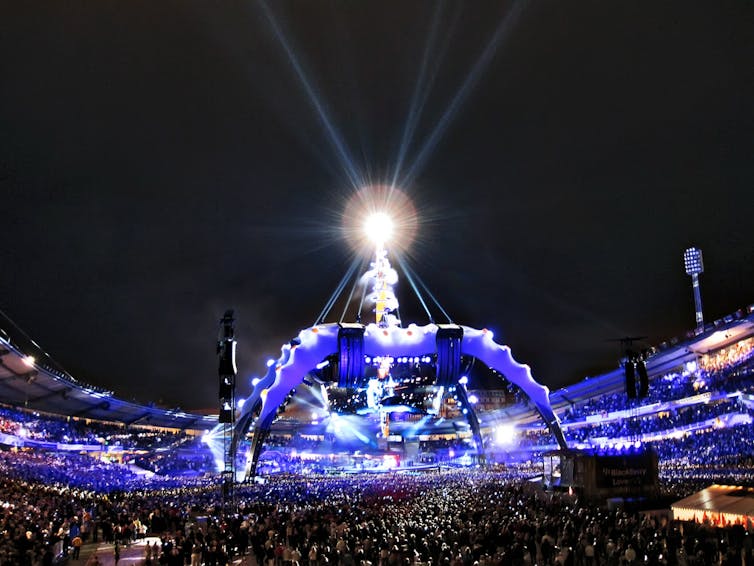 The TV and movie industries might be going in the same direction with exhibitions, events and other sources of monetization. For example GoT has recently launched a touring exhibition where objects and costumes from the series were displayed for fans. Everyone is allowed in, but perhaps as a way to thank the supporters who did not indulge in the temptation of piracy, the entrance was kept free for visitors who could prove a subscription to Sky Atlantic.
Also, actors, authors and directors have been leaving their VIP areas and increasingly joining public appearances where interaction with the fans was promoted, as well as a series of commercial and marketing activities such as gadgets sales and discounted pay-per-view subscriptions. GoT has even got into the, presumably lucrative, market for mythically themed wine-stoppers.
All in all, it seems that a viable response to counterbalance the threat of revenue losses due to piracy might be setting up portfolios of business models that combine different types of monetisation and bring the entertainment experience "offline" or "off-the-screen". In the end, live experiences are still one of the few things that cannot be perfectly reduced to a file, compressed, and shared over the internet.