The deaths of pop superstar George Michael and Status Quo's Rick Parfitt within a two-day period over Christmas might once have seemed extraordinary for the world of popular music. But it capped a year strewn with such losses. David Bowie, Prince and Leonard Cohen were major-league headliners. But the list is long: George Martin, the Eagles' Glenn Frey, Sharon Jones, Earth, Wind and Fire founder Maurice White, Leon Russell, Merle Haggard, Phife Dawg, Keith Emerson, Greg Lake. From top-billed stars, to producers and session players, few genres are left that have not mourned an important loss in 2016.
Social media has an amplifying effect, as shared clips and memories drive awareness, encourage public responses and magnify a sense of epidemic.
It's also possible that the post-war baby boom generation reaching old age – and the growing number of entertainers attaining household name appeal with the increase of mass media since the 1950s and 1960s – means that sheer demographics play a part. There are simply more celebrities around, more ways to find out about their death and a larger public space in which to respond.
Any way you cut it, though, 2016 has been a grim year for music – and indeed popular culture at large. TV and cinema have fared no better – as I write this, news has just broken of the death of one of Hollywood's favourite daughters, actor and writer Carrie Fisher.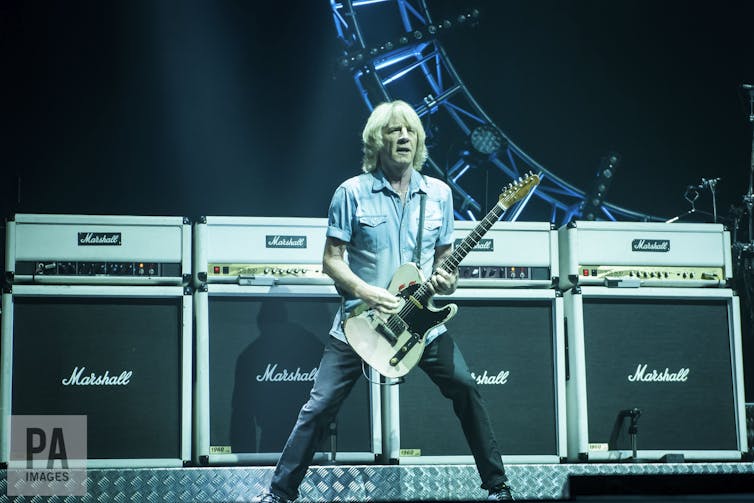 That's entertainment
The widespread posting of recollections and thoughts of Parfitt and George Michael also illustrates an aspect of popular music that can get lost in eulogies to genre defining (or defying) "genius" – entertainment pure and simple, as a good in and of itself. Ascriptions of "authenticity" in popular music are often attached to a sense of folk roots – speaking a broader truth – or aspirations to "high art", pushing the boundaries of a field. Both Rick Parfitt and George Michael, though very different, travelled at an oblique angle to these categories.
Status Quo evolved from psychedelically infused rock to the straight ahead, 12-bar based, boogie-driven hits for which they became best known. Often noted for their lack of variety, including in their own self-mocking references, they exemplified instead another, less frequently celebrated, aspect of the popular music continuum – reliability.
There was almost a pantomime quality to the instant familiarity of their work. But, like it or not, pantomime is a staple of the British entertainment pantheon. Though hardly at the vanguard of musical invention, their "end-of-the-pier" appeal remained undimmed and saw continuing healthy audiences for live shows.
George Michael's trajectory was different, and hinged on an overt effort to move from teen idol status with Wham to being taken seriously – his second solo album was titled Listen Without Prejudice – as a songwriter and record producer. His success in doing so helped to seal the idea that crossing over between markets was a part of the pop process.
To an extent, his greatest lasting effect came outside of his music, though very much dependent on it, as his candour and humour in response to revelations about his sexuality drove forward the mainstream acceptance of gay pop icons. Likewise, if his lawsuit against record label Sony was ultimately unsuccessful in court, his public battles helped to shine a light on the inequities of major label deals.
Cultural currency of the mainstream
Parfitt and Michael occupied different spaces within the mainstream, though illustrated just how wide it has become. If Status Quo were the exemplars of pre-punk 70s straight ahead rock shorn of frills, Michael's tight productions laid down a marker for the glamour of 80s and 90s post-Thatcherite pop (somewhat ironically, given Wham's support for striking miners and the ambivalent stance on consumerism lying beneath the sheen of his music).
But, despite the differences between Parfitt's unadorned rhythm guitar chug and Michael's crafted pop confections, their work was characterised by an underlying factor: accessibility – something that is often overlooked but deceptively difficult to achieve and a necessary condition for the mass appeal that they sustained.
Certainly the tragic, early passing of entertainers is nothing new. When music hall singer Mark Sheridan took his own life in 1918, it was after a period in the commercial and critical doldrums, as the popularity of music hall waned. Yet despite his comparative obscurity now, his hit "I Do Like to Be Beside the Seaside" has passed into the national consciousness.
Simon Frith – sociologist, music critic and founding chair of the Mercury Prize – has argued that popular music helps us to negotiate the relationship between our inner and public lives – that: "Pop tastes do not just derive from our socially constructed identities; they also help to shape them". From music hall through rock 'n' roll to Top of the Pops and televised extravaganzas such as Live Aid, one of pop's abiding functions has been to serve as common cultural currency.
Status Quo and George Michael may not have been marked by Bowie's chameleon-like propensity for redefining pop's aesthetic limits. They may not have matched Cohen's lyrical intricacy or Prince's virtuosity. But large swaths of the British public will have danced and sung along enthusiastically and unironically to: "Whatever You Want" and "Wake Me Up Before You Go Go" – threaded through the fabric of their social lives, from school discos to Christmas parties and weddings.
If the bad news is that the loss of beloved entertainers appears remorseless, the good news is that this shows how our stock of shared cultural memories is larger and richer than ever before.