Horses have long held an important place in our cultures and on the lands we now call Canada. Today there are about a million horses in Canada, and their lives vary greatly depending on how we use them and who is around them.
Some people believe that only the wealthy interact with horses, but this is incorrect. People of all income levels and backgrounds are involved with horses in different ways, including for sport, leisure, friendship and therapy.
Plus, all activities with horses depend on labour, and on the men — and especially women — who care for horses around the clock, 365 days a year. There is no closing time when it comes to looking after horses.
In a number of European countries, regular data collection and research help paint a clearer picture of the many roles horses and horse people play in communities and economies. This information gives us ideas of how we can improve horses' wellbeing.
In Canada, for a few reasons, we have far less data.
In the dark in Canada
This means that the Canadian public may not properly understand horses' lives, equine work or stable workers. Evidence is also the foundation of sound policy- making. More data would allow policy-makers and advocates to better identify where people and horses warrant greater protections and rights.
We do know that the work of caring for horses is deeply rewarding but also difficult and under-valued.
Those who work with horses must perform physically demanding tasks in all types of weather, and, simultaneously, be attuned to the intricacies of horses' bodies and minds. Horses have their own personalities, preferences, dislikes and relationships.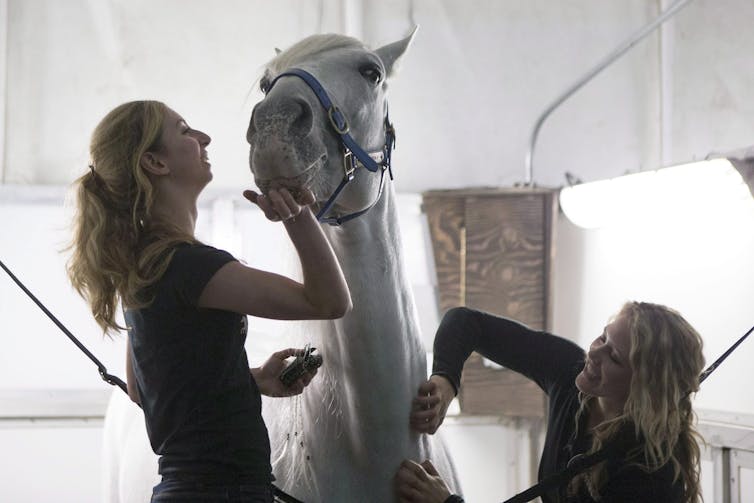 A central task in horse stables is working both proactively and responsively with animals who cannot speak to us in our languages, but who nevertheless have a lot to say. People who work with horses need multi-faceted skills, knowledge and empathy.
Equine industries are also changing due to economic, political and demographic shifts, and because of evolving ethical ideas about our relationships with and use of animals, including horses.
In fact, although we often use the term "equine industry" as short hand, it is more accurate to speak of equine industries given the diversity of ways horses are being employed and conceptualized. In many contexts, horses are recognized as partners and sentient beings.
Yet in others, horses are seen simply as commodities. In Canada, some horses are slaughtered and others are exported live to be consumed in other countries.
In the "pregnant mare urine" (PMU) industry, horses are repeatedly impregnated so their urine can be collected and made into hormone replacement products for women (Premarin). Some of the foals are rescued, but most are simply slaughtered and seen as a byproduct (much like male calves in the dairy industry).
Turnover high in horse stables
The large majority of Canadian equines lead better lives, but we cannot turn a blind eye to the most marginalized, exploited and devalued horses.
When it comes to horse people, and especially those whose livelihoods are interwoven with horses, the situation is mixed. There are labour challenges in many horse stables, and turnover is high. In addition to negatively affecting the people involved, these dynamics directly influence the depth and quality of the care horses receive — or do not receive.
As a scholar of human-animal labour, I have been studying what's going on in equine cultures and exploring ways to improve both people's and horses' lives. A key focus is how to create employment that is good for people and animals — what I call humane jobs.
There is a lot to learn from other countries, from paying close attention to horses themselves, and from the people who are directly involved.
One way I am collecting much-needed data is through a short, anonymous survey. Go to equinework.ca to view it. It is open to current stable workers, owners, operators and former workers in the province of Ontario specifically. Because in order to better serve both people and horses, first we need the facts.