Ghana, the first sub-Saharan country to gain independence, is celebrating the 59th anniversary of its freedom from British rule this year. According to Nelson Mandela, Ghana's independence on March 6, 1957, provided much strength and great inspiration to African liberation movements.
---
Ghana's status as one of the African Lions is linked to the country's remarkable growth performance. This culminated in it attaining lower-middle income status in 2011. But the weak employment effect of Ghana's growth, coupled with rising inequality against the backdrop of declining poverty, calls for a rethink of Ghana's growth strategy.
The starting point would be for policymakers to acknowledge the adverse consequences of a strong obsession with economic growth, regardless of the source of the growth and its job creation effect.
Growth is a necessary condition. But it can only pass the sufficient condition test if it translates into the generation of productive and high-earning jobs. This requires a redirection of growth strategy towards the promotion of manufacturing activities that are strongly linked with agriculture.
Slower employment growth
A key indicator of the health of an economy is the availability of jobs and their quality. This is measured by rates of unemployment and joblessness as well as poverty incidence and income inequality.
Employment growth in Ghana has generally been slower than economic growth, raising concerns about the quality of the country's growth. Ghana's employment growth lags behind economic growth, with an estimated employment elasticity of output of 0.47. This suggests that every 1% of annual economic growth yields 0.47% growth of total employment.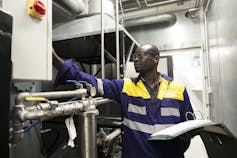 Beside the slow rate of job creation is the dominance of vulnerable employment and the working poverty rate. In 2010, seven out of ten jobs were estimated to be vulnerable. Only one out of five jobs could be considered as productive jobs that meet the standard of decent work.
Workers in vulnerable employment tend to lack formal work arrangements, including adequate social security. And the working poverty rate remains a challenge with one out of every five persons employed belonging to poor households.
Robust economic growth, shortage of skills
Economic growth and job creation depend on the size and quality of the labour force. The availability of human resources in the right quantity and quality form the foundation of growth and development. Ghana's population of 26.3 million has been growing at an annual average of 2.5% over the last three decades.
The size of Ghana's labour force in 2013 stood at 12.31 million (94.8% in employment and 5.2% unemployed). This is up from 6.04 million in 1992, which translates into 3.4% annual growth on average. Thus the economically active – 47% of total population – are responsible for feeding the entire population.
Ghana has a shortage of high skilled professionals. It is also short of semi-specialised skills, such as technical and vocational skills. Anecdotal evidence suggests that when Ghana started producing oil commercially in late 2010, there were specific skills that were difficult to obtain domestically. These include engineers, drillers, production and operation workers. The industry had to rely on people from Côte d'Ivoire and Nigeria.
There are estimated supply deficits in graduates in medicine and health, engineering and technical skills and business administration, and an oversupply of graduates in arts/social sciences and agriculture.
This is generally linked to the fact that Ghana's education system tends to produce humanities graduates in excess of what the economy requires. Scientists, engineers, and technologists needed for the manufacturing sector are produced in limited numbers.
Clearly, even though some jobs have been created in response to economic growth, most have occurred in the informal sector. On the other hand, the low quality of workers produced by the education system means a chunk of the labour force cannot access formal sector jobs that offer better pay and working conditions.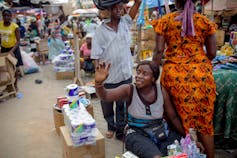 The changing structure of growth and employment leads to the widening in earnings differentials and an increase in inequality. Indeed, poverty in Ghana has declined considerably over the last two decades, but the country continues to battle with rising inequality.
The slower growth of higher-earning wage and self-employment, as against fast-growing vulnerable and informal sector employment, is a major driver of widening inequality.
Crafting a new growth strategy
Thus, fixing the problem of the declining manufacturing sub-sector and raising productivity in agriculture should be the priority of policy towards more inclusive growth. This calls for investment in areas that would promote manufacturing and agricultural activities where the potential for job creation is high.
The business operating environment must also be addressed. Macroeconomic instability culminating in high interest rates, and high taxes coupled with chronic energy problems make manufacturers less competitive. This makes them more fragile within a trade environment where firms face global competition.
Investment in the energy sector to ensure a consistent power supply within a stable macroeconomic environment would be a major step towards reducing constraints facing the manufacturing sector. The business environment could also be improved if the country's institutional arrangements and regulatory framework are properly streamlined in line with best practices.
On the supply side, low quality of labour requires urgent policy attention. Education and skills development have seen some improvement over the last three decades. But the pace appears to be slow. The link between education and productivity is quite clear. A comprehensive review of the education system is needed to assess the medium and long term relevance of education and skills development.
Key policy interventions that would improve agriculture productivity include:
agriculture research support through improvement in agriculture extension services;

development of irrigation schemes to promote uninterrupted farming activities;

provision of guaranteed price; and

buffer stock facility.
Ghana could also leverage the strong growth performance of low labour absorption sectors of mining and oil extraction to boost growth in other sectors. It could do this by channelling returns from these sectors into infrastructure to support growth in agriculture and manufacturing.
---
This article is an edited extract from a working paper, which is part of a collaboration between UNU-WIDER, the Brookings Institution and the Development Policy Research Unit (DPRU) at the University of Cape Town on Understanding the African Lions: Growth Traps and Opportunities in Six Dominant African Economies.