Georgia Blain was the most honest person I have ever met. Like everybody else who knew Georgia, I felt that I knew Georgia better than I did because Georgia was so brave and true and because her writing was so brave and true.
I have often read Georgia's work and felt as if I was staring at the contours of my own life.
Georgia died of a brain tumour last Friday. Her mother, the writer and broadcaster Anne Deveson, died three days later.
In a haunting irony, Georgia's last novel Between a Wolf and a Dog (2016) opens with a scene in which Hillary, the mother of Esther and April, discloses that she has cancer and that the tumour has spread to her brain.
Nobody suspected that the story would turn out to be hers.
Georgia wrote extraordinary portraits of family relationships, in luminous prose, with devastating insight. Her work draws attention to the tiny incandescent moments that make up our lives, the small domestic conflicts and betrayals, dishonesties and self-denials, the sorrows, regrets, and the house cleaning.
Just a few weeks ago, I was reading Georgia's acclaimed memoir Births Deaths Marriages once again because I wanted to include it in an essay I was writing. The subject of my essay was truth – the writer's ability and inability to tell truths rather than mere stories (in the arcane manner of academics) – and Georgia's memoir was the truest book I knew.
Like all of Georgia's works, Births Deaths Marriages not only tells us about the way in which people experience their lives, emotionally, but also about the kind of bravery this requires – the need for honesty, even in the face of pain.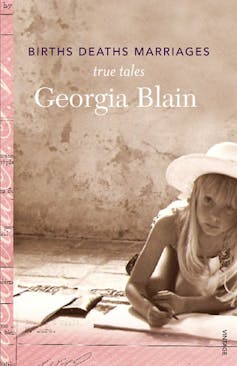 Georgia's life contained more than its share of dramas and sorrows, and many of them were lived out in public. Her brother Jonathan was diagnosed with schizophrenia and the trajectory of his illness and subsequent death is etched in loving detail in her mother's memoir, Tell Me I'm Here (1998).
Georgia also wrote about the ambivalence many women experience about parenting and motherhood. One of my favourite passages in Births Deaths Marriages is one that depicts the everyday conflict between her mother's role as a writer and parent.
Georgia's father, the broadcaster Ellis Blain, habitually worked in the expansive study with a white-bordered carpet, whereas her mother worked in a tiny room.
Wedged between the kitchen and the bathroom, it was the smallest room in the house, only just big enough to fit her desk, her chair, and, above her, a set of built-in bookshelves. She painted the walls a glossy chocolate to give it some presence …

The three of us would groan, slumping against the wall and sliding down to the ground, where we sprawled across the floor and made little pretence of keeping quiet.

'You said you'd be a second,' one of us would complain.

'It's been ages,' another would add.

She would stub out her cigarette, a fine plume of smoke still rising as she began to type again, clack, clack, clack, followed by the furious zing of the carriage return. She was on a roll, and oblivious to the protestations of her children.
Georgia wrote a monthly column for The Saturday Paper about her cancer, The Unwanted Guest. It is beautiful, and – like Georgia – unwavering. Despite the sorrows, what I will remember about Georgia is her extraordinary capacity for joy; her deathly jokes; her bleakly comic humour.
If Georgia's memoir and essays make us more aware of how we live and experience our own life – how we ought to live – then her novels also told us this in equally or more profound ways.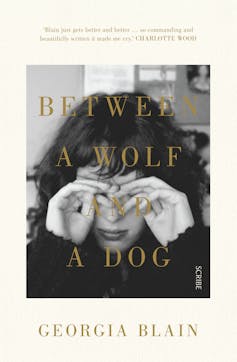 Her first novel was the bestselling Closed for Winter (1998), which was also made into a feature film. This was swiftly followed by Candelo (1999), The Blind Eye (2003), Names for Nothingness (2004), the young adult novel Darkwater (2010), Too Close to Home (2011), and another young adult novel Special (2016).
There was the short story collection, The Secret Lives of Men (2013), her memoir, Births Deaths Marriages: True Tales (2008), and her most recent acclaimed work, Between a Wolf and a Dog.
Georgia's work has been shortlisted for many awards including the NSW and SA Premiers' Literary Awards, and the Nita B. Kibble Award for Births Deaths Marriages. Last month, Between a Wolf and A Dog won the Queensland Literary Award. It is currently short-listed for the Victorian Literary Award.
Georgia's novels have a habit of never providing closure. Mysteries are never serendipitously solved. Marriage is never offered up as the narrative equivalent of death for any of her heroines.
And Georgia's women were genuinely modern heroines, even if there were critics and publishers who failed to recognise them as such. Georgia wrote books about women's relationships, about marriages and children. But her female characters are never contained, subdued or diminished by the domestic world they inhabit.
Her female characters are often troubled and ambivalent. They are never idealised. They are, like all of us, flawed.
Georgia's novels never gave us the false solace of happy endings. Rather, they brimmed with the knowledge that life does not always provide this kind of consolation.
What Georgia's work gives us is the knowledge that life keeps going.
As she once said in a Meanjin interview,
I felt the only way I could be honest to life was to make it episodic, but also to stress that the 'end' was just one transient point and you could pick any point as the end.
Above all else, her work asks us to be brave.
Georgia leaves a husband, the filmmaker Andrew Taylor, and a daughter, Odessa.
Goodbye, Georgia. Many have lost a friend. And the rest have lost a remarkable writer.